Last Updated on January 24, 2023
Tony Montana may not be as popular as the many global icons we have, but he has become a cultural figure and is considered to be among the most notable fictional characters of all time. In fact, he has been named as one of the Greatest Movie Characters by Empire Magazine.
Who is Tony Montana
While he is a fictional character, Tony Montana is inspired by very real, flesh-and-bone human beings who have made their own marks in our societies. It is said that the character is inspired by Al Capone, and his last name came from the NFL quarterback Joe Montana.
Tony Montana was the lead character in an epic crime drama film released in 1983 named Scarface. He was born as Antonio Raimundo Montana and was a former Cuban soldier.
Tony was imprisoned in Cuba with his best friends, Angel and Manny. As a Cuban refugee, he later on fled to Miami in the Mariel Boatlift back in 1980.  The Mariel Boatlift is an impromptu mass migration of refugees which took place with the agreement of both nations, Cuba and the United States.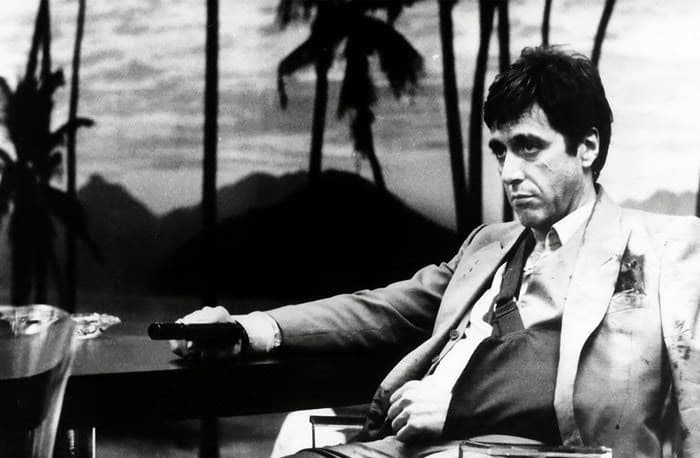 Among the exiles were a significant number of prisoners. People who were from Cuba's mental institutions and other political refugees were part of the boatlift.
When Tony arrived in Miami, he met up with his old friend Manny Ray. They ended up in a detention camp named Freedom Town, located beneath Interstate 95 while the US government was deliberating on what to do with the refugees.
He first worked for drug lord Frank Lopez when hired to murder Emilio Rebenga. Rebenga tortured Lopez's brother to death but was later expelled. As payment for the assassination, Tony, Manny, and their friend Angel were promised to be given green cards. Later on, a camp riot broke out and the three used this as a distraction to escape.
Once they were free, Tony and Manny tried to seek honest work and started as dish washers at a Cuban food stand. However, they start daydreaming about becoming big shots, and are eventually approached by Lopez's henchman Omar Suarez for a job.
Tony's arrogance and exceptional negotiation skills land them a far bigger job than expected. Suarez offers Montana $5,000 to pick up 2 kg of cocaine from a Colombian couple at a hotel room in South Beach. Tony and Angel Fernandez walk into the small outside-entry hotel room while Manny and Chi Chi wait outside.
The deal goes sour. Tony and Angel are double-crossed by the Colombians, who want to kill them for the money and keep the drugs for themselves. They are chained to a shower curtain rod and Tony is forced to watch while Angel is dismembered with a chainsaw.
Tony Montana Finds Love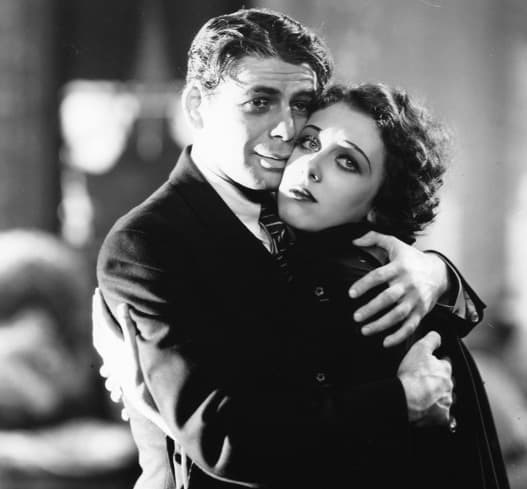 Pretty gory stuff, right? You wouldn't want to mess with their crowd for sure. However, it wasn't all bad for Tony. He eventually met his girlfriend Elvira Hancock and Tony begins his meteoric rise up through the ranks of the Miami cocaine underworld in bloody fashion.
He later became connected with a cocaine lord named Alejandro Sosa who as from Bolivia. Frank Lopez discovers this treachery and ends any business relationship with Tony by sending assassins to kill him. This eventually cost Lopez his life.
Tony gained traction from Frank's reputation and went on to start his own drug trade. He then married his girlfriend Elvira. Forging a business deal with Sosa, his empire grew. While he was on a business trip to New York, he was given a mission to kill a senator using a bomb to be placed under the senator's car. He refused to go through with it and sparked Sosa's fury.
After the foiled assassination attempt, Tony went back to Miami, discovering his friend Manny in bed with his sister named Gina Montana. He ended up killing his friend.
The spurned Sosa sent hitmen to kill Tony for his defiance. After a major shootout between Tony and Sosa's men, Tony was shot in the back by the chief assassin. His corpse fell into the fountain, marking the end of his drug empire.
Tony Montana in Popular Culture
As one of Hollywood's supervillains, Tony Montana devotes himself to his cause. He knows exactly who he is and is under no pretense of any moral high ground. He's comfortable with who he is, which is more than many of us can say about ourselves.
While Tony is not exactly the typical person society looks up to, he is considered one of the best Hollywood fictional characters for a reason. He exhibits a thirst for life and the determination to go after it.
He gave all that he is for his friends, his family, and the things he is most passionate about. He had famous words one will not expect from a drug kingpin that drip with wisdom, and that is the beauty of it. Sometimes, the heroes are those whom we least expect.
Here are some great quotes from Tony Montana:
Tony Montana Quotes
"Every day above ground is a good day."- Tony Montana
"You wanna fuck with me? Okay. You wannaplay rough? Okay. Say hello to my little friend!" – Tony Montana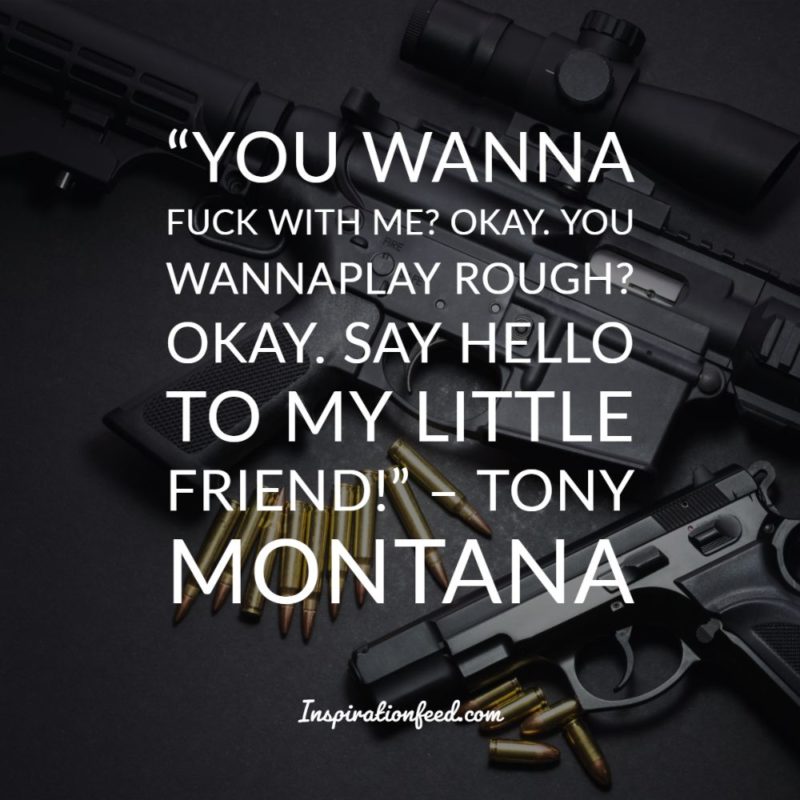 "Now you're talking to me baby! That I like! Keep it coming!" – Tony Montana
"In this country, you gotta make the money first. Then when you get the money, you get the power. Then when you get the power, then you get the women." – Tony Montana
"Who put this thing together? Me, that's who! Who do I trust? Me!" – Tony Montana
"Okay, here's the story. I come from the gutter. I know that. I got no education but that's okay. I know the street, and I'm making all the right connections. With the right woman, there's no stopping me. I could go right to the top." – Tony Montana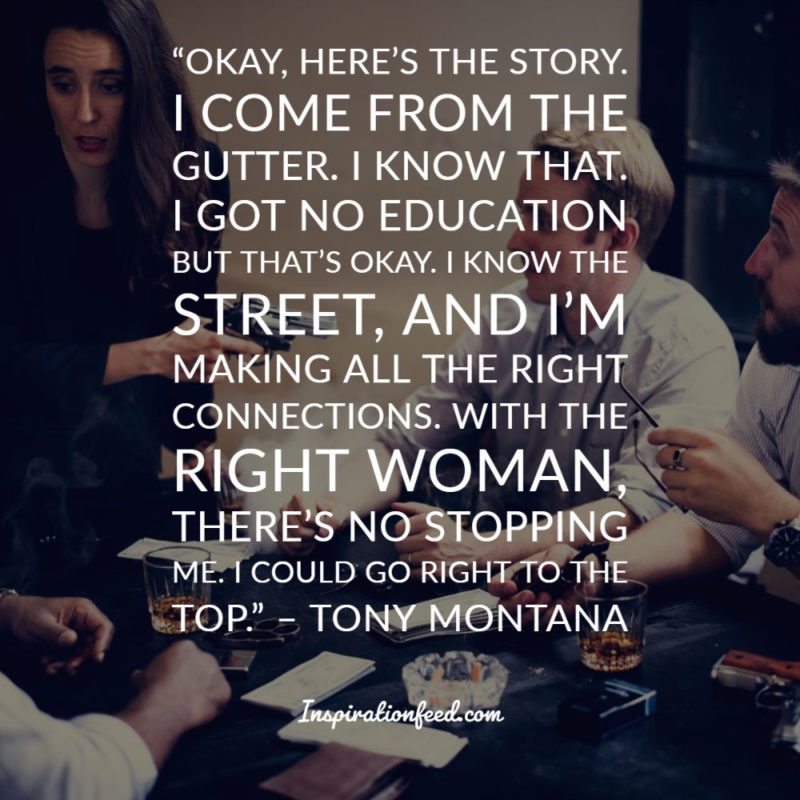 "I always tell the truth. Even when I lie." – Tony Montana
"You know why? You don't have the guts to be what you wanna be? You need people like me. You need people like me so you can point your fuckin' fingers and say, 'That's the bad guy.'" – Tony Montana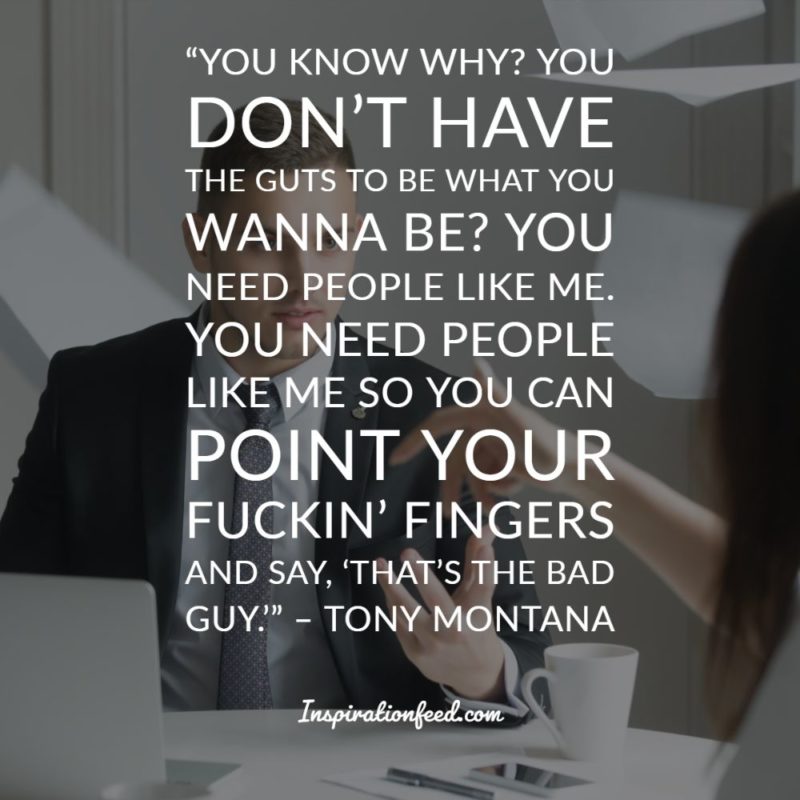 "You're not good. You just know how to hide, how to lie." – Tony Montana
"You know what? Fuck you! How about that?" – Tony Montana
"I never fucked anybody over in my life didn't have it coming to them. You got that? All I have in this world is my balls and my word and I don't break them for no one." – Tony Montana
"That piece of shit up there, I never liked him, I never trusted him. For all I know he had me set up and had my friend Angel Fernandez killed. But that's history. I'm here, he's not." – Tony Montana
"Every dog has his day." – Tony Montana
"Do you wanna go on with me, you say it. You don't, then you make a move." – Tony Montana
"Why don't you try sticking your head up your ass? See if it fits." – Tony Montana
"Go ahead! I take your fucking bullets! You think you kill me with bullets? I take your fucking bullets! Go ahead!" – Tony Montana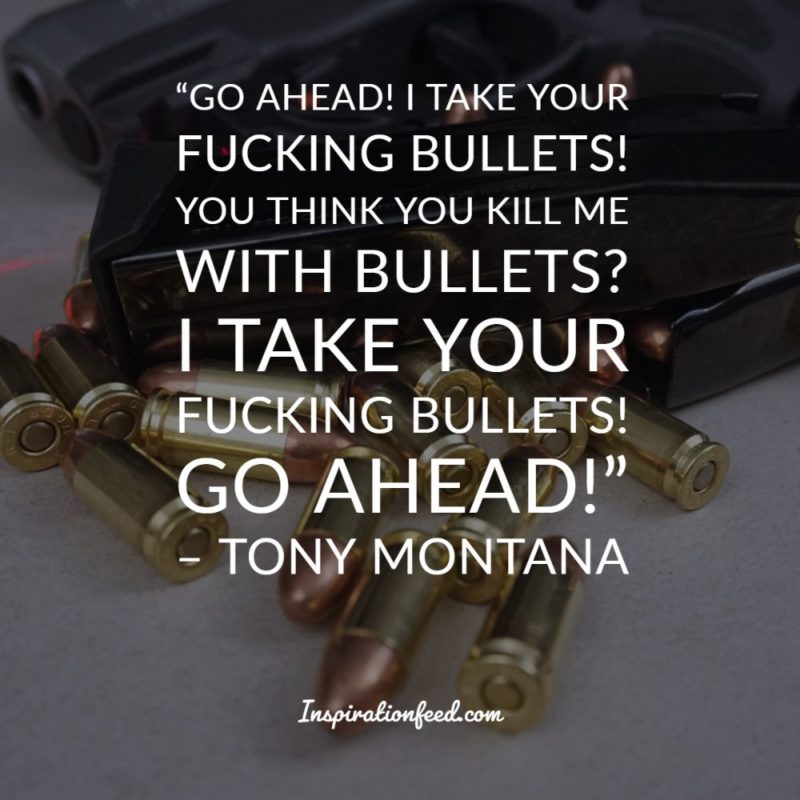 "Another Quaalude, and she'll be mine again."- Tony Montana
"You wanna waste my time? Okay. I call my lawyer. He's the best lawyer in Miami. He's such a good lawyer, that by tomorrow morning, you gonna be working in Alaska so dress warm." – Tony Montana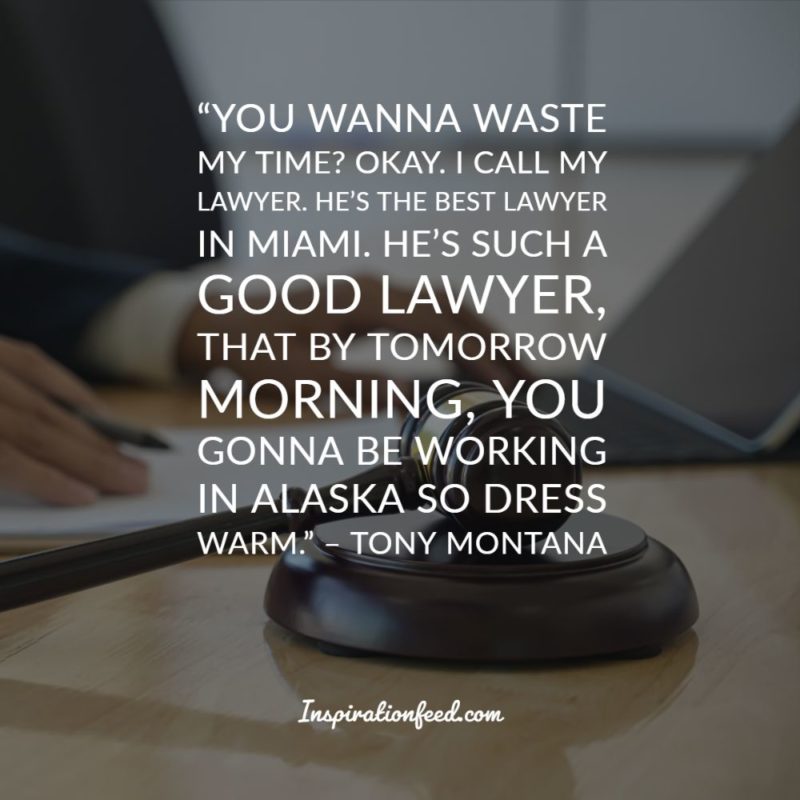 "The only thing in this world that gives orders is balls." – Tony Montana
"The world is yours!" – Tony Montana
"You got nothing to do with your life, man. Why don't you get a job? Do something, be a nurse. Work with blind kids, lepers, that kind of thing. Anything beats you waiting around all day, waiting for me to fuck you, I'll tell you that." – Tony Montana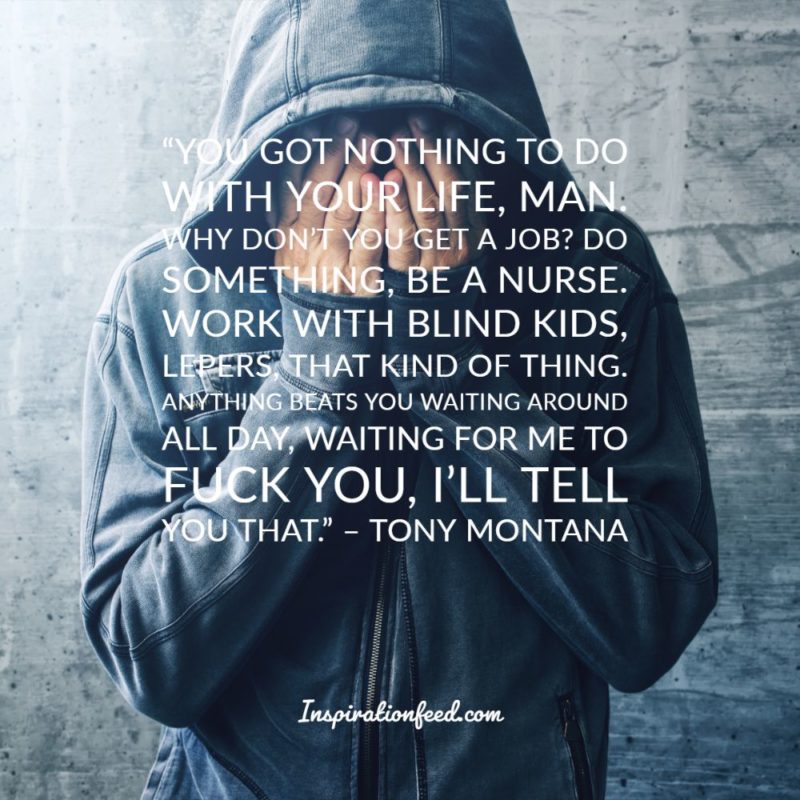 "I work hard for this. I want you to know that." – Tony Montana
"I got ears, ya know. I hear things." – Tony Montana
"You think you can take me? You need a fucking army if you gonna take me!" – Tony Montana
"You should have kept your mouth shut, they'd have thought you was a horse and let you out." – Tony Montana
"Would you kiss me if I wear the hat?" – Tony Montana
"You know what capitalism is? Getting fucked!" – Tony Montana
"This country was built on laundered money." – Tony Montana
"You worry too much. You're gonna have a heart attack." – Tony Montana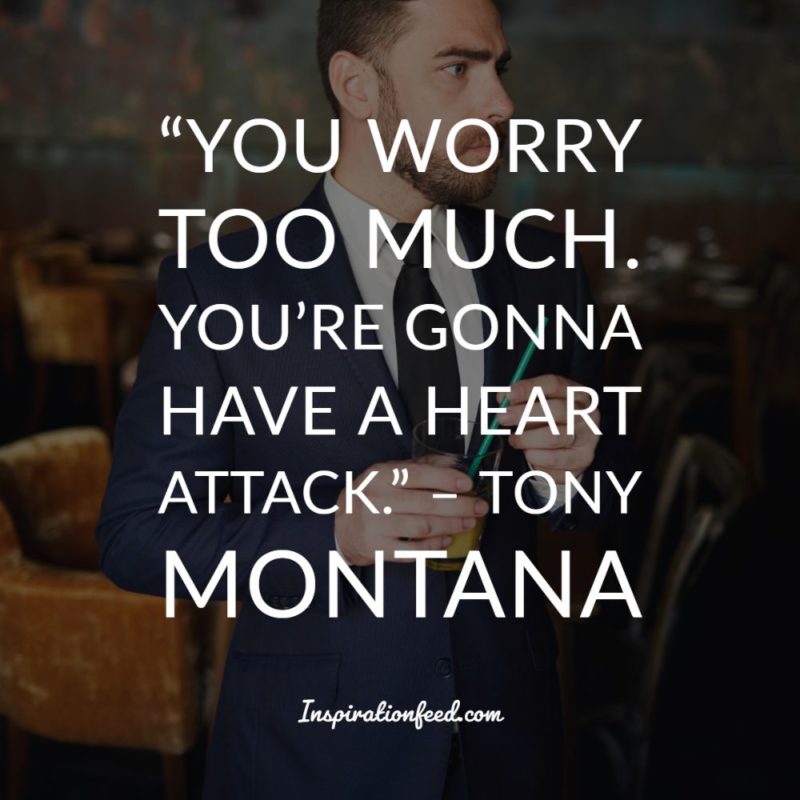 "You know what I'm talkin' about you fucking cockroach." – Tony Montana
"Maybe you can hand yourself one of them first-class tickets to the Resurrection." – Tony Montana
"I always know one day I'm coming here, United States." – Tony Montana
"Sanitation? I told you to tell 'em that you was in a sanitarium. Not sanitation, sanitarium." – Tony Montana
"I kill a communist for fun, but for a green card… I'm gonna carve him up real nice." – Tony Montana
"The guys who last in this business are the guys who fly straight, low-key, quiet and the guys who want it all; chicas, champagne, flash…they don't last." – Tony Montana
"I didn't come to the United States to break my fucking back." – Tony Montana
"This is paradise, I'm tellin' ya. This town like a great big pussy just waiting to get fucked." – Tony Montana
"You're gonna find, if you stay loyal in this business, you're gonna move up. You're gonna move up fast." – Tony Montana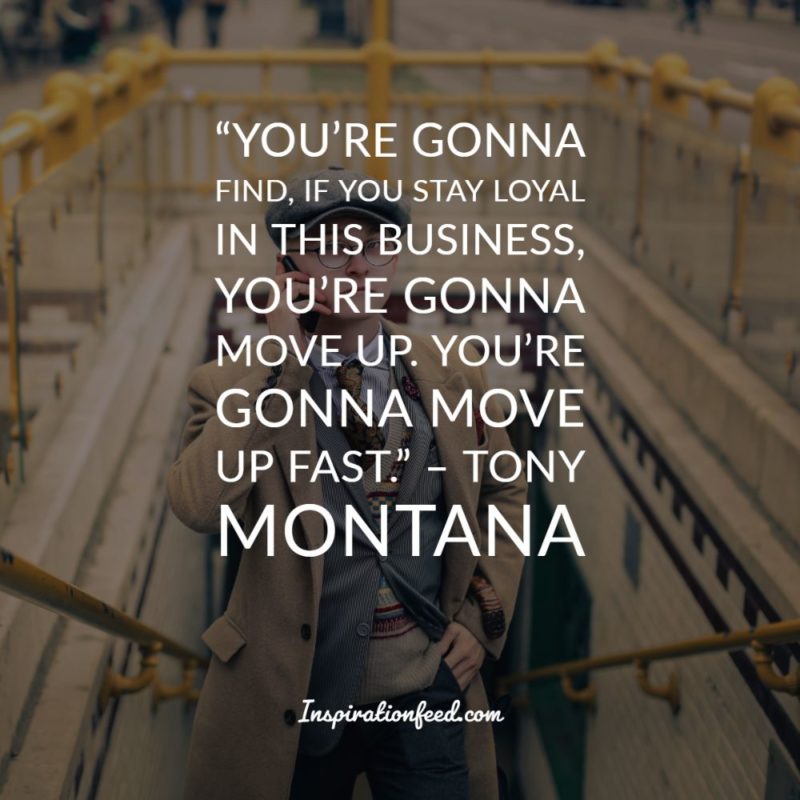 "You think I'll kill two kids and a woman? Fuck that! I don't need that kind of shit in my life!"- Tony Montana
"Fuck Gaspar Gomez! And fuck the fuckin' Diaz brothers! Fuck 'em all! I bury those cockroaches!"- Tony Montana
"Lesson number two: Don't get high on your own supply." – Tony Montana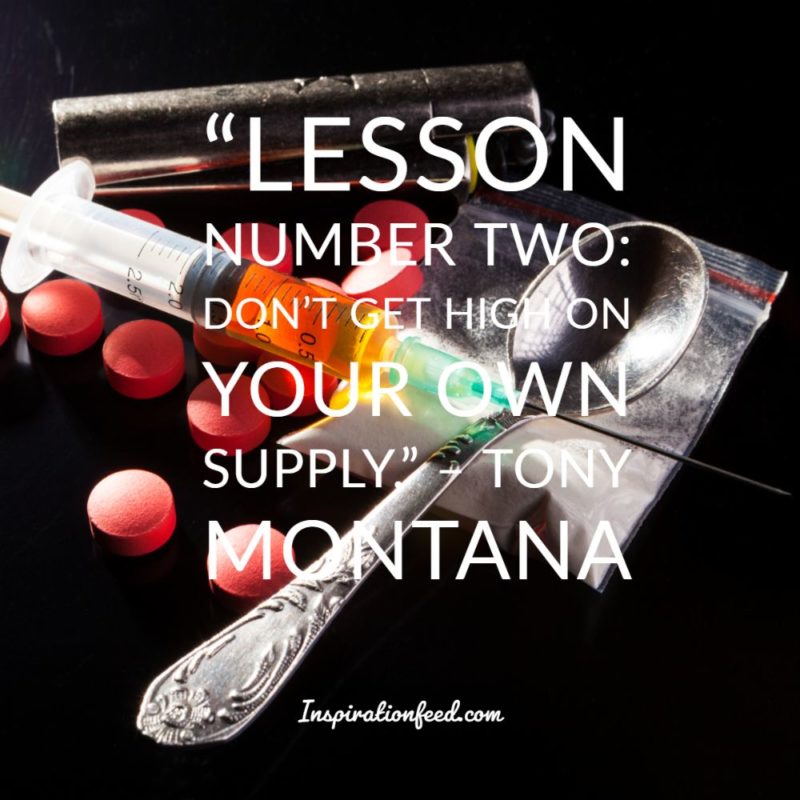 "Two little kids in a car, this is so fucking bad mang."- Tony Montana
"You know what a chazzer is? It's a pig, they don't fly straight!" – Tony Montana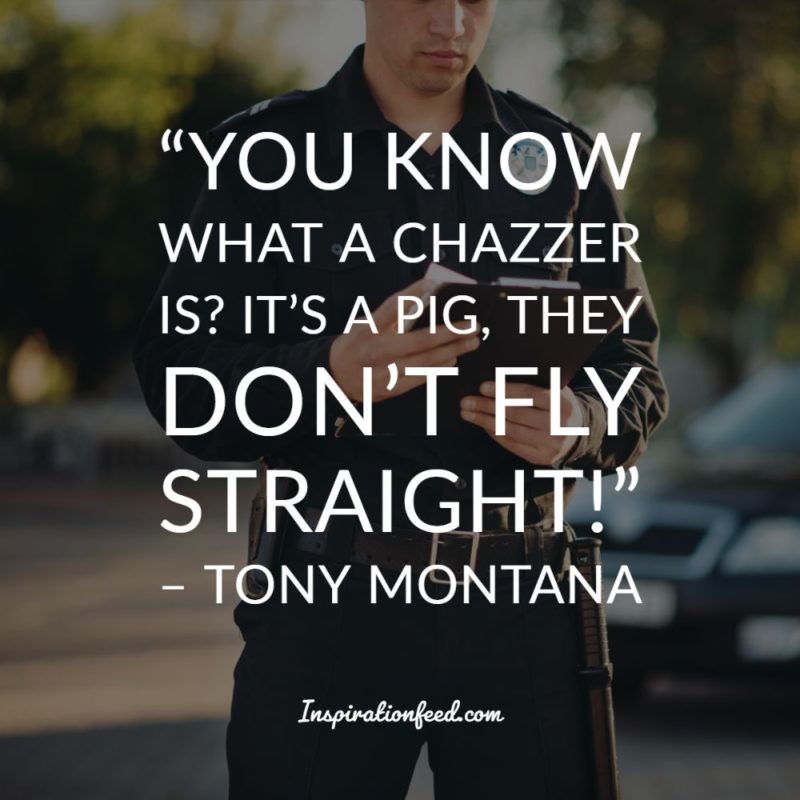 "See, the guy, he wants more than what he needs. He doesn't fly straight no more." – Tony Montana
"What are we gonna do? Go to Cuba and hit The Beard?"- Tony Montana
"The eyes chico, they never lie."- Tony Montana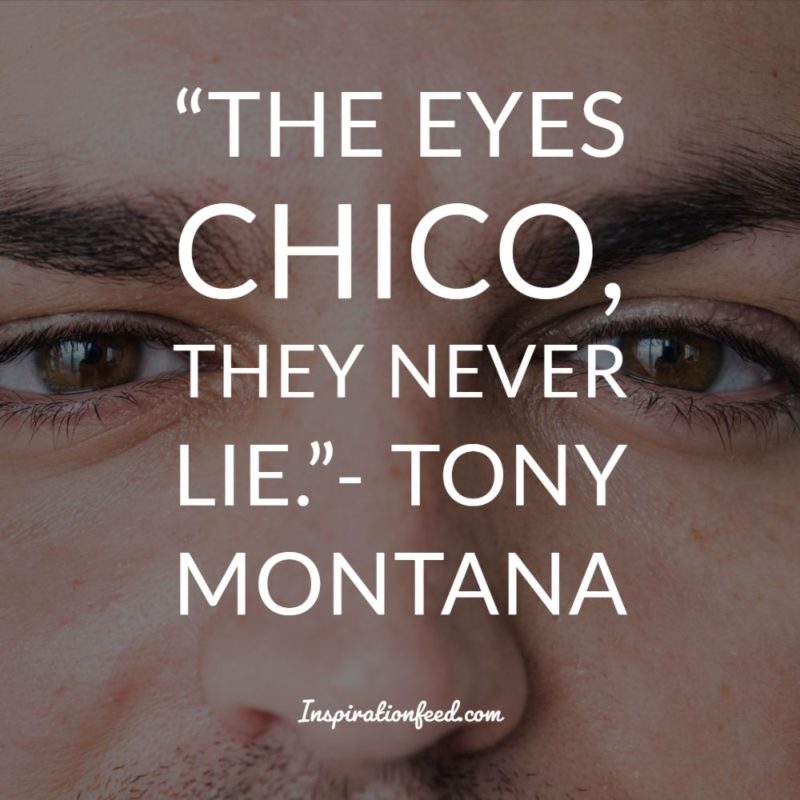 "You a communist? Huh? How'd you like it, man? They tell you all the time what to do, what to think, what to feel. Do you wanna be like a sheep? Like all those other people? Baah! Baah!" – Tony Montana
"You're good looking, you got a beautiful body, beautiful legs, beautiful face, all these guys in love with you. Only you got a look in your eye like you haven't been fucked in a year!"- Tony Montana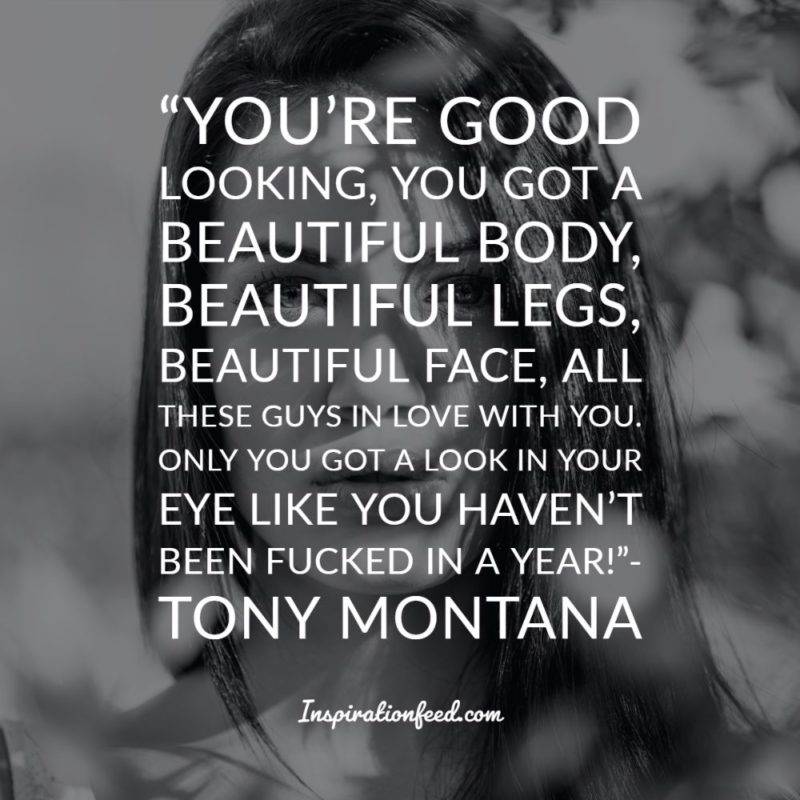 "I'm Tony Montana! You fuck with me, you fuckin' with the best!" – Tony Montana
"Come on. The last time you gonna see a bad guy like this again, let me tell you. Come on. Make way for the bad guy. There's a bad guy comin' through! Better get outta his way!" – Tony Montana