A "black, lesbian, mother, warrior, poet." That was how Audre Lorde described herself. Lorde devoted her life and her artistic talent to dealing with and responding to the injustices of racism, sexism, and homophobia.
Critics would often say that her writing rang with passion, honesty, understanding, and depth of feeling. She was always worried about how modern society tends to distinguish and categorize people.
So, she made it a mission to fight against the marginalization of categories like "lesbian" and "black." As a result, she empowered and motivated her readers to respond to the biases in their own lives.
Highlights of Her School Years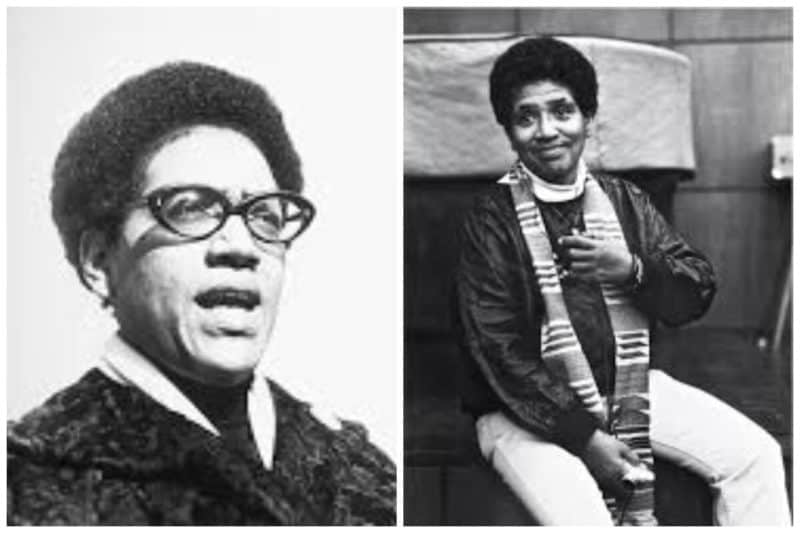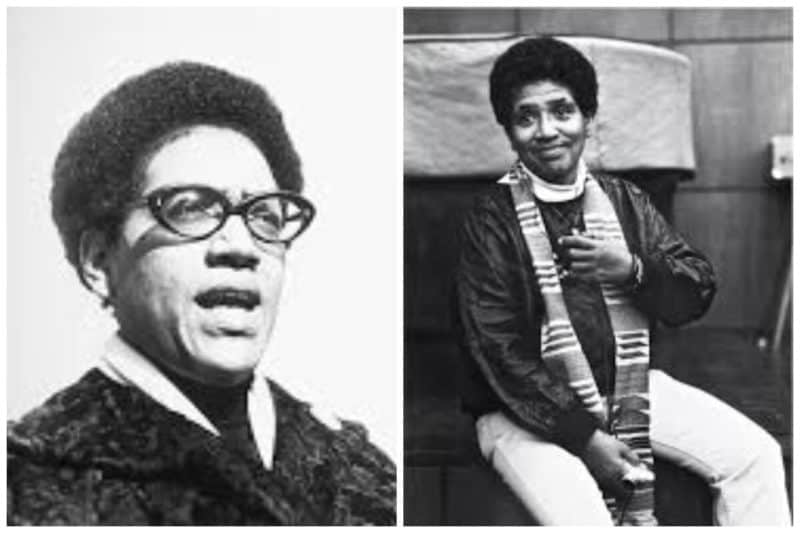 Born on February 18, 1934 in New York City, Audrey Geraldine Lorde was the youngest of three daughters. She chose to remove the 'y' from her first name when she was a kid due to artistic symmetry. Her parents, Frederick Byron Lorde and Linda Gertrude Belmar Lorde, were immigrants from the West Indies.
Lorde's relationship with her parents was already complicated since she was a child. They spent very little time together as both were busy with the family real estate business. When she did spend time with them, they were emotionally distant.
Her difficult relationship with her mother was evidently featured in her later poems. At one point, Lorde described her mother having a deep suspicion of people with darker skin than hers. As it came to be, Lorde inherited her father's dark-skinned complexion. Her mother, she said, was known for delivering tough love and had a rigid devotion to family rules.
As a child, Lorde suffered from extreme nearsightedness to the point of being legally blind.She didn't talk until she was four. About that time, Lorde's mother also taught her how to read and write. Because she struggled with communication, Lorde found power and appreciation of poetry as a kind of expression.
When Lorde started to communicate, she would often answer questions and concerns with poems that she'd memorized. At age 12, the limited resources from where she can read poems pushed her to create her own verses.
Lorde went to Hunter College High School, a school renowned for its intellectually gifted students. While in school, her first poem was published in Seventeen magazine after Hunter's school paper turned it down for being too romantic. The poem has an homage to her first love. Also in high school, Lorde took part in poetry courses funded by the Harlem Writers Guild.
In 1954, Lorde spent a year at the National University of Mexico. She described that period as her time of acceptance and rebirth. During that pivotal year, she identified her real self on both personal and artistic levels. She was a lesbian and a poet.
When she returned to New York, Lorde enrolled at Hunter College. She graduated with the class of 1959. She divided her time attending classes, working as a librarian, and continuing her writing. She also became an active participant in the gay community in Greenwich Village. In 1961, she earned her master's degree in library science at Columbia University, where she opted to further her education.
Right After Getting Her Masters
After graduating, Lorde worked as a librarian for two years. She had the same job at St. Clare's School of Nursing for a year. Then, she worked in the same post for two more years at The Town School.
In 1962, Lorde married Edwin Ashley Rollins, an attorney. They had two children: Elizabeth and Jonathan. In 1967, Diane DiPrima, who she met at her secondary school, encouraged her to write a manuscript for a first book that will be published by the Poets Press.
Before the first publication of her book in 1968, Lorde was invited to be a poet-in-residence at Tougaloo College in Mississippi. It was a six-week experience that changed her life. It was her first teaching job. It was also her first trip to the Deep South.
In Tougaloo, Lorde was exposed to the all-African-American surroundings. At that period, black students were becoming militant. It was there that she penned her poems for Cables to Rage. It was also that experience that made her realize that, for her, being a teacher was more fulfilling than being a librarian.
Upon returning to New York, Lorde ended her marriage to Rollins. She started her teaching career, which encompassed a year at the City University of New York's SEEK program. SEEK was a pre-baccalaureate course for deprived students.
She also had a short teaching stint at Lehman College where she educated white students on racism. For a decade, she was an English professor John Jay College of Criminal Justice. And from 1981 into the early 1990s, Lorde had a full professorship at Hunter College.
On November 17, 1992, in St. Croix, Lorde died of liver cancer. She was 58.
Get more inspiration from Audre Lorde with these 25 powerful quotes.
Audre Lorde Quotes
"I am my best work – a series of road maps, reports, recipes, doodles, and prayers from the front lines." – Audre Lorde
"I am deliberate and afraid of nothing." – Audre Lorde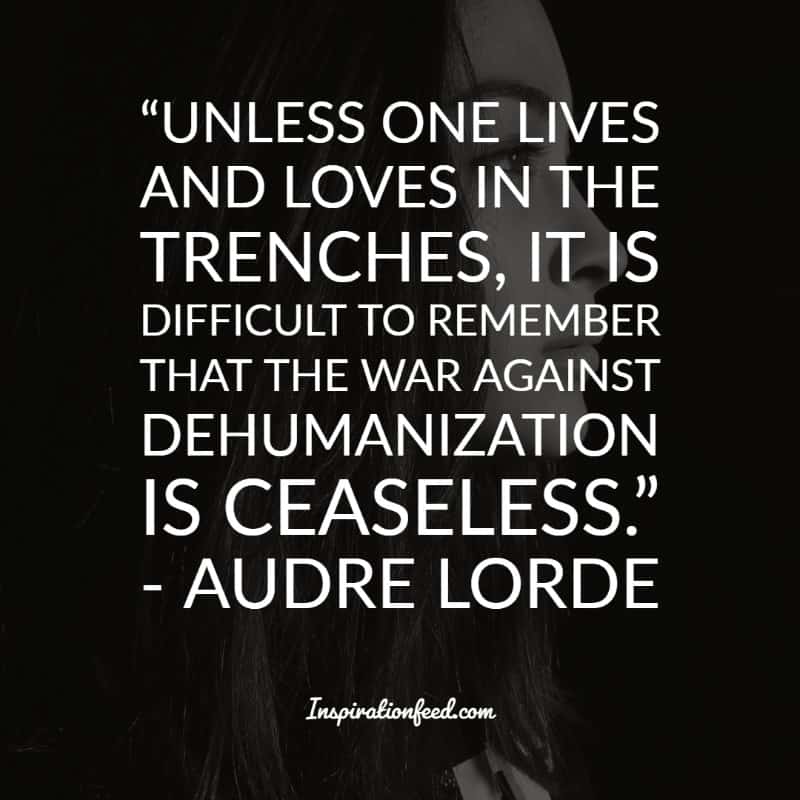 "Unless one lives and loves in the trenches, it is difficult to remember that the war against dehumanization is ceaseless." – Audre Lorde
"I find I am constantly being encouraged to pluck out some one aspect of myself and present this as the meaningful whole, eclipsing or denying the other parts of self." – Audre Lorde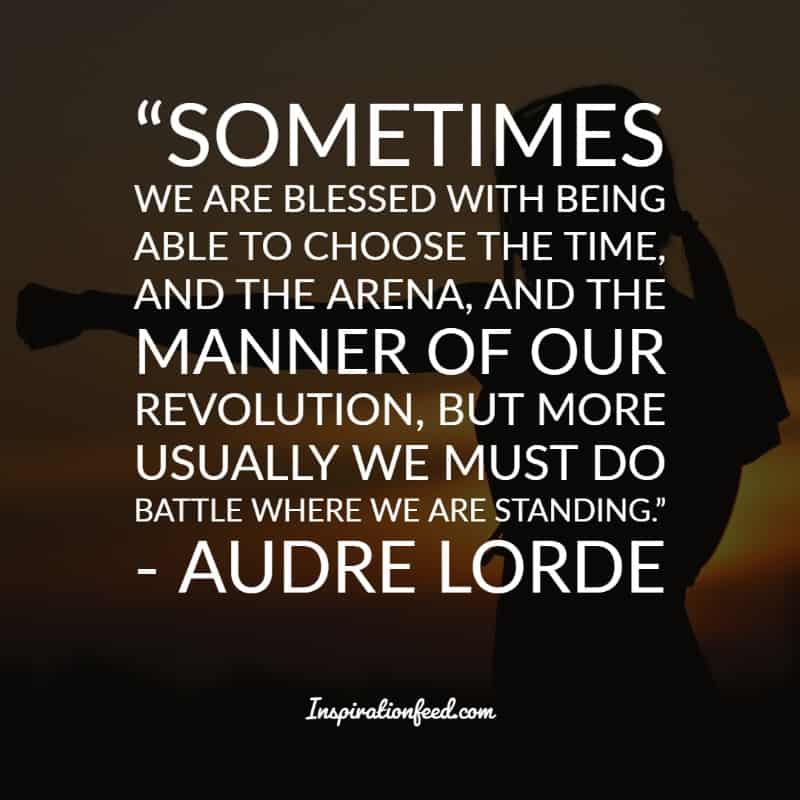 "Sometimes we are blessed with being able to choose the time, and the arena, and the manner of our revolution, but more usually we must do battle where we are standing." – Audre Lorde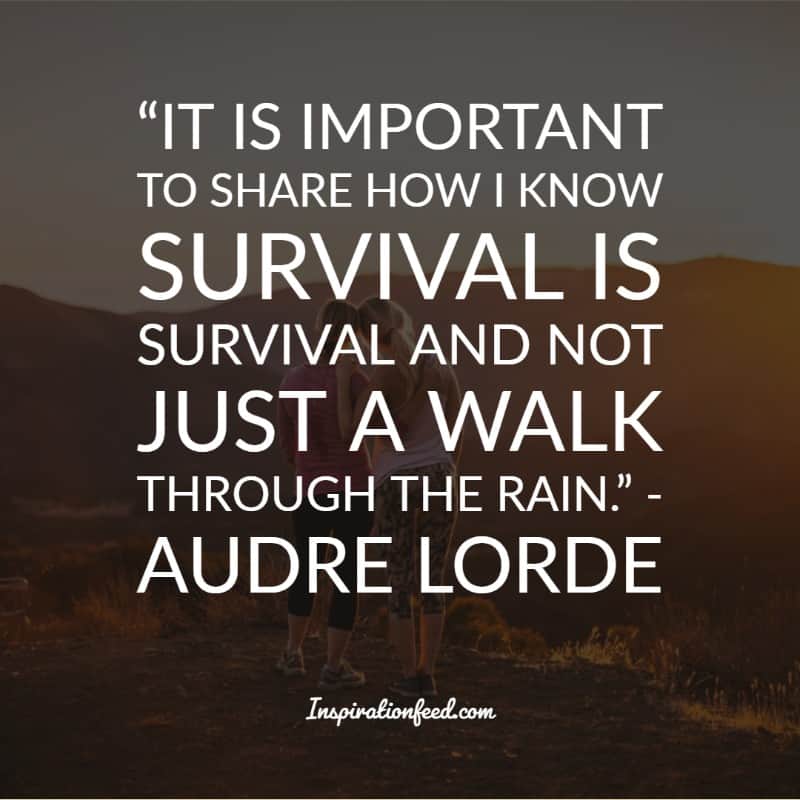 "It is important to share how I know survival is survival and not just a walk through the rain." – Audre Lorde
"I have a duty to speak the truth as I see it and share not just my triumphs, not just the things that felt good, but the pain, the intense, often unmitigated pain." – Audre Lorde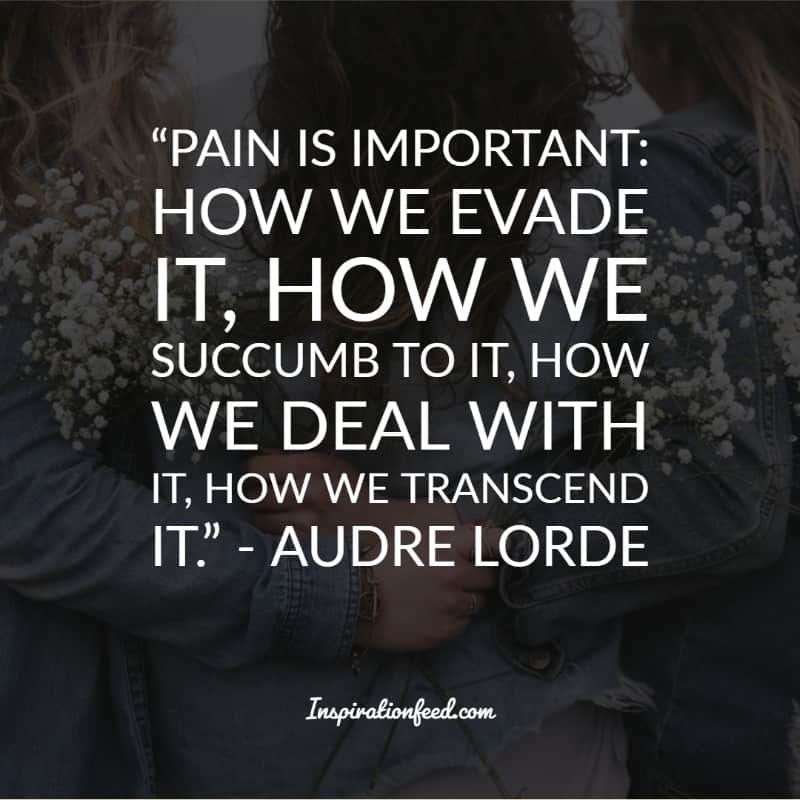 "Pain is important: how we evade it, how we succumb to it, how we deal with it, how we transcend it." – Audre Lorde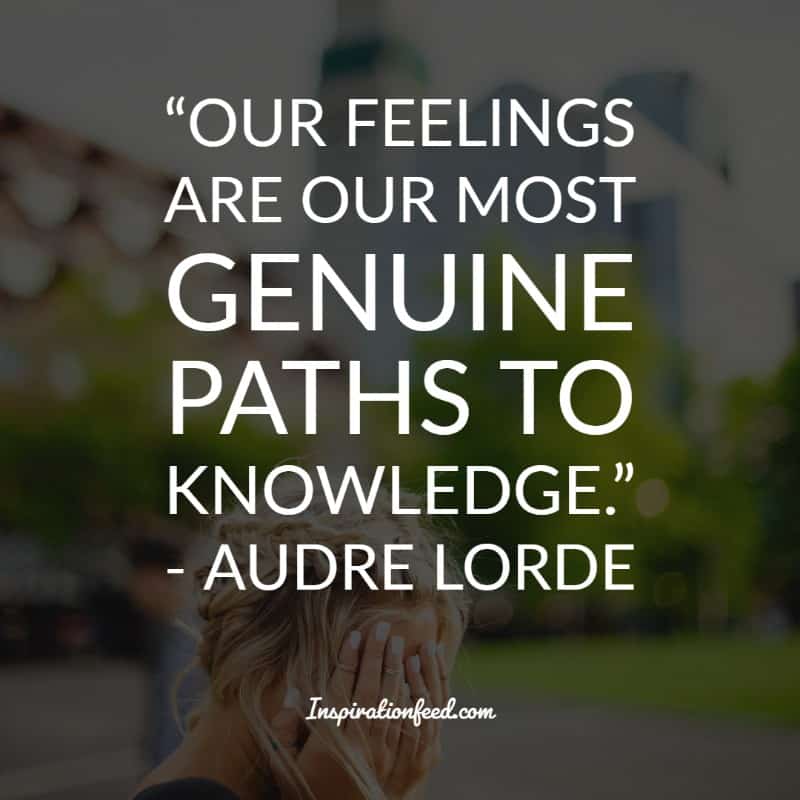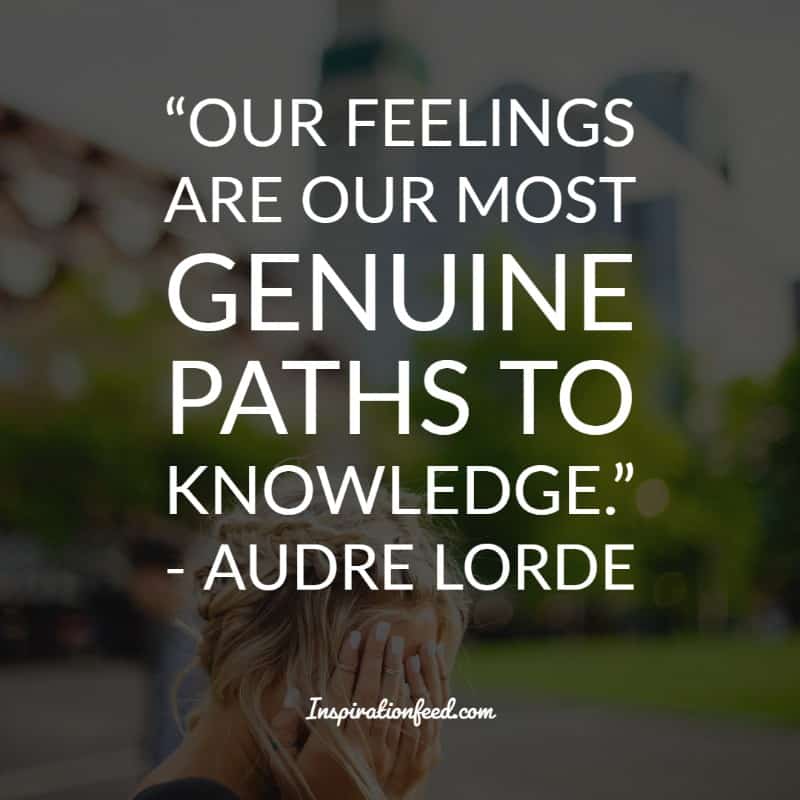 "Our feelings are our most genuine paths to knowledge." – Audre Lorde
"There is no thing as a single-issue struggle because we do not live single-issue lives." – Audre Lorde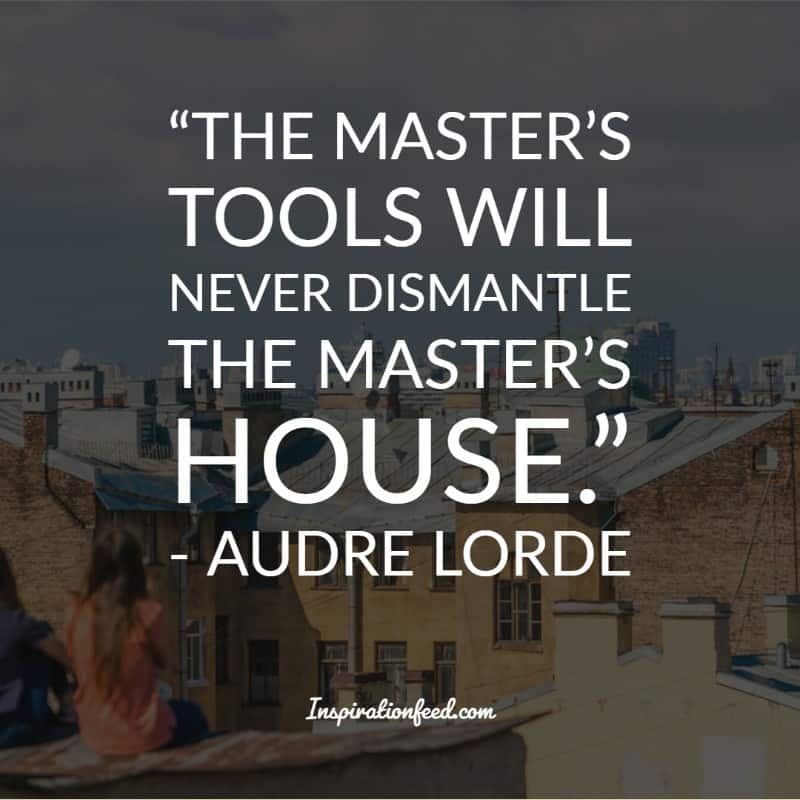 "The master's tools will never dismantle the master's house." – Audre Lorde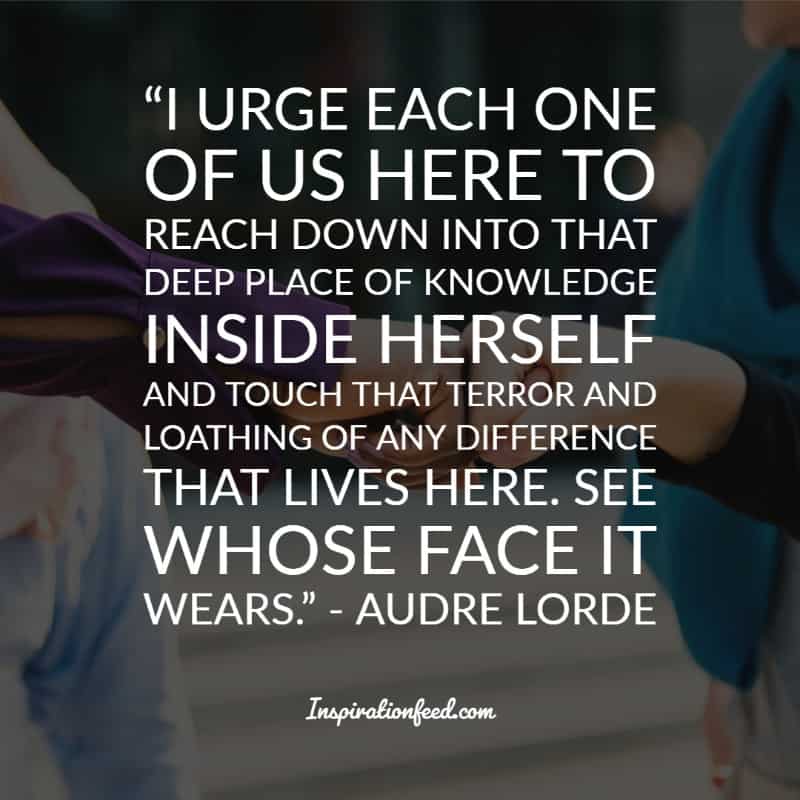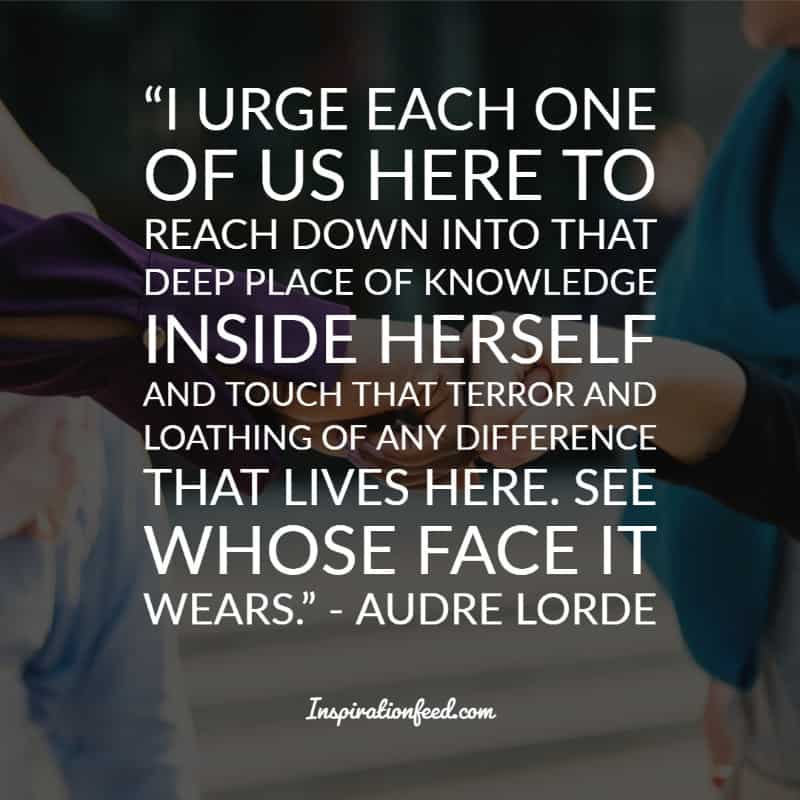 "I urge each one of us here to reach down into that deep place of knowledge inside herself and touch that terror and loathing of any difference that lives here. See whose face it wears." – Audre Lorde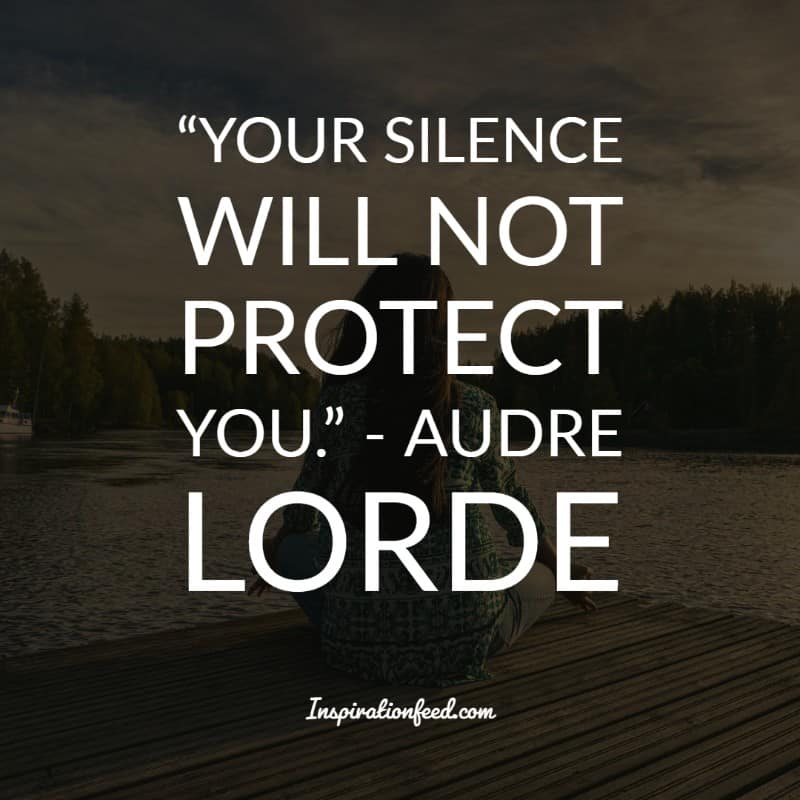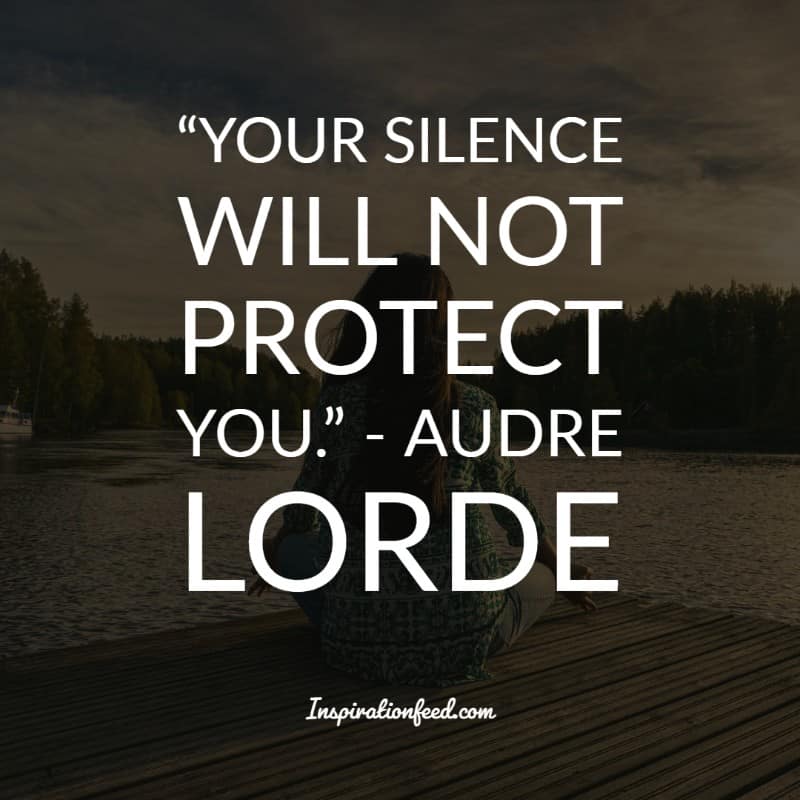 "Your silence will not protect you." – Audre Lorde
"If I didn't define myself for myself, I would be crunched into other people's fantasies for me and eaten alive." – Audre Lorde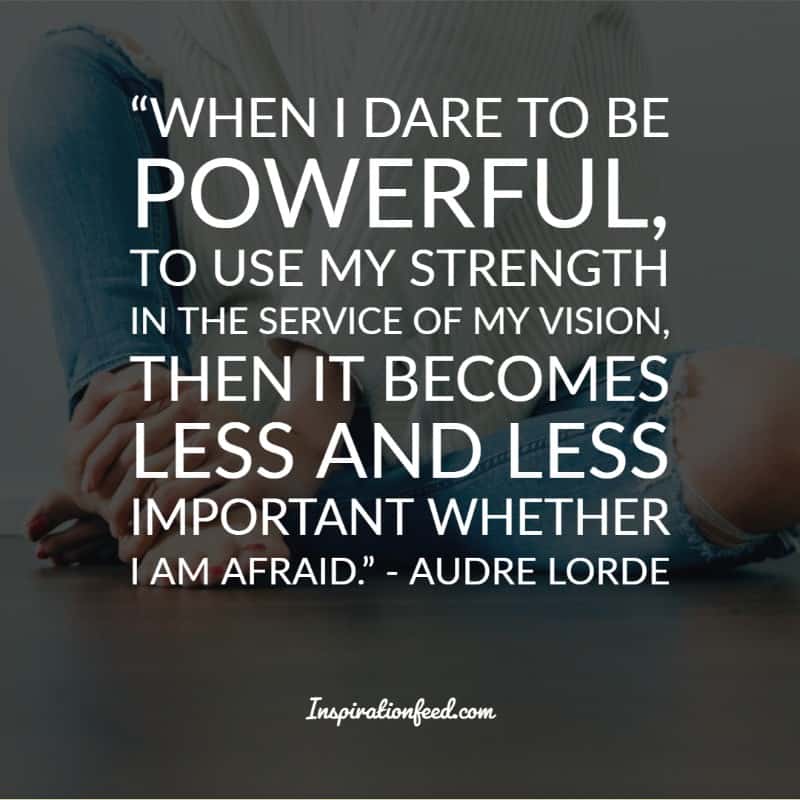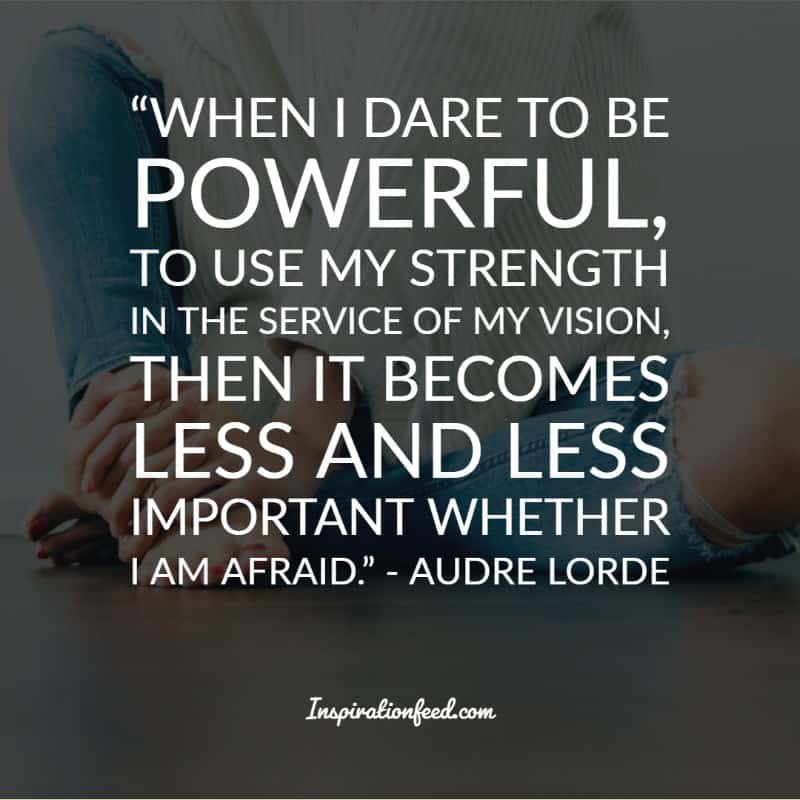 "When I dare to be powerful, to use my strength in the service of my vision, then it becomes less and less important whether I am afraid." – Audre Lorde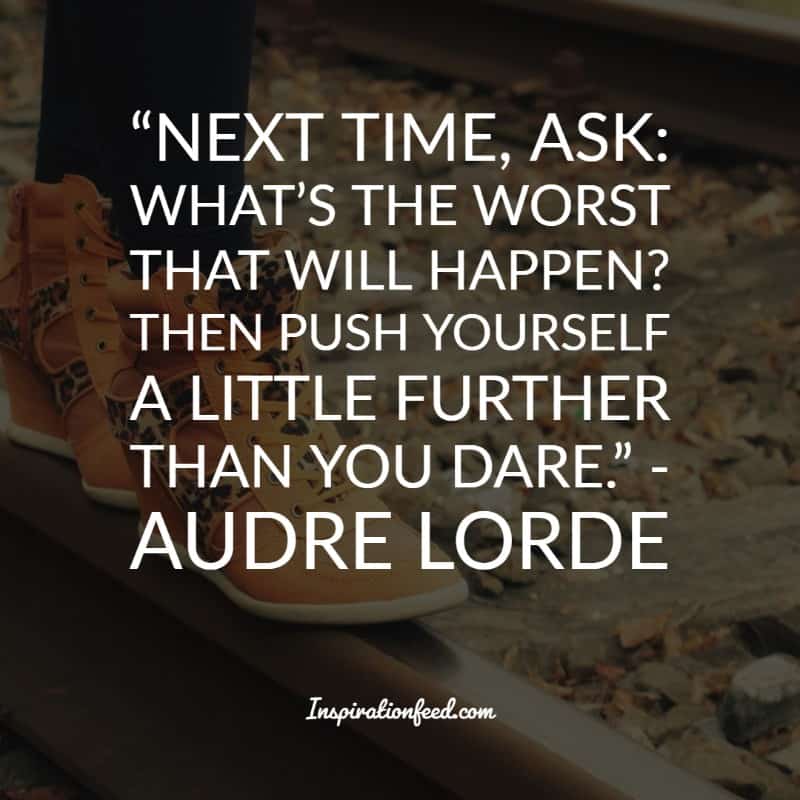 "Next time, ask: What's the worst that will happen? Then push yourself a little further than you dare." – Audre Lorde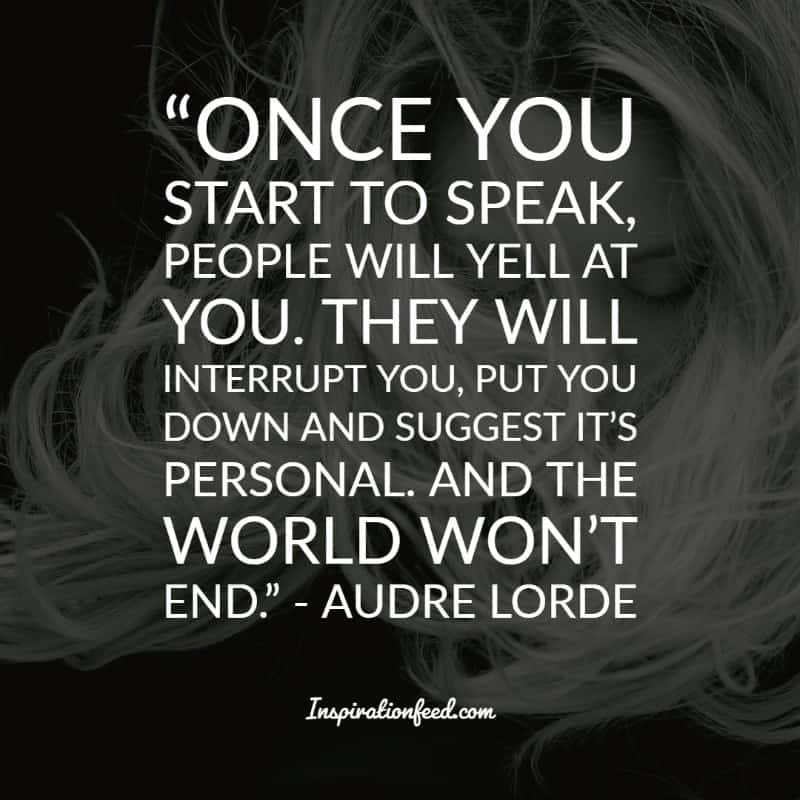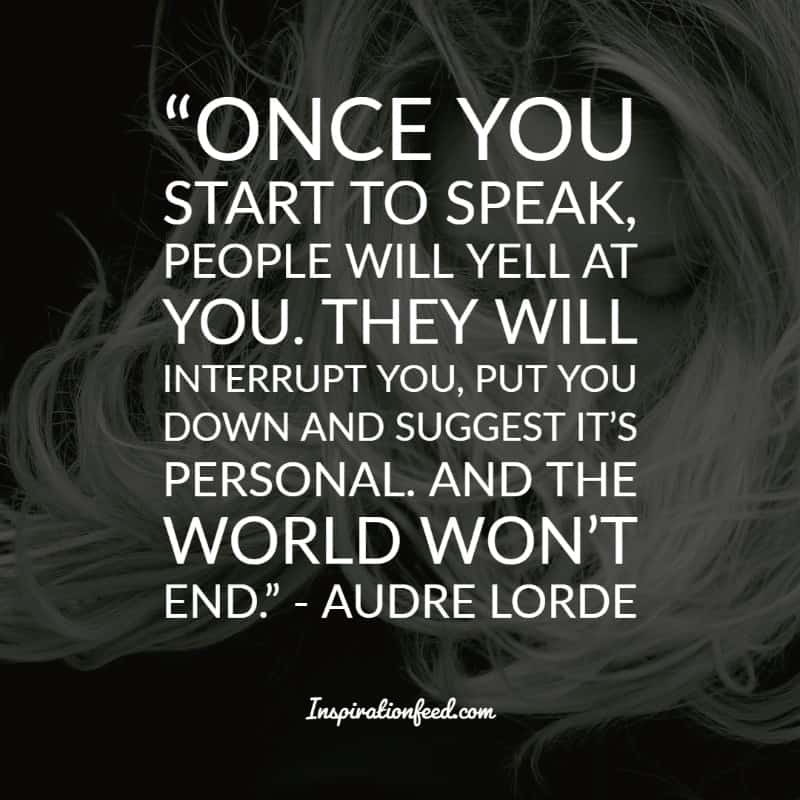 "Once you start to speak, people will yell at you. They will interrupt you, put you down and suggest it's personal. And the world won't end." – Audre Lorde
"…And at last you'll know with surpassing certainty that only one thing is more frightening than speaking your truth. And that is not speaking." – Audre Lorde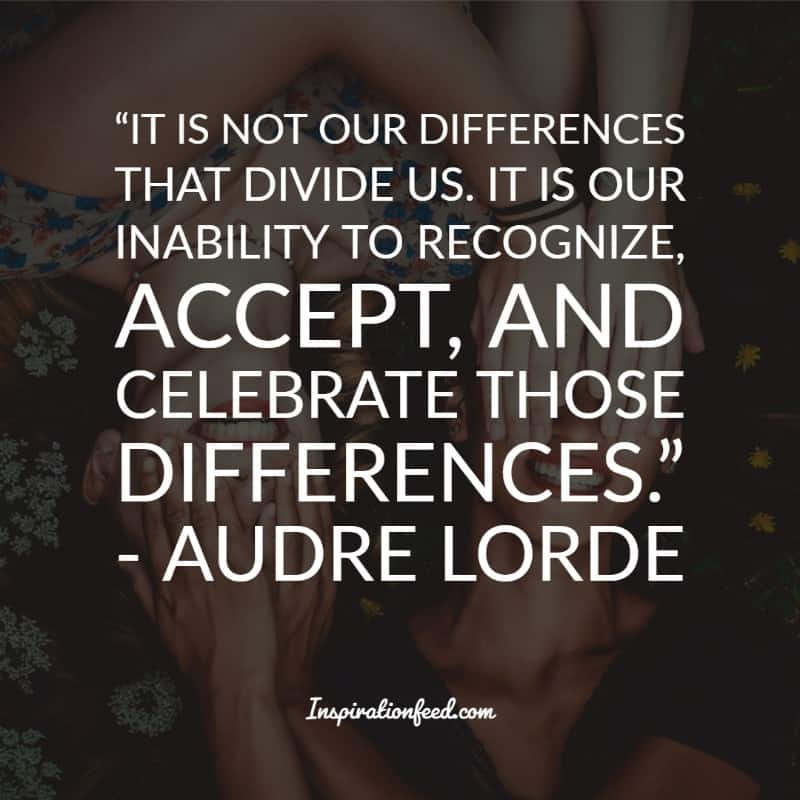 "It is not our differences that divide us. It is our inability to recognize, accept, and celebrate those differences." – Audre Lorde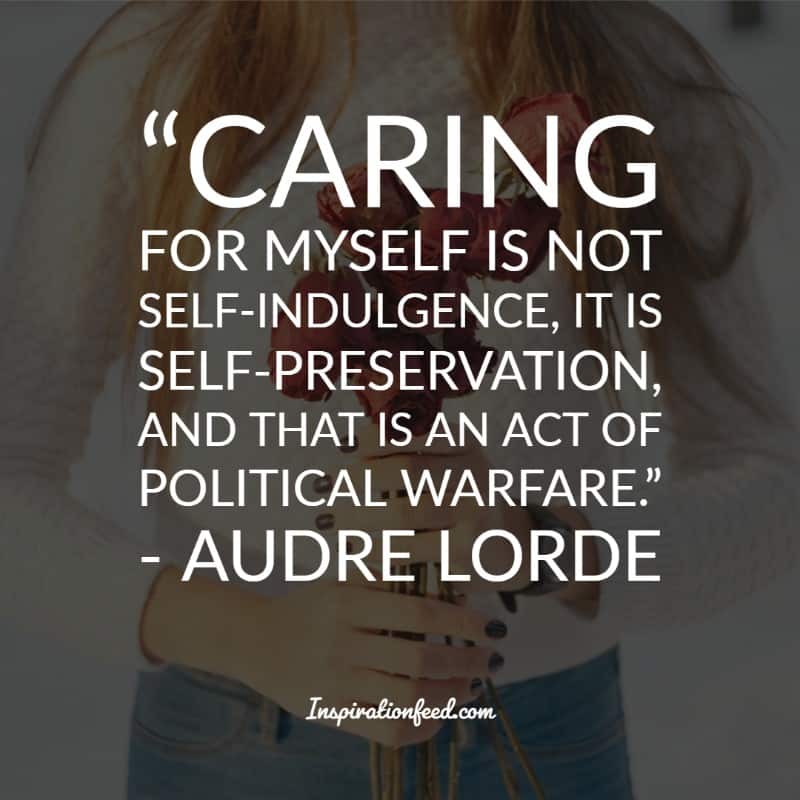 "Caring for myself is not self-indulgence, it is self-preservation, and that is an act of political warfare." – Audre Lorde
"Nothing I accept about myself can be used against me to diminish me." – Audre Lorde
"We must recognize and nurture the creative parts of each other without always understanding what will be created." – Audre Lorde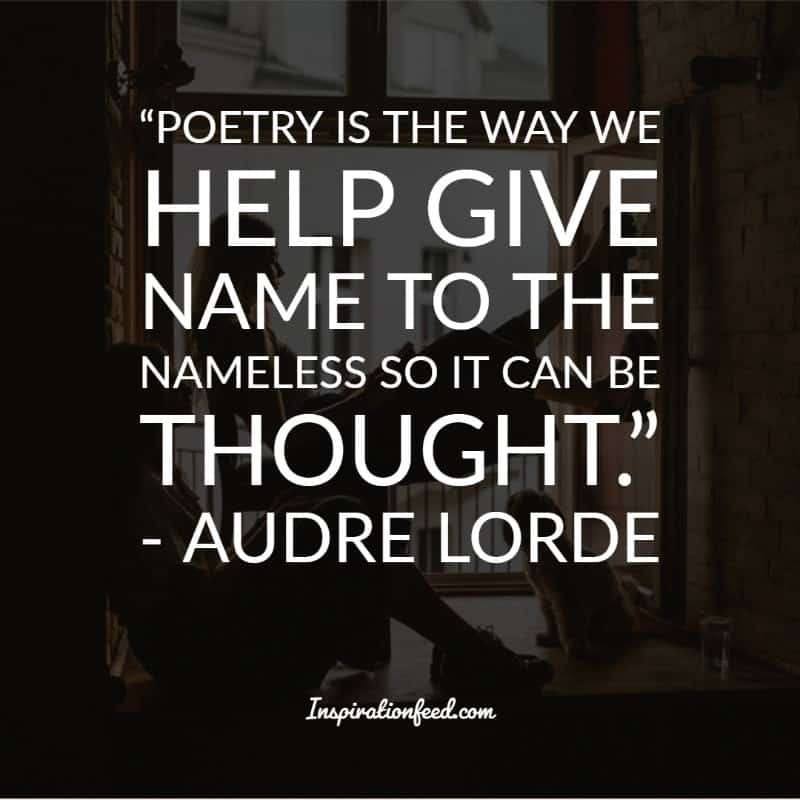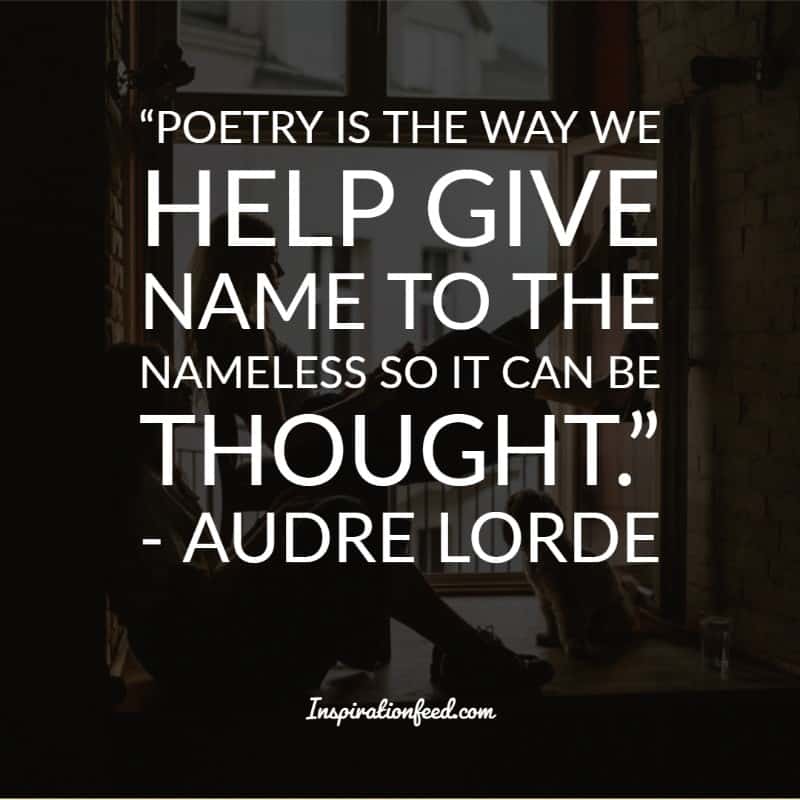 "Poetry is the way we help give name to the nameless so it can be thought." – Audre Lorde
"The erotic is a measure between the beginnings of our sense of self and the chaos of our strongest feelings." – Audre Lorde
"Some women wait for themselves around the next corner and call the empty spot peace, but the opposite of living is only not living, and the stars do not care." – Audre Lorde