Color grading used to be an expensive post-production technique that could only be achieved by experienced filmmakers and video creators working in highly-controlled environments. Not anymore.
Thanks to the ingenuity of software developers, this once-exclusive art can now be accomplished by pretty much anyone. All you need is the right tool for the job.
In this article, we look at the 8 best color grading software for video creators and moviemakers. But first, let's start from the beginning by understanding what color grading is and how this groundbreaking post-production technique can infuse more visual tones into your video creations.
What Is Color Grading?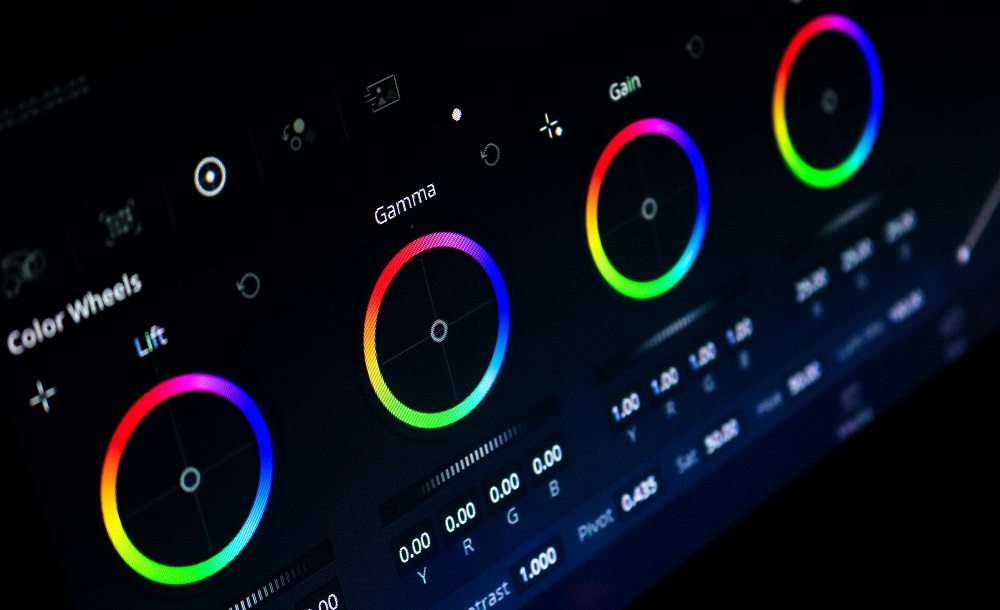 When making a film or video content, the producers typically choose certain color palettes as part of the project's overall theme. The selected palettes are usually a representation of the film or videomaker's personal tastes. However, they may not blend harmoniously with the color of the video footage captured. To achieve perfect harmony between the footage's color and the artist's personal color choices, directors use a unique technique called color grading.
Color grading is basically a post-production process that entails manipulating a film or video image to create consistent color tones across different environments and devices.
Various aspects of an image may be altered during color grading. The most commonly affected parameters include color depth & saturation, contrast, black level, and white balance. The altered versions may subsequently be used for motion pictures (such as movies or television documentaries), videos (such as vlog content), or still images.
Color grading is the successor to color timing, a less complex 20th-century post-production method that took place at film labs during printing. The latter technique mainly involved varying the color and intensity of the light used in exposing the rephotographed image.
Is Color Grading Similar To Color Correction?
The phrases "color grading" and "color correction" are commonly used interchangeably. However, these two film processing techniques do not denote the same thing.
As already indicated, color grading involves making certain color adjustments to a film or video image to give it a consistent look across different environments. On the other hand, color correction seeks to make images appear exactly as they are in real life.
8 Best Color Grading Software for Video Creators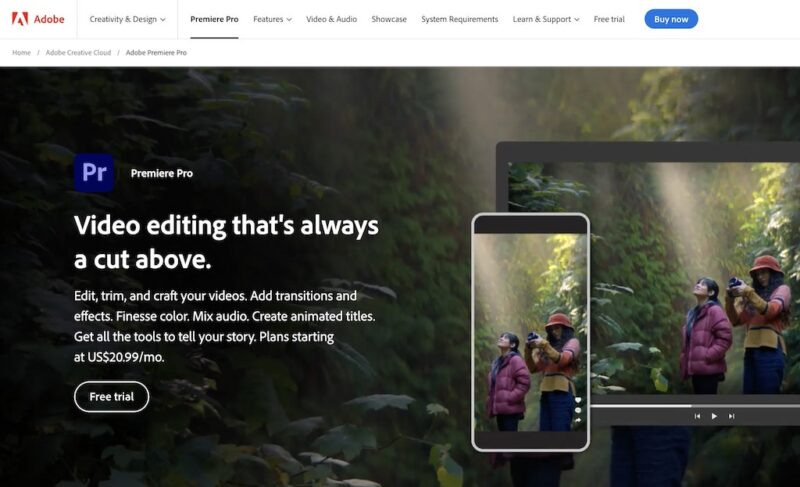 Pricing: Plans start from $20.99/month; a free trial available
Adobe is the global leader in creative design software. One of the company's most groundbreaking products is Premiere Pro.
Adobe Premiere Pro is widely regarded as an industry standard by many professional video editors. The tool has gained incredible fame for its high-end color grading abilities. Premiere Pro allows you to edit, trim, and craft your videos no matter their resolutions. The software provides advanced color grading and color correction features that let you work on your footage directly on your editing timeline.
Premiere Pro's color grading tools are accessible on its Lumetri Color workspace. All you need to do is access the workspace from the app's dashboard and choose the effects you'd wish to apply to your videos. You can adjust color, alter the contrast, and manipulate lighting to achieve perfect color consistency.
The fact that Adobe Premiere Pro provides video editing and color grading features in one place allows you to work on your footage without needing to launch a separate editing application. And despite the software being a favorite of professional video editors, it works just alright for beginners too. Simply head to Premiere Pro, open the Lumetri Color panel, and set up the Color workspace to get started.
As with most Adobe products, Premiere Pro isn't free to use. The service costs USD 20.99 per month after test-driving it for seven days. However, a monthly subscription fee of $20.99 is remarkably affordable considering that you can use this software to color-grade blockbuster films or television documentaries. There's also the option of upgrading to the full Creative Cloud suite to enjoy more video editing features.
Pricing: Plans start from $9.19/month; a free trial available
Photoshop is another noteworthy product by Adobe. But unlike Premiere Pro that focuses on post-production video editing, Photoshop is primarily a photo editing software. The program caters to users of different needs, whether you're looking to make minor retouches or dramatic adjustments to your photos. You can crop photos, correct lighting, adjust photo composition, etc.
So, how did a platform developed for photo editing end up on a list of color grading apps?
Well, it might interest you to know that color grading essentially happens through a photo editor, video editor, or both. Besides, the color grading effects achieved can be beneficial to both motion pictures and still images.
There are several ways to color-grade using Adobe Photoshop. One such method is using Photo Filter, which lets you make quick adjustments to your creations using the software's presets. This feature is most effective at brightening your image, removing color bounces, and adding tints to the photos.
To use Photo Filter:
i. Open the image using your Photoshop's device or by choosing it from the program's library.
ii. Open the Photo Filter tool in the Adjustments layer of your Photoshop dashboard, usually at the bottom right side of the screen.
iii. Open the color wheel and make the desired changes.
iv. Cycle between filters.
v. Complete the process by clicking the New Adjustment Layer icon located at the bottom of the Layers palette to incorporate different layers to the image.
Pricing: Plans start from €1.29/month; a free trial available
Colorista is a professional color grading and correction software for fixing problematic footage. This tool stands out for its ability to adjust the chroma and luminosity of the individual hues in your footage. It's an excellent solution for moviemakers and videographers who use low-resolution equipment or those who work in poorly-lit conditions.
Colorista is part of the Magic Bullet suite offered through the February 2020 merger between Maxon and Red Giant – two software companies made up of tech-savvy artists and technologists who collaborate in developing unique solutions. Their products are mainly targeted at video creators, motion designers, visual effects artists, and filmmakers.
Maxon/Red Giant's team of software developers understands that not all videos you capture will be of stellar quality. Some will often come back grainy due to under-exposure. To avoid these setbacks, the experts designed a powerful program that removes all the noise from your footage before allowing you to color-grade them.
Magic Bullet Colorista comes as a plugin, which means that you can directly access its color grading services right from your preferred video editing software. The tool also runs off your graphic card's graphics processing unit (GPU). This allows you to view the changes you make in real time while accelerating the color grading process.
And while this program isn't inherently free, there are seven different plans to choose from. The cheapest bundle starts from as low as €1.29 per month and each comes with a free trial too.
Pricing: Starts from a flat fee of $295; a free version also available
DaVinci Resolve is a color grading, color correction, motion graphics, and visual effects application…..all rolled into one. The tool provides both audio post-production and video editing features for users of different experience levels.
DaVinci Resolve was originally developed by da Vinci Systems from 2004 until 2009 when the company sold to Blackmagic Design. The software maintains a sleek and elegant interface that anyone can navigate without prior knowledge in color grading. It supports ten different languages and works on all major operating systems, including Windows, macOS, Linux, and iPadOS.
Regular updates is one of the coolest things to love about DaVinci Resolve. The software's most recent iteration – DaVinci Resolve 18.5 – comes with over 150 new features, most of which are artificial intelligence (AI)-powered. The version also includes improved cloud collaboration, allowing your team to complete complex color grading projects much faster.
To ensure that you're not overwhelmed with the new set of tools, Blackmagic Design split DaVinci Resolve into distinct workspaces called pages. Each page has specialized features to handle your post-production needs, with the Fusion page providing most of the color grading functions. The Fusion page includes several 2D and 3D tools for creating motion graphics and visual effects.
To access the page, you'll need to select a single clip or group of clips in the timeline and then click on the Fusion button located at the bottom of the screen. A new workspace containing two viewers and a node editor will appear. The left viewer displays your original footage, the right viewer shows the composite results, while the node editor is where you can experiment with different nodes to achieve your desired visual effects.
Pricing: Plans start from $19.99/month; a free trial available
Wondershare Filmora is a perfect recommendation for new video creators, thanks to the software's simple and practical design. The platform offers built-in color grading and color correction features which anyone can unlock even if they're interacting with it for the first time. It also comes with an instant mode, auto beat sync, and preset templates aimed at taking the hassle from video creation.
There are millions of built-in free digital assets and exceptional video editing effects to level up your color grading game. Common effects include contrast, brightness, saturation, white balance, and hue. It's also great to know that you can export your edited videos in a variety of file formats, including Apple ProRes, AVCHD, MPEG-2, and MPEG-4, as well as native camera formats like Canon and Sony Raw.
Wondershare Filmora's application is compatible with desktop, iPad, and mobile devices. However, you'll need Windows 11 and below to access the app on your desktop.
Besides, while Filmora is free to download, it's not exactly free to use. You'll need to subscribe to its subscription plans after a 7-day free trial. The saving grace is that each premium plan comes with many features besides color correction.
For instance, Filmora's packages for Windows give you access to over 100 advanced editing features, over 5 million stock media items, and more than 150,000 creative assets. It also comes with up to 1 GB of Filmora cloud storage, over 1000 template presets, and 30 minutes of speech-to-text service.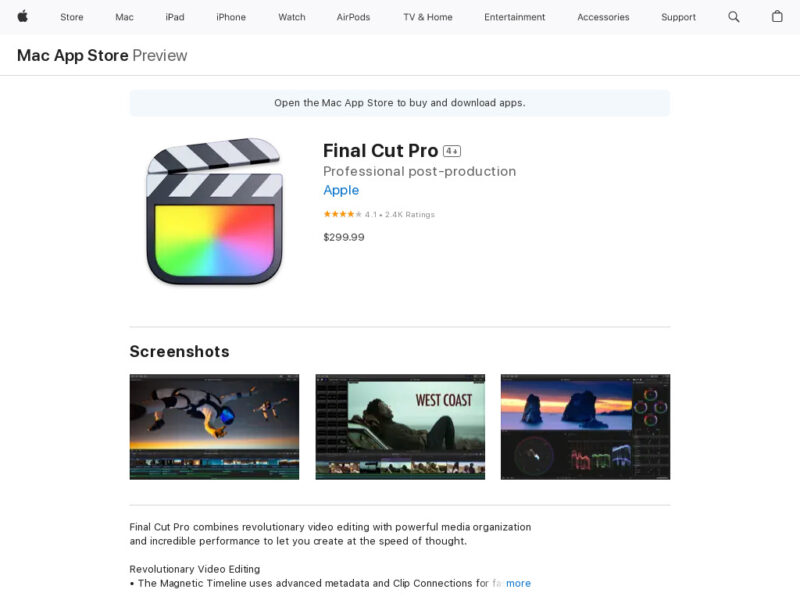 Pricing: Costs a flat fee of $299.99
Final Cut Pro is Apple's revolutionary post-production software that comes with a slew of video editing features, including color grading abilities. The tool blends professional media organization and enhanced efficiency to help you create cinema-grade footage.
But what exactly can you accomplish with this color grading tool?
First off, Final Cut Pro uses cutting-edge metadata and Clip Connections for easy video editing. The app implements a superior Timeline Index which allows you to drag and drop audio roles so you can reorder your timeline's layout. There's also a drag-and-drop Object Tracker that seamlessly tracks objects and then aligns the titles and effects to the object's movements. That means you can pretty much color grade moving targets.
And the application doesn't stop there. It further enables you to change the depth effects or focus points for footage shot in Cinematic mode on iPhone. However, note that this only works with the macOS Monterey version or later.
Apple's Final Cut Pro also allows you to import and color-grade 360° equirectangular footage in a variety of file formats and frame sizes. Moreover, you can create, edit, and render closed captions right from your editing sessions. The inclusion of Smart Conform means you can automatically transform your post-production projects for square or vertical delivery, while automatic syncing (which supports up to 64 different camera angles) lets you edit multicamera projects.
As you might expect of any Apple product, Final Cut Pro was developed with exceptional speed in mind. The software supports up to 56 streams of 4K ProRes 4222, 18 streams of 8K ProRes 4222, 5X faster 8K projectrender4, and up to 5.2X faster ProRes transcode3. Added to its incredible customization and seamless integration with many third-party applications, Final Cut Pro is definitely a color grading software worth checking out.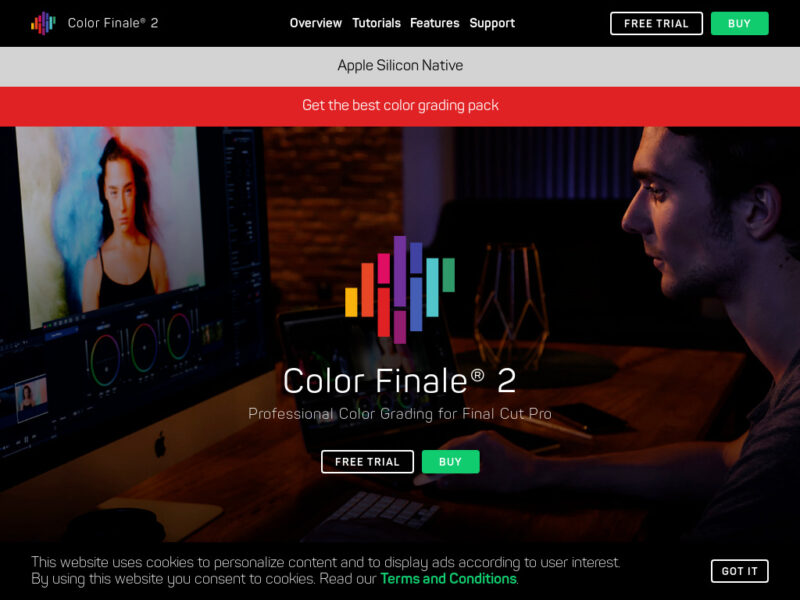 Pricing: Plans start from $29.00; a free trial available
One can hardly think of the best color grading extensions for Final Cut Pro X (FCPX) without mentioning Color Finale. That's because this software is by far the most popular color grading plugin for FCPX. However, that feat wasn't accomplished overnight. In fact, when Color Finale first came to be associated with FCPX, it had only a handful of video editing tools. The software has since evolved to include two versions, the latest of which is Color Finale 2.
Color Finale 2 differs from most color grading applications in its cutting-edge tools. It's one of the few video editing programs that offer real-time processing, semi-automation, color chart, and mask tracking features in one package. The developers incorporated new Log Wheels and Camera Matrix layers to level up your color grading experience. There's also a Filter layer with controls to apply filters to distinct RGB and HSL channels, as well as resourceful shortcuts to integrate S-Curve points to RGB Curves.
Color Finale 2 is also reasonably easy to use despite being the most advanced iterations of the Color Finale software. That's partly due to its intuitive interface and partly due to beginner's training courses provided. The courses are available as instructional videos which cover both the theoretical and practical aspects of color grading.
For instance, there are videos highlighting the app's LUT management system. Among the areas covered here include finding and organizing LUTs, combining LUTs, setting up white balance to use a LUT, and creating or exporting LUTs.
Whether you're a videographer, filmmaker, vlogger, or simply a color enthusiast, you'll surely find Color Finale 2 truly awesome. Check out this tool today and join its growing list of clients, which include reputable media corporations like Sony Pictures, HBO, BBC, CBS, NBC, Pixar, and Marvel.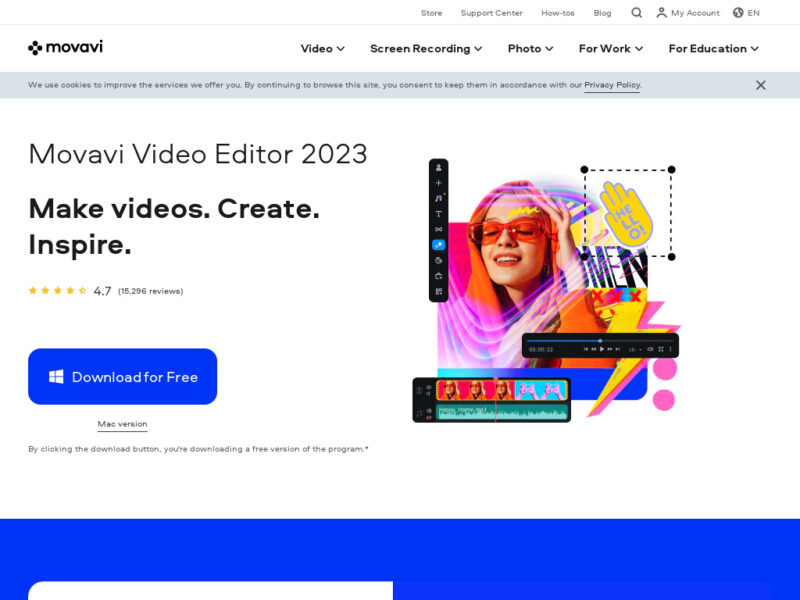 Pricing: Plans start from $49.95; a free trial available
Most of the color grading tools listed above are generally beginner-friendly. But if you're looking for a video editor that you can quickly get the hang of without following any learning curve, then you want to try Movavi Video Editor Plus. The software is noted for its clean and intuitive user interface. Its dashboard is free of autoplay videos or intrusive pop-up ads.
Movavi Video Editor Plus provides many tools that guarantee super-fast color grading no matter your footage's clarity or resolution. The platform offers many filters to fine-tune any clip to your desired color effects. It also includes built-in transitions to make every color grading experience fun and enjoyable.
Smooth integration with third-party applications is yet another thing to love about Movavi. Not only does this color grading software give you a wide range of video editing capabilities. It also lets you share your outputs directly to YouTube, TikTok, and other platforms. You don't need to leave your session to export your video creations, which makes it a perfect fit for on-the-go vloggers. Simply capture your footage, edit it, and share it with your online community for immediate engagement.
Movavi's suite of color grading tools includes Chroma Key to quickly change the background of your footage to your desired color. There's also keyframe animation to further enhance your clips' visual appeal. The app is compatible with both Windows and macOS, and each version comes with ready-made introductions.
Other noteworthy features of Movavi Video Editor Plus include AI noise removal, multi-lingual support (over 10 different languages), and round-the-clock support.
Summary
Color grading has become cheaper and less time-consuming than before. However, your experience will depend primarily on the service you choose.
The above software provide most of the core features any color grading and video editing software ought to contain.