Do you find it difficult to tune out your thoughts before going to sleep? Do you want to tap into your brain's creative potential? Have you ever had creative blocks that stopped you midway from completing a project? Or perhaps you're simply looking for a general sense of calm and stillness? 
If you've experienced any of these scenarios one way or another, binaural beats may be able to help you clear your mind, relieve your anxiety, and increase your focus, among other benefits. 
Let's get to know binaural beats, find out what their benefits are and how we, in turn, can benefit from them.
What are Binaural Beats?
Binaural beats are basically two tones that differ slightly in their frequency. These beats work by having one different beat played in each ear. This works best when headphones are used. The brain then processes the difference between the two frequencies as a fixed beat or frequency.
For example, your brain processes a 20 Hz binaural beat if two different frequencies—a 220 Hz and 200 Hz—respectively are played in each ear. When combined, these two beats create an auditory illusion. 
But how do they work? And how do they affect the human brain?
How do Binaural Beats work?
Binaural beats are believed to transform your state of mind to a meditative one more quickly. They are also thought to deliver a handful of benefits by creating a variety of frequencies, such as:
Lowering stress

Increasing your concentration, focus, and attention

Improving cognitive processes

Enhancing your memory
For binaural beats to work, they need to be two different frequencies that are less than 1000 Hz. According to a study examining binaural beats and their impact on pre-operative anxiety, the difference between the two tones shouldn't exceed 30 Hz.
You can experience the benefits of binaural beats when your brain responds by synchronizing its neural activity and changing brain waves. 
Brain Waves and Binaural Beats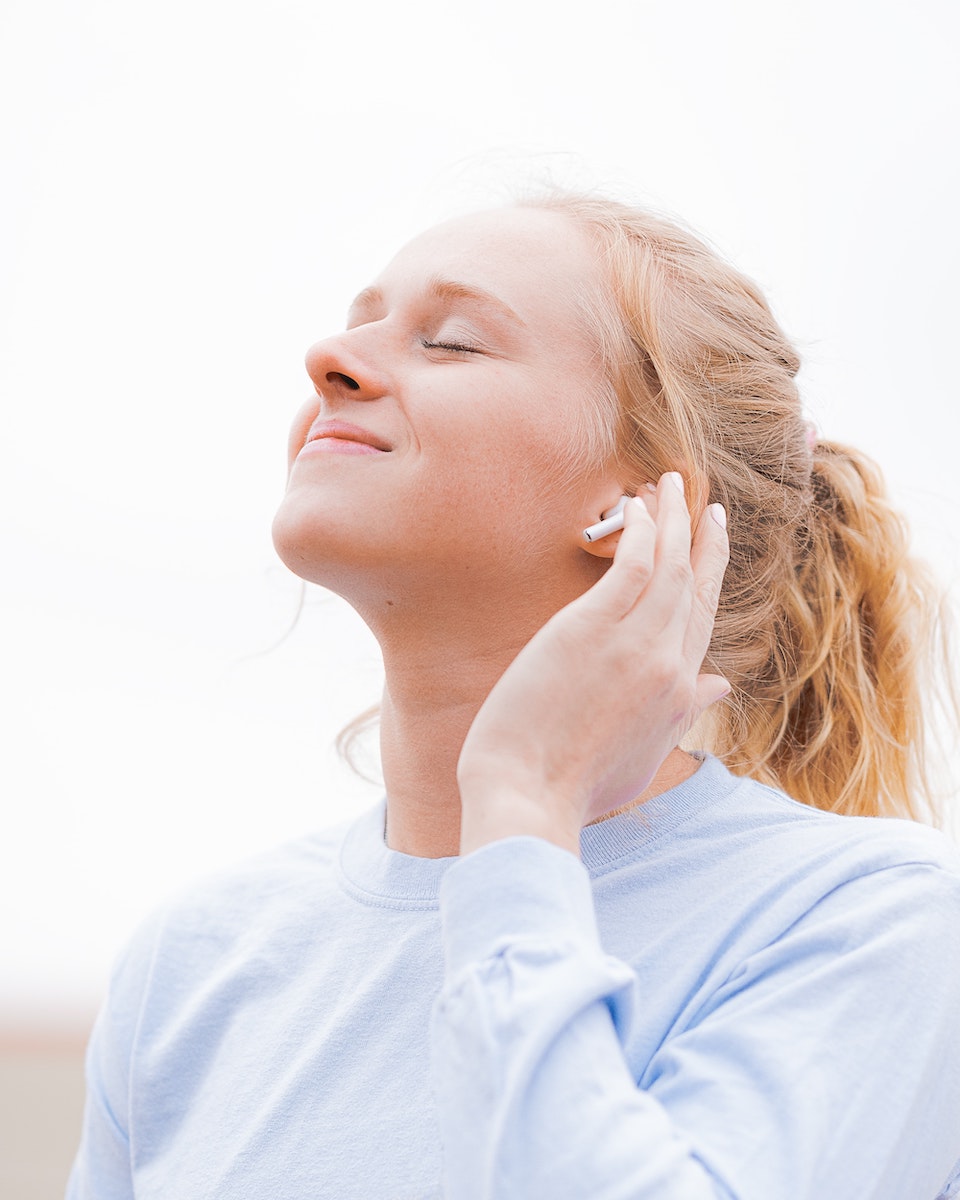 In order to better understand how binaural beats work and how they may help improve your factors such as performance, relaxation, mental state of mind, and sleep, you need to first understand your brainwaves and how they work. 
Brainwaves are products of our neurons, specifically from the pulses that they emit when they communicate with each other.  Our thoughts, feelings, and actions are made possible by this neural communication. In effect, our brainwaves contribute to how we feel and what we do.
A study by Jirakittayakorn et.al shows that different responses in the various part of the brain are triggered or stimulated by differing beat frequencies. 
Brain Wave Types
To further elaborate how your brainwaves are affected by binaural beats, here are the different brain wave states and their associated effects:
1. Delta
Delta waves or frequencies between 0.5 to 4 Hz are slow, loud, low-frequency brainwaves associated with deep sleep, relaxation, meditation, and healing. 
2. Theta
Associated with non-REM sleep, lucid dreaming and deep meditation, theta waves or frequencies between 4-7.5 Hz may help with easing anxiety and reducing chronic pain. A study shows that listening to waves in the delta or theta frequency may help reduce mild anxiety.
3. Alpha
Alpha waves are frequencies between 8-12 Hz, and are commonly associated with a state of wakeful relaxation. These frequencies can help improve brain function, particularly when it comes to an individual's working memory. It can also help enhance the response accuracy and cortical network strength of the subjects in a laboratory study. 
Alpha waves may even enhance creativity, although the study proponents note that when it comes to binaural beats and cognitive entrainment, there is no one-size-fits-all approach. 
4. Beta
Beta waves or frequencies between 14-40 Hz are associated with active thinking and the waking state. Engaged in this state are your logical and critical thinking skills. This is also when you are at your most active and vigilant. It's all about focus and concentration when it comes to beta waves. 
5. Gamma
These are waves that are within the range of 40-100 Hz. Perhaps the least understood of all the brainwaves, gamma waves are associated with consciousness, peak cognitive functioning, and even possibly, to spirituality.
The Benefits of Binaural Beats
Now that we've covered the different types of frequencies and their benefits, here are some more benefits linked with adjusting these frequencies to create binaural beats:
The results of a pilot study on the effects of binaural beats suggest that binaural beat technology may have positive outcomes in decreasing trait anxiety and have an effect in increasing quality of life.
Binaural beats may enhance creativity and cognitive function
Suffering from a creative block? Try tuning in to a 10 Hz frequency. Although not a cure-all for the occasional creative block or two, binaural beats can help stimulate the brain, especially the parts responsible for creativity. Want to throw in improved memory in the bag? Listening to 5 Hz for 15 minutes may help with your short-term memory, while listening to 20 Hz for 12 minutes may help improve your long-term memory.
It's all about slowing down and quieting the mind when it comes to meditation. Want to experience deep, meditative sleep? You might want to listen to theta (6 Hz) beats. Perhaps you'd like to have better concentration? Try listening to a 14 Hz frequency for 12 minutes. 
Binaural beats may foster a better emotional state
Want to be in a better mood? Binaural beats may be able to help you with that. Aside from the benefit of having a meditative state of mind, these beats may also offer stress relief, paving the way for positive moods. 
A study conducted by Lane et.al shows that beta-frequency beats were associated with better moods, suggesting that binaural beat technology may have an effect on an individual's psychomotor performance and mood.
The Best Way to Use Binaural Beats
If you want to make the most out of binaural beats, take a slow 15-30-minute listen with headphones to the tone. Remember, when it comes to binaural beats, patience is key. Make sure you have enough time to listen to the different frequencies. 
The best way to enjoy binaural beats is to listen to a sampling of each frequency using stereo headphones. You also should consider choosing frequencies that best match the effect that you want to achieve. 
Although binaural beats are fairly safe, avoid listening to frequencies that create relaxed states if you're working on tasks that need alertness and full attention, such as operating heavy machinery or driving. Also, if you're suffering from seizures or heart conditions, it is advisable that you avoid using binaural beats to err on the side of caution. 
If you want to increase your brain power, get better sleep quality, and to have a better, more positive outlook, you can get great results with binaural beats. However, you must be patient.
Binaural beats aren't an express solution to self-improvement; they're quite the opposite, as there's no one size fit all. You'll have to learn how to listen well and tune in to the different frequencies and to examine what each frequency makes you feel during and after each session.