Rock music legend Jim Morrison, perhaps best known as the charismatic lead vocalist of The Doors, was an American singer-songwriter who became an enduring and influential figure in rock and roll history. His colorful life and early death at the age of 27 cemented his status as one of rock music's greatest icons.
Early Life
James Douglas Morrison was born on December 8, 1943 in Melbourne, Florida to a homemaker and a military man. As a child, Jim and his family frequently moved from place to place because of his father's military career, depriving young Jim of stability at home and in school.
It is said that Jim's parents did not believe in corporal punishment, but chastised the children verbally, military-style. This impacted Jim negatively, and his relationship with his family became strained to the point that he later falsely stated that he was an only child and that his parents were both deceased. His rebel image as The Doors' front man was perhaps due in part to his strict upbringing.
Nonetheless, Jim was an intelligent student in school. He was fascinated with poetry and philosophy, in particular with the writings of German philosopher Friedrich Nietzsche, which would later influence his poems and songs.
He studied film at UCLA, where he met Ray Manzarek, a classical pianist. Together, they formed The Doors in 1965 and recruited drummer John Densmore and guitarist Robbie Krieger. The band name came from a book by Aldous Huxley, The Doors of Perception, which in turn was taken from a quote by English poet William Blake.
Musical Career with The Doors
The Doors were signed by Elektra Records in 1966, and the following year they released their self-titled debut album. The second single, "Light My Fire," became the band's most popular song. "Light My Fire" reached the top of the Billboard charts, launching The Doors into rock stardom. Morrison became the new face of rebelliousness.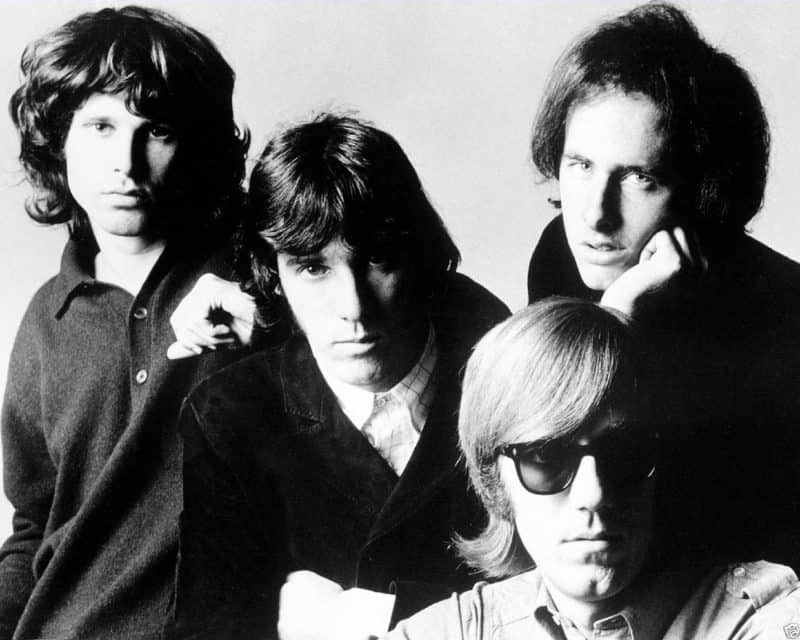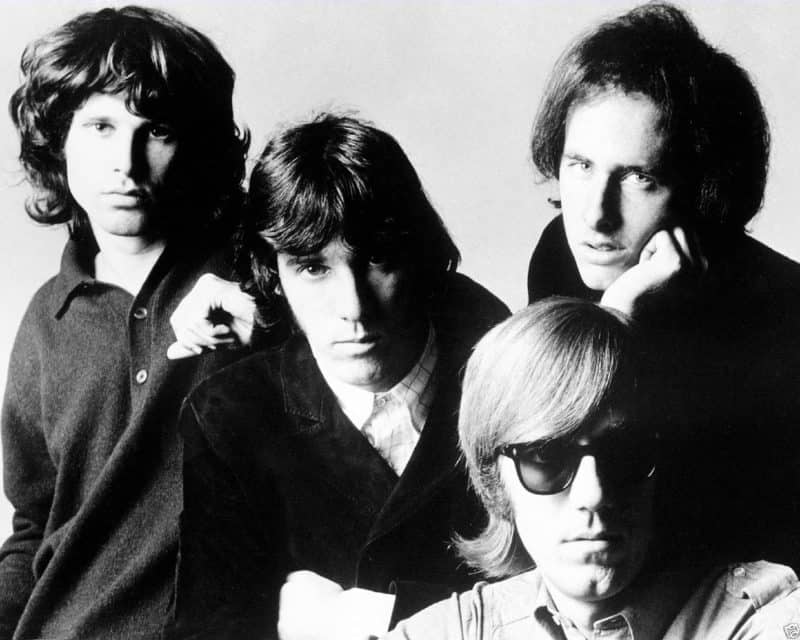 His extraordinary stage presence, coupled with his smooth baritone and rich, poetic lyrics defined his image as the ultimate rock star. The Doors were a controversial band during their time precisely because of Morrison's rebellious nature.
Morrison's behavior led to several problems with law enforcement. His descent into alcoholism and drug addiction soon spiraled out of control. Tours were mired in conflict as Morrison's penchant for delinquency led to arrests and encounters with the police. Concerts became a venue for Morrison to display outrageous behavior and elicit wild reactions from the crowd.
In 1969, Morrison was charged with indecent exposure and profanity in Miami after he attempted to incite a riot in the audience and allegedly exposed himself on stage. He was found guilty and sentenced to six months in prison plus a $500 fine, though he was released on bail pending his appeal.
He was posthumously pardoned in 2010. Despite the conviction and Morrison's reputation, the Doors members denied that Jim exposed himself that fateful night.
The strain of keeping up with Jim's erratic behavior and dealing with law enforcement eventually took a toll on the band. The 1969 trial cost the band valuable time, energy, and money. They spent the next two years working on two more albums, until Jim finally left the group and moved to Paris with his longtime partner Pamela Courson.
Death and Legacy
On July 3, 1971, Pamela found Jim's lifeless body in the bathtub at their apartment. He apparently had a heart attack, and the official cause of death listed was heart failure. He was 27.
Morrison's lyrics and poetry were profound and captured the emotions of an entire generation of youth. Because he was a voracious reader who enjoyed the writings of such great men as Nietzsche, William Blake, Arthur Rimbaud, and Jack Kerouac, his words also carried an impact that outlived his short life.
Before his death, Morrison self-published two books of poetry in 1969, entitled The Lords/Notes on Vision and The New Creatures. Two more volumes were published after his death. Wilderness was released in 1988, while The American Night was released in 1990. Both became hugely successful.
The remaining members of the Doors reunited in 1978 to create their ninth and final album, An American Prayer. The band used Jim Morrison's poetry and lyrics, recorded before his death, and added backing tracks and music.
The Doors, including Jim Morrison, were inducted into the Rock and Roll Hall of Fame in 1993. Rolling Stone listed Morrison as #47 on their "100 Greatest Singers of All Time." The Doors are one of the best-selling bands of all time, having sold over 100 million records worldwide.
Even decades after his death, Jim Morrison's legacy continues to grow. Though he lived a life with pain and trouble, his words have given life to the feelings of millions of fans and left an indelible mark on society. He was a visionary, and he remains to be one of the most famous and influential musicians in history.
Here are several of the most inspiring quotes from Jim Morrison:
Jim Morrison Quotes
"Expose yourself to your deepest fear; after that, fear has no power, and the fear of freedom shrinks and vanishes. You are free." – Jim Morrison
"No one thought up being. He who thinks he has, step forward." – Jim Morrison
"Where's your will to be weird?" – Jim Morrison
"It may have been in pieces, but I gave you the best of me." – Jim Morrison
"I think of myself as an intelligent, sensitive human being with the soul of a clown which always forces me to blow it at the most important moments."- Jim Morrison
"The future is uncertain but the end is always near." – Jim Morrison
"A friend is someone who gives you total freedom to be yourself." – Jim Morrison
"You feel your strength in the experience of pain." – Jim Morrison
"Whoever controls the media, controls the mind." – Jim Morrison
"There are things known and there are things unknown and in between are the doors." – Jim Morrison
"Some of the worst mistakes in my life were haircuts." – Jim Morrison
"The most loving parents and relatives commit murder with smiles on their faces. They force us to destroy the person we really are: a subtle kind of murder." – Jim Morrison
"I like people who shake other people up and make them feel uncomfortable." – Jim Morrison
"I see myself as a huge fiery comet, a shooting star. Everyone stops, points up and gasps "Oh look at that!" Then- whoosh, and I'm gone…and they'll never see anything like it ever again… and they won't be able to forget me- ever." – Jim Morrison
"Time to live, time to lie, time to laugh, and time to die. Take it easy baby. Take it as it comes." – Jim Morrison
"I've noticed that when people are joking they're usually dead serious, and when they're serious, they're usually pretty funny." – Jim Morrison
"People are strange . . ." – Jim Morrison
"Listen, real poetry doesn't say anything; it just ticks off the possibilities. Opens all doors. You can walk through anyone that suits you." – Jim Morrison
"Death makes angels of us all and gives us wings where we had shoulders round as ravens claws." – Jim Morrison
"There are no laws, there are no rules, just grab your friend and love him." – Jim Morrison
"I think the highest and lowest points are the important ones. Anything else is just…in between." – Jim Morrison
"No eternal reward will forgive us now for wasting the dawn." – Jim Morrison
"Actually I don't remember being born, it must have happened during one of my black outs." – Jim Morrison
"We're reaching for death on the end of a candle. We're trying for something that's already found us." – Jim Morrison
"Drugs are a bet with your mind." – Jim Morrison
"Are you a lucky little lady in the City of Light? Or just another lost angel… City of Night?" – Jim Morrison
"People fear death even more than pain. It's strange that they fear death. Life hurts a lot more than death. At the point of death, the pain is over. Yeah, I guess it is a friend." – Jim Morrison
"Man, I'm sick of doubt." – Jim Morrison
"I believe in a long, prolonged, derangement of the senses in order to obtain the unknown." – Jim Morrison
"This is the strangest life I have ever known." – Jim Morrison
"Love cannot save you from your own fate." – Jim Morrison
"I'll never wake up in a good mood again. I'm tired of these stinky boots."- Jim Morrison
"I love the friends I have gathered together on this thin raft…" – Jim Morrison
"Out here on the perimeter there are no stars. Out here we is stoned. Immaculate." – Jim Morrison
"Could any Hell be more horrible than now, and real?" – Jim Morrison
"When others demand that we become the people they want us to be, they force us to destroy the person we really are. It's a subtle kind of murder … the most loving parents and relatives commit this murder with smiles on their faces." – Jim Morrison
"Well, I've been down so Goddamn long, that it looks like up to me."- Jim Morrison
"We fear violence less than our own feelings. Personal, private, solitary pain is more terrifying than what anyone else can inflict." – Jim Morrison
"People are strange when you're a stranger." – Jim Morrison
"Another flashing chance at bliss. Another kiss, another kiss." – Jim Morrison
"Each generation wants new symbols, new people, new names. They want to divorce themselves from their predecessors." – Jim Morrison
"The Gate is Straight, Deep and Wide; Break On Through to the other side." – Jim Morrison
"You live you die and death not ends it." – Jim Morrison
"Cancel my subscription to the resurrection." – Jim Morrison
"Between childhood, boyhood, adolescence and manhood (maturity) there should be sharp lines drawn with tests, deaths, feats, rites, stories, songs, and judgments." – Jim Morrison
"It's like gambling, somehow. You go out for a night of drinking and you don't know where you're going to end up the next day. It could work out good, or it could be disastrous. It's like the throw of the dice." – Jim Morrison
"A man searching for paradise lost can seem a fool to those who never sought the other world." – Jim Morrison
"Lying on stained, wretched sheets with a bleeding virgin. We could plan a murder Or start a religion." – Jim Morrison
"All our lives we sweat and save. Building for a shallow grave." – Jim Morrison
"The world we suggest is a new wild west. A sensuous evil world. Strange and haunting, the path of the sun…" – Jim Morrison
"Film spectators are quiet vampires." – Jim Morrison
"There's nothing wrong with being a large mammal." – Jim Morrison
"Nobody would stay interested in me if I was normal." – Jim Morrison
"Once you make peace with authority you become an authority. – Jim Morrison
"I can make the earth stop in its tracks. I made the blue cars go away." – Jim Morrison
"Keep your eyes on the road, your hands upon the wheel." – Jim Morrison
"There may be a time when we'll attend Weather Theatres to recall the sensation of rain." – Jim Morrison
"O great creator of being grant us one more hour to perform our art and perfect our lives." – Jim Morrison
"The most important kind of freedom is to be what you really are. You trade for a role, you give up your ability to feel and in exchange put up a mask." – Jim Morrison
"If my poetry aims to achieve anything, it's to deliver people from the limited ways in which they see and feel." – Jim Morrison
"I pressed her thigh and death smiled."- Jim Morrison
"The subject says: I see first many things which dance… then everything gradually becomes connected." – Jim Morrison
"Nobody understands you better than yourself, but if someone tries to do it is because he loves you." – Jim Morrison
"I offer images-I conjure memories of freedom that can still be reached-like the Doors, right? But we can only open the doors-we can't drag people through." – Jim Morrison
"I am the Lizard King, I can do anything!" – Jim Morrison
"Door of passage to the other side, the soul frees itself in stride." – Jim Morrison
"One shouldn't take life so seriously. No one gets out alive anyway." – Jim Morrison
"Sleep is an under-ocean dipped into each night." – Jim Morrison
"The media controls the mind." – Jim Morrison
"I found and island in your arms and country in your eyes." – Jim Morrison
"She dances in a ring of fire and throws off the challenge with a shrug." – Jim Morrison
"Let's just say I was testing the bounds of reality. I was curious to see what would happen. That's all it was: just curiosity." – Jim Morrison
"It's so eternal. As long as there are people, they can remember words and combinations of words. Nothing else can survive a holocaust, but poetry and songs." – Jim Morrison
"I like a man who wears his soul on his face." – Jim Morrison
"I'll never look into your eyes again." – Jim Morrison
"Hey, man," Jim said, "don't you even want to try?" – Jim Morrison
"Dreams are at once fruit and outcry against an atrophy of the senses…" – Jim Morrison
"The mask that you wore. My fingers would explore. Costume of control. Excitement soon unfolds." – Jim Morrison
"We need great golden copulations." – Jim Morrison
"Look where we worship." – Jim Morrison
"I'll always be a word man, better than a bird man." – Jim Morrison
"Do you think you'll be the guy to make the queen of the angels sigh?" – Jim Morrison
"I am troubled, immeasurably by your eyes. I am struck by the feather of your soft reply. The sound of glass speaks quick, disdain and conceals what your eyes fight to explain." – Jim Morrison
"Do you know we are being led to Slaughters by placid admirals & that fat slow generals are getting Obscene on young blood Do you know we are ruled by TV." – Jim Morrison
"The Night is young & full of rest I can't describe the way she's dressed she'll pander to some strange requests anything that you suggest anything to please her guest." – Jim Morrison
"Lying on stained, wretched sheets with a bleeding virgin we could plan a murder or start a religion." – Jim Morrison
"Give me songs to sing and emerald dreams to dream and I'll give you love unfolding." – Jim Morrison
"In the holy solipsism of the young now I can't walk thru a city street w/out eying each single pedestrian. I feel their vibe thru my skin, the hair on my neck — it rises." – Jim Morrison
"The time to hesitate is through no time to wallowing the mire. Try now we can only lose and our love become a funeral pyre." – Jim Morrison
"Or society places a supreme value on control — hiding what you feel. Our culture mocks "primitive cultures" and prides itself on suppression of natural instincts and impulses." – Jim Morrison
"My wild words slip into fusion and risk losing the solid ground. So stranger, get wilder still. Probe the highlands." – Jim Morrison
"The time you wait subtracts the joy the heads the angel you destroy" – Jim Morrison
"There's the known. And there's the unknown. And what separates the two is the door, and that's what i want to be a door. – Jim Morrison
"Cinema, heir of alchemy, the last erotic science." – Jim Morrison
"Five to one, baby one in five no one here gets out alive." – Jim Morrison
"The grand highway is crowded with lovers and searchers and leavers so eager to please, and to forget. Wilderness." – Jim Morrison
"The human race was dying out no one left to scream and shout people living on the moon smog will get you pretty soon ship of fools."- Jim Morrison
"Through art they confuse us and blind us to our enslavement. Art adorns our prison walls, keeps us silent and diverted and indifferent." – Jim Morrison
"We are content with the 'given' in sensation's quest. We have been metamorphosis from a mad body dancing on hillsides to a pair of eyes staring in the dark." – Jim Morrison
"There are things known and things unknown and in between are the doors." – Jim Morrison