Last Updated on January 12, 2022
Streaming sites opened a lot of avenues that were not present before when it comes to watching sports events. Busy schedules getting in the way of getting your sports fix? Not a problem.
Fans can watch their favorite events anytime and on any device thanks to the power of the Internet. Now, you don't need have to feel out of place when your friends talk about which team won last night's game, or if they analyze all the moves done by the best players that they were rooting for.
We've compiled a list of free sports streaming sites where you can relive those winning moments and take part in the thrill just like those who saw it live – or the day before.
The Best Free Sports Streaming Sites
**Please note that most of the free sports streaming sites in this list will need a VPN due to restrictions to specific geographical locations.**
This needs no long explanations. When it comes to American sports broadcasting, ESPN is one of the first things that come to mind. Popular sports worldwide are live streamed on this site – and you can watch them in full HD, too.
A setback you'll come across is that live streaming on WatchESPN is available solely in the United States. This can be easily fixed by accessing the site through a VPN set on USA servers.
Another point is that it caters largely to US-based sports, which may mean you might have to use another streaming service for certain games or matches that are unique to your country.
Just in case you don't find what you're looking for, the site will suggest other places where you can view the event worry-free.
This streaming haven for football fanatics was a go-to place for people itching for some La Liga football action. Its rising popularity saw opportunity to expand into streaming other sporting events such as hockey, volleyball, and table tennis, among others.
Using the site itself is free. But signing up for a premium service removes ads that might spoil the experience for some viewers. The homepage shows the latest streams based on the sporting event available. Use the site's resident search engine to watch a match that is not readily clickable from the selections.
Laola1 is accessible in most countries, but some states may block this service from use. Using a VPN will definitely help in jumping this hurdle and allow you a smoother experience, especially for your favorite sport.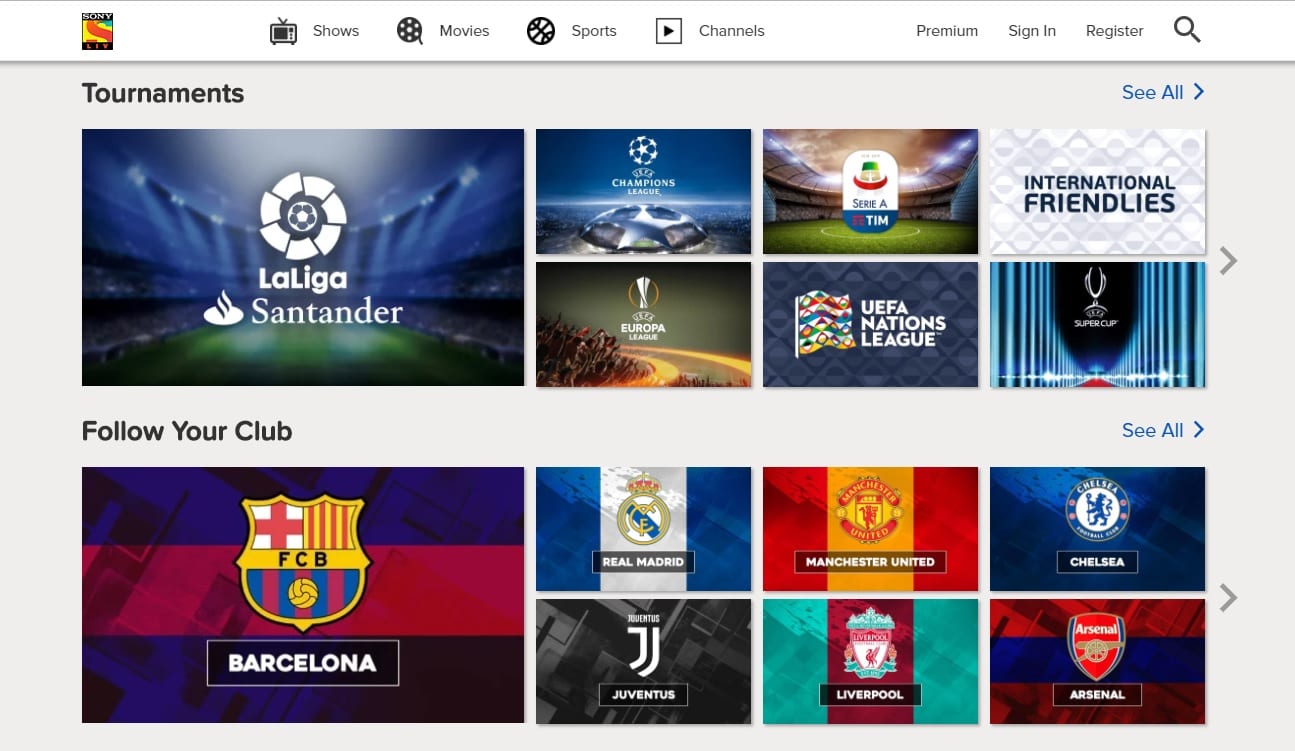 This site is tech magnate Sony's India-based live streaming service. You can watch a wide selection of sporting events such as cricket, soccer, rugby, racing and MMA, plus more. It's free of course, but signing up for a premium account removes the 5-minute delay in the stream. It doesn't hold you back from the experience given the available content.
The service is geo-blocked outside India, meaning that a VPN with Indian servers is a must to get the best out of the service. SonyLIV is also available on iOS and Android, meaning you can still get your fill of sports on the go.
Another awesome feature is that you can watch shows – other than sports – using the platform through its selection of movies, TV series, and more.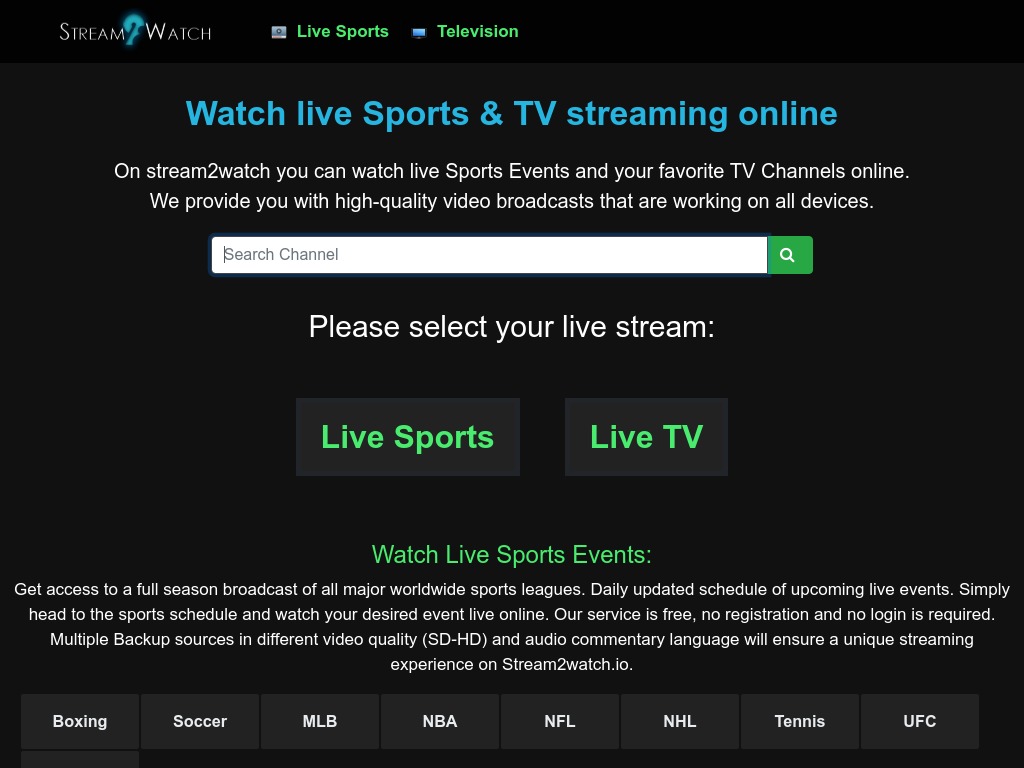 Regarded by many as one of the biggest live sports streaming sites, Stream2Watch covers a wide selection of games from basketball to wrestling.
This service gets its content from various channel sources such as SkySports, ESPN, NBCSports, etc.  Using Stream2Watch requires a browser – there's no mobile app for it at the moment. It's also recommended to use Google Chrome, and it works well on either desktop or mobile.
Using Stream2Watch requires an account. Non-account holders will be redirected to register before you can start watching. Free services stay online through ads, so expect pop-ups and promotional banners to appear once in a while, particularly during and after a program.
If you'd like to watch something else after a game, it can stream live TV content from a range of channels worldwide, too.
This is an aggregator site that is favored amongst North American users. Streamwoop gathers live sporting events where users can click to watch. Choose from a selection of links to start watching the action. What makes this website unique from other streaming services is a built-in social function.
You can talk with other viewers using the chatroom on the front page. Share your thoughts and feelings with other people watching the same sport. It's almost as good as being in a stadium – while remaining at the comfort of your home.
Streamwoop also shows schedules of upcoming events so that you'll never miss out on anything again.
Follow numerous sporting events such as the UEFA Champions League, English Premier League, the NHL or the NBA, and more – completely free – with LiveTV.
The left portion of the homepage tells you what sporting events are available live, and where to watch them. You can post insights on a given event or match using the site's comments section. The service is completely free and all you need is to register an account on the website to get started.
Like with most free services, expect a slew of ads and banners to appear while you're watching your game. LiveTV also caters the digital side of competition by streaming international eSports events aside from the traditional games people enjoy.
You can be sure that LiveTV has something you will like – no matter which kind of game you enjoy.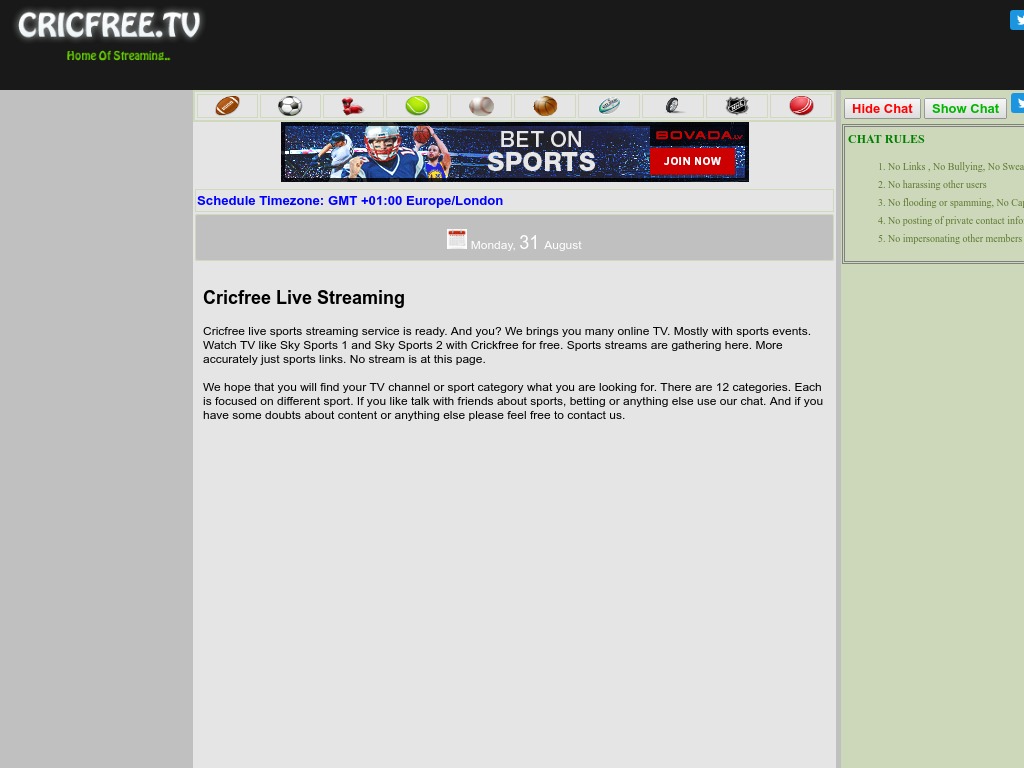 This free sport streaming site originally is dedicated to cricket.
But the demand for accessible and free sports viewing services saw its expansion to further games such as football, tennis, boxing, and basketball – along with others. A chat function among users is found on the website and can be used during the stream.
You will have to be on the lookout for pop-up ads and banners, which is standard practice when using free streaming services. Cricfree also has embedded videos hosted on other sites. Your popup blocker might not be able to deal with all of them at once.
This one has been extremely popular amongst the Indian crowd with its massive sports selection. You can watch cricket, tennis, formula 1, football, and many more through this service.
The sports streaming site can be used completely free and without an account; but signing up for premium service unlocks more features, including the latest episodes of Indian TV shows and other Hotstar Exclusives.
Hotstar is geographically exclusive to India, which will make VPNs a must-have for anyone planning to take advantage of the games and matches available.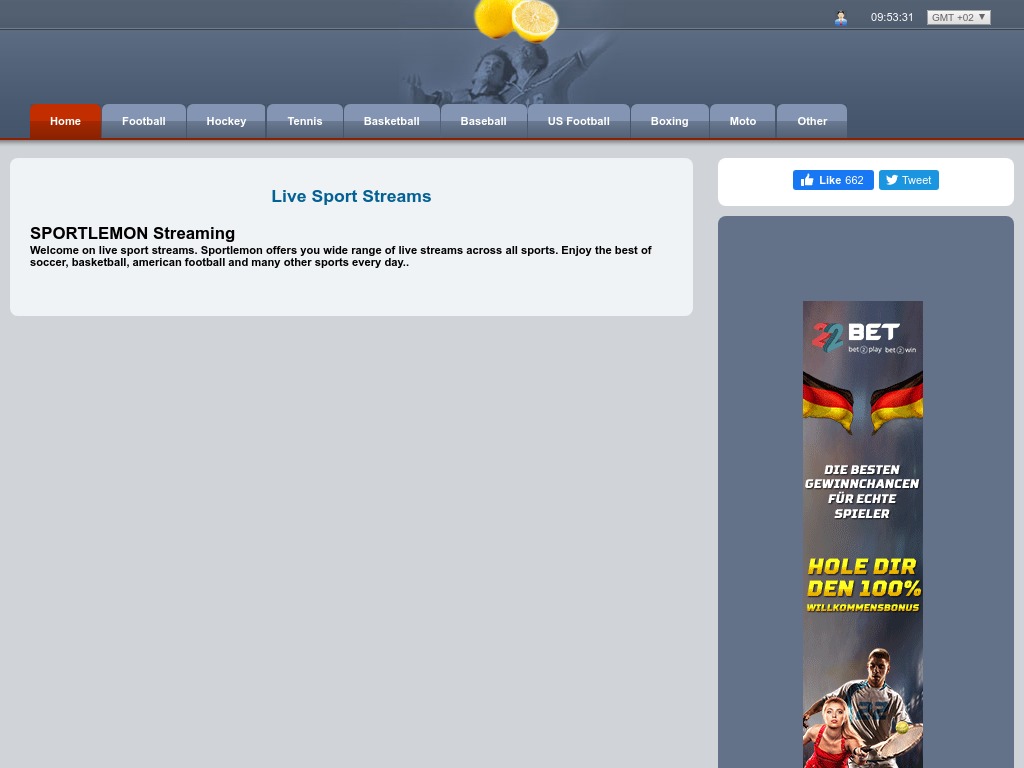 This website collects sports streams from other websites and presents them in an easy-to-use directory. Choose the sporting event that you want to watch and you will be redirected to the website that hosts the actual stream.
SportLemons does not require an account for anyone to start watching their favorite events. Its simple layout of sift and click is all you need to do to jump into the action right away. Some browsers may need to configure pop-up blocker settings as the stream will appear on a separate window from the website itself.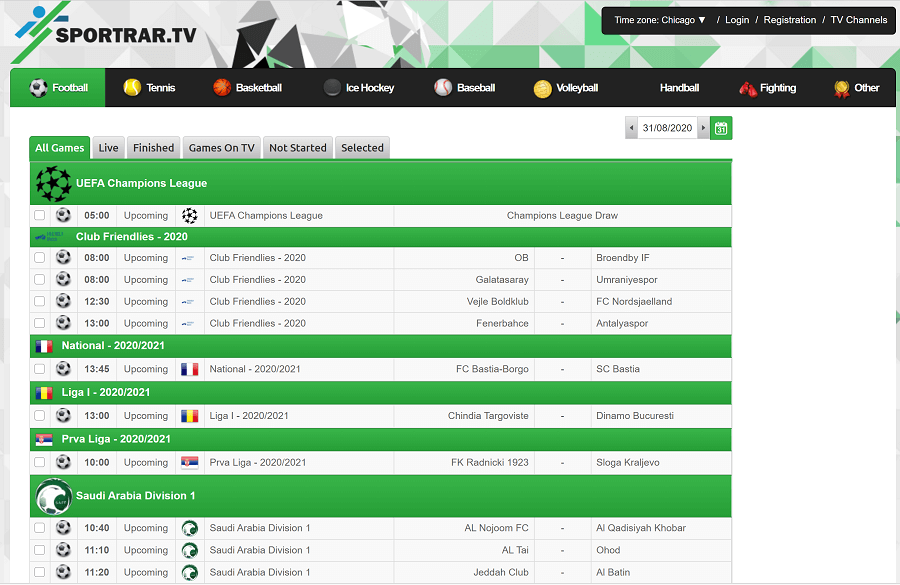 This runs somewhat differently from other sports streaming aggregators. The social aspect of this site allows users to not only interact with each other using a built-in chat engine, but also to "predict" which team or player on an upcoming or currently-streamed event to win.
Another feature of this service is that you'll be allowed to see the player lineup using a separate tab on the chatroom function. This works very well with team sports such as basketball, volleyball, football, and more.
Sportrar.TV also displays the many TV channels where users can view the live stream officially and unofficially. Making use of the feature starts with hovering your cursor over the channel of your choice. Channel information will be displayed along with a link where you will be redirected to the sporting event.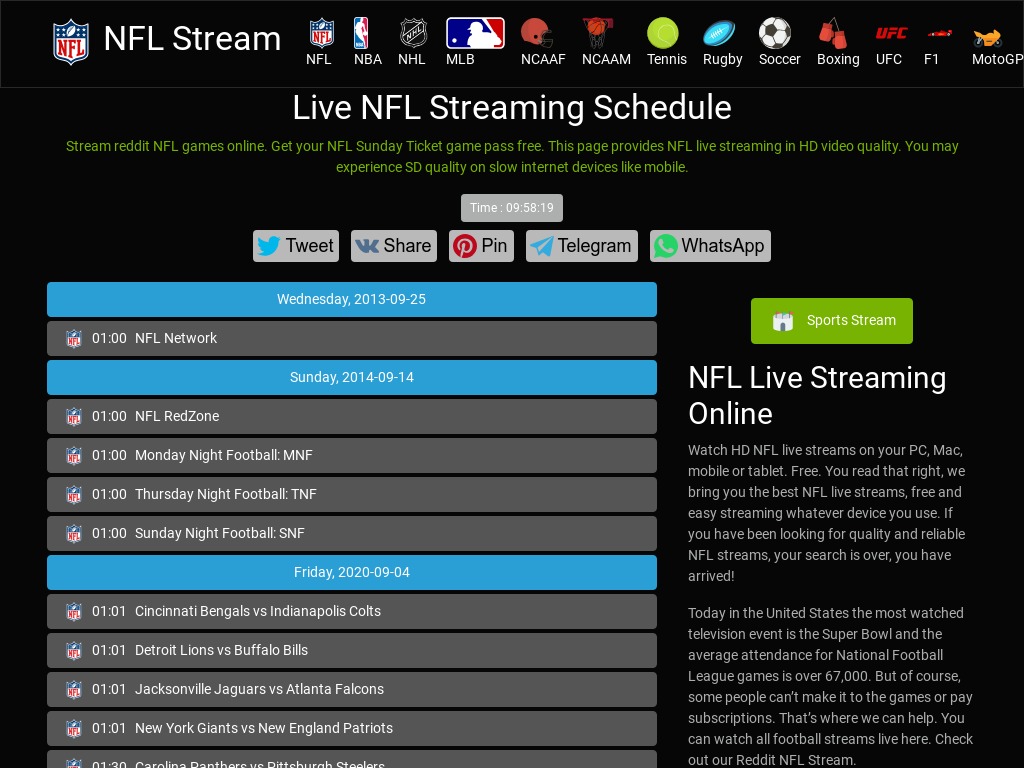 Here you can watch NFL live streams on your PC, Mac, phone or tablet for free. The most highlighted feature of NFL Stream is its ability to support multiple languages link Italian, Arabic, French, and Spanish.
Their website is relatively free of unwanted ads and promotional banners. Nfl stream is built on a secure navigation mechanism, making it easier to find your favorite game.
123tvnow.com is absolutely legal and contains links to other third party websites like Youtube, Google, Dailymotion,… and many more which actually host videos. Their websies has hudreds of entertainment and sports channels. The website's content is appropriately divided into various sections, including games, movies, entertainment, family, and many more, and is known to offer the best quality content.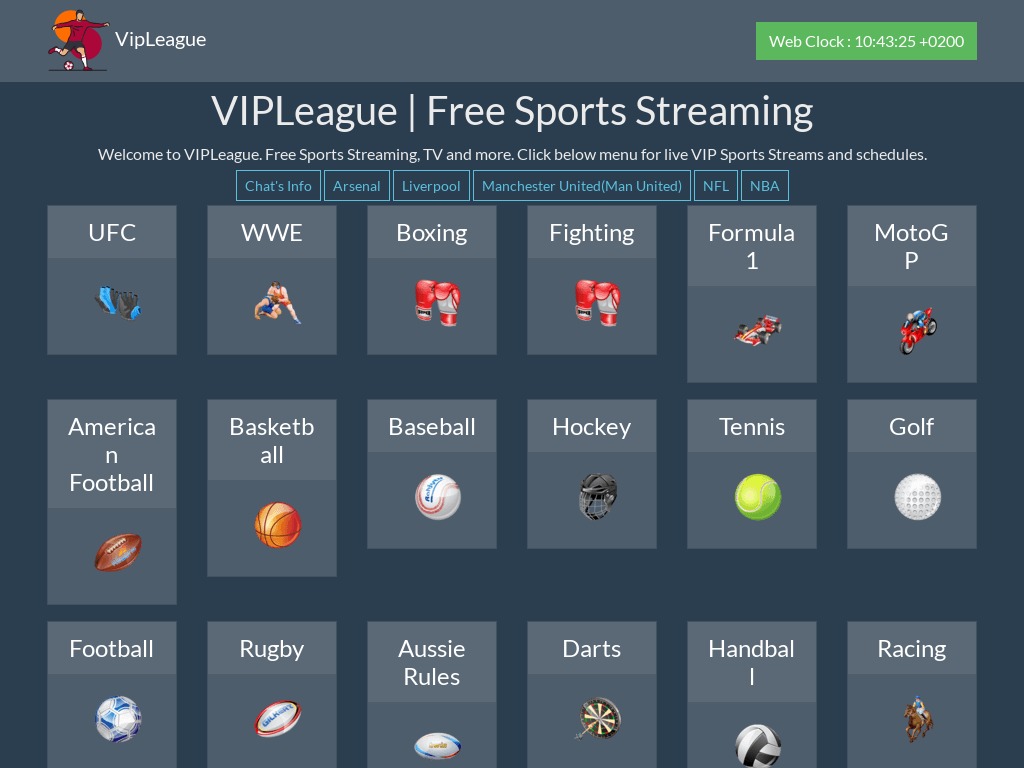 This easy to navigate websites provides sports of all categories including football, cricket, basketball, golf, tennis, and many more. Choose your sport and look on the schedule. Click the event you want then select a link. Often there are different links and various languages. After you select your link just click the Play icon on the screen. It's simple!
Believe it or not, Facebook Watch could actually come in handy when it comes to watching streams of live sports. Facebook has managed to obtain the rights to stream a number of different sports. One of the biggest deals allows Facebook Watch to stream one MLB game per week during the regular season, which you can watch for free if you have a Facebook account.
billboard-sticky scads-stick-in-parent scads-ad-placed" data-height="600″ data-parent="">
In addition to official Facebook Watch sports streams, Facebook users are also able to use the service to live stream sports from around the world.
Here's how you can find live sports streams on Facebook Watch:
Navigate to Facebook.com/watch.
2. Log in to your Facebook account

.

3. Click Search videos

.

4. Type sports

, and hit enter.
These streams are all provided by Facebook users, so you may find low quality and misleading streams. A risk worth taking if you don't want to pay money to watch your game. One pro tip would be to search for the names of the teams instead of sports. Good luck!
Wrapping Up
Having no subscription on any official sport streaming services shouldn't stop you from enjoying your games – and sharing that winning spirit with people watching it on and offline. Stay updated and be one in tension and excitement by watching real-time streams of your favorite events with these free online sports and streaming websites.
The above list gives you the freedom to watch your favorite games live either on your mobile or through your desktop. Some services will require a VPN to maximize its features; while a few would need a bit of extra security via your antivirus to make sure that the ads are not going to bring anything else to your platform.
So get those snacks ready, bring along a friend or two, and root for your favorites. It's game time!