Last Updated on March 8, 2022
Loyalty is one of the most important traits a person can have in life. Alongside kindness, empathy, and strength, loyalty is one of the things that determine whether or not a person is worthy to be called a friend. 
However, loyalty is underappreciated most of the time. When people are asked what qualities they want in a partner or friend the most common are usually – caring, kind, loving, appreciative, and the like. But if you really think about it, even a person with these traits, except loyalty, will become an unreliable partner during your time of need.
The importance of loyalty impacts us all – from our personal to our professional relationships. But what makes it so important? How does one even define what is true loyalty? 
What is Loyalty?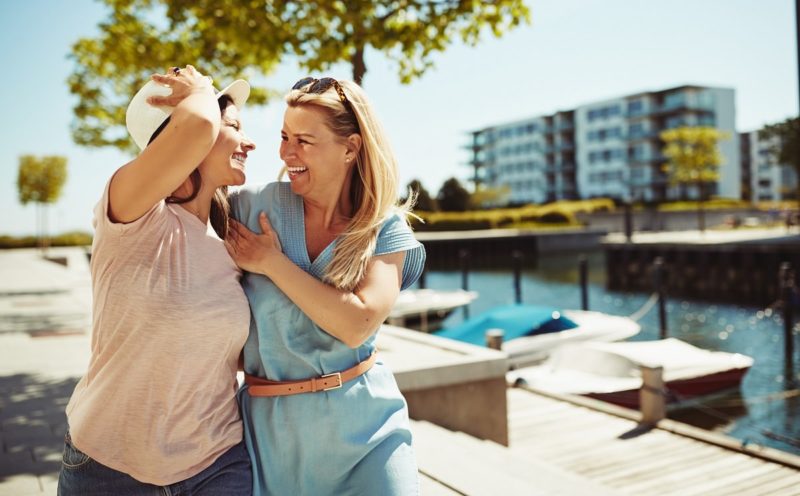 We may all think we have a basic idea of what loyalty means, but in reality, it's a lot of different things to a lot of different people. In fact, even different countries, religions, and beliefs have different concepts of the word depending on how they are using it or what it pertains to.
By simple definition, loyalty is a strong feeling of support or allegiance. It is generally used to convey devotion or dedication and faithfulness to something – a person, a philosophy, a business, or even a country or group.
The definition of loyalty has grown over the years. In the early days, philosophers used to argue that loyalty could only be given to another person. However, as times progressed, disciplines like political science and law stated that fidelity to a country is also seen as a form of loyalty.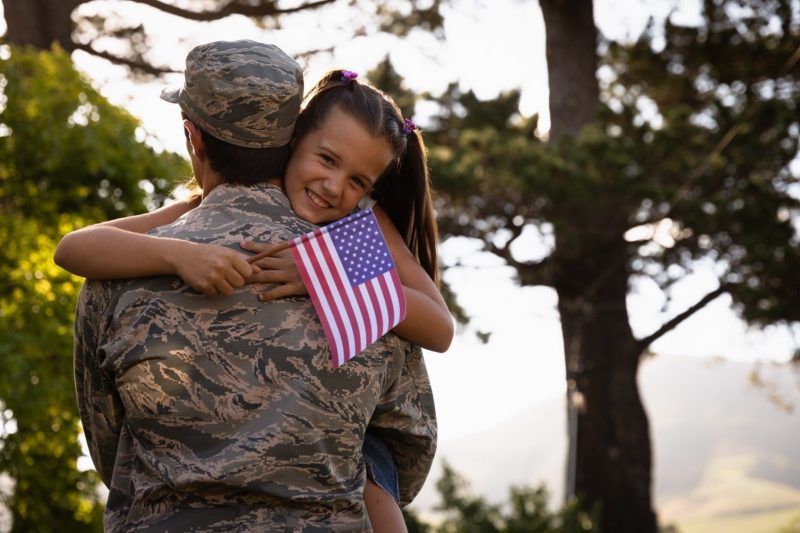 This was prevalent in Western culture that emphasized the importance of loyalty to a nation and to the ideals of that nation. Loyalty and allegiance were interchangeable and usually pertained to both country and ruling parties – be they government or royal family. This became so ingrained in the culture that it has remained a defining principle of the army and those charged with protecting a nation.
In Eastern culture, on the other hand, loyalty was usually given to a cause or to a way of thinking. In Japan, loyalty is the most important virtue in Bushido. Along with righteousness, benevolence, courage, sincerity, respect, and honor – these virtues formed the code with which those who practiced Bushido lived. These virtues guided all their actions.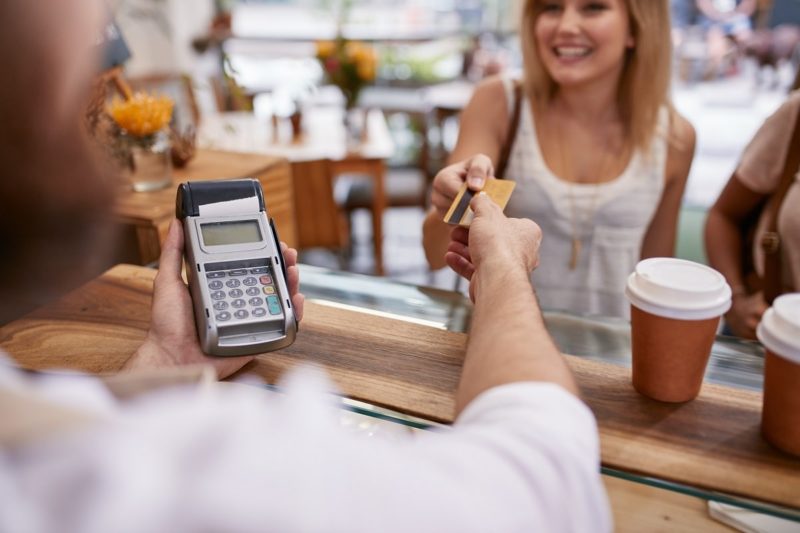 Today, loyalty is not only applied to individuals. Nowadays, even brands and businesses seek to develop this trait in their consumers, making them lifetime clients, and sometimes, even personal advertising ambassadors. Notice how your friends talk about how they love certain products and will only ever buy these products? That is an example of brand loyalty.
However, not all displays of loyalty are good for you. Blind loyalty is just as detrimental to the quality of your relationships. Being loyal doesn't mean suspending our rational thinking and constructive criticism of the object of our loyalty. Be it a person, nation, belief or brand, loyalty demands us to be more honest. 
Why is Loyalty Important?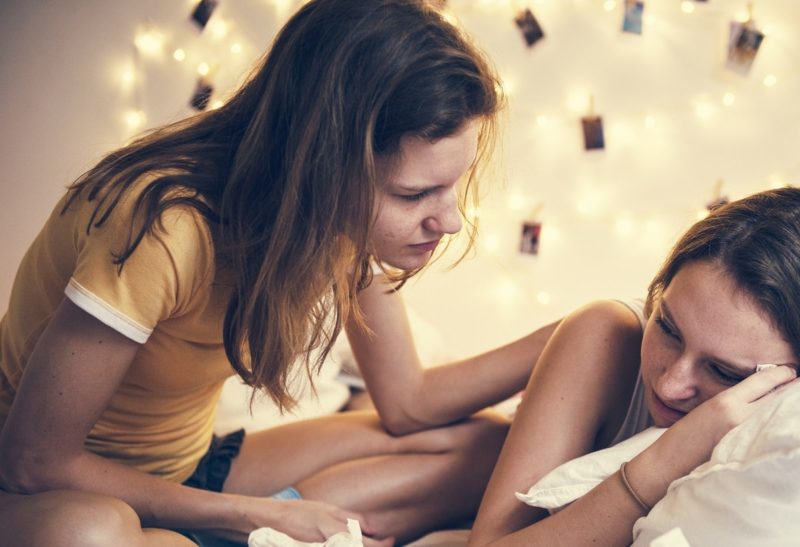 Possessing loyalty also helps us become better individuals. It's important to understand that being loyal and surrounding yourself with people loyal to you can heavily impact your life. From personal to professional relationships, loyalty determines its longevity. It is also an important factor for a relationship's success or failure. 
For one, loyalty teaches us about commitment. We say we are committed but when the chips are down, real loyalty is what makes us keep our word. Loyalty also teaches us how to be a better friend. Being a loyal friend means being there and providing support, especially in times of need. In order to keep a friendship alive, you must be willing to dedicate your time and effort to it.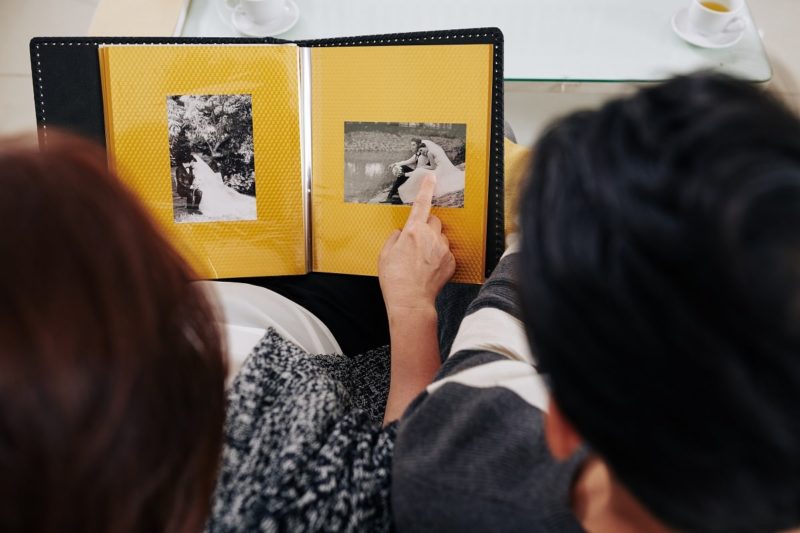 Loyalty also teaches us about consideration and responsibility, leading to self-improvement. After all, being loyal isn't easy. It requires effort. In order to be truly loyal, you must know your actions and decisions have consequences that affect others and impact the future. True loyalty makes you more considerate and conscious of your behavior.
Loyalty is more than about just being fully committed and dedicated to our friends, our family, our work, or even our country. It's about being the best version of ourselves.
Here are 85 powerful quotes about loyalty.
Loyalty Quotes
"It gives me strength to have somebody to fight for; I can never fight for myself, but, for others, I can kill." – Emilie Autumn, The Asylum for Wayward Victorian Girls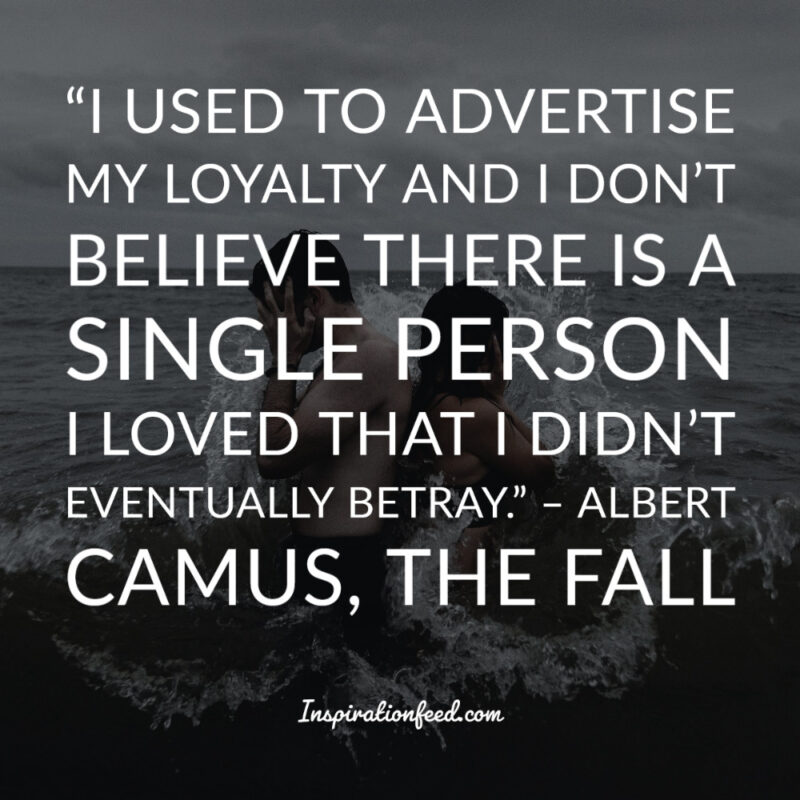 2. "I used to advertise my loyalty and I don't believe there is a single person I loved that I didn't eventually betray." – Albert Camus, The Fall
"I belong to the people I love, and they belong to me – they, and the love and loyalty I give them, form my identity far more than any word or group ever could." – Veronica Roth, Allegiant
"If by my life or death I can protect you, I will." – J.R.R. Tolkien, The Fellowship of the Ring
"We have to recognize that there cannot be relationships unless there is commitment, unless there is loyalty, unless there is love, patience, persistence." – Cornel West, Breaking Bread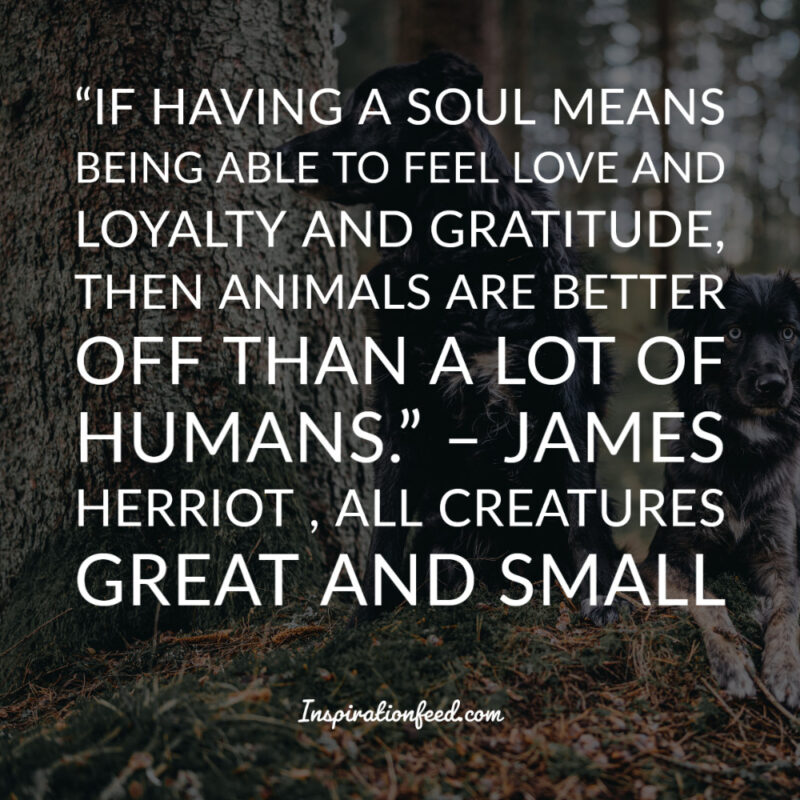 "If having a soul means being able to feel love and loyalty and gratitude, then animals are better off than a lot of humans." – James Herriot , All Creatures Great and Small
"True friends are those who came into your life, saw the most negative part of you, but are not ready to leave you, no matter how contagious you are to them." – Michael Bassey Johnson, The Infinity Sign
"We men and women are all in the same boat, upon a stormy sea. We owe to each other a terrible and tragic loyalty." – G.K. Chesterton, The Collected Works of G.K. Chesterton Volume 28
"Hold faithfulness and sincerity as first principles." – Confucius, The Analects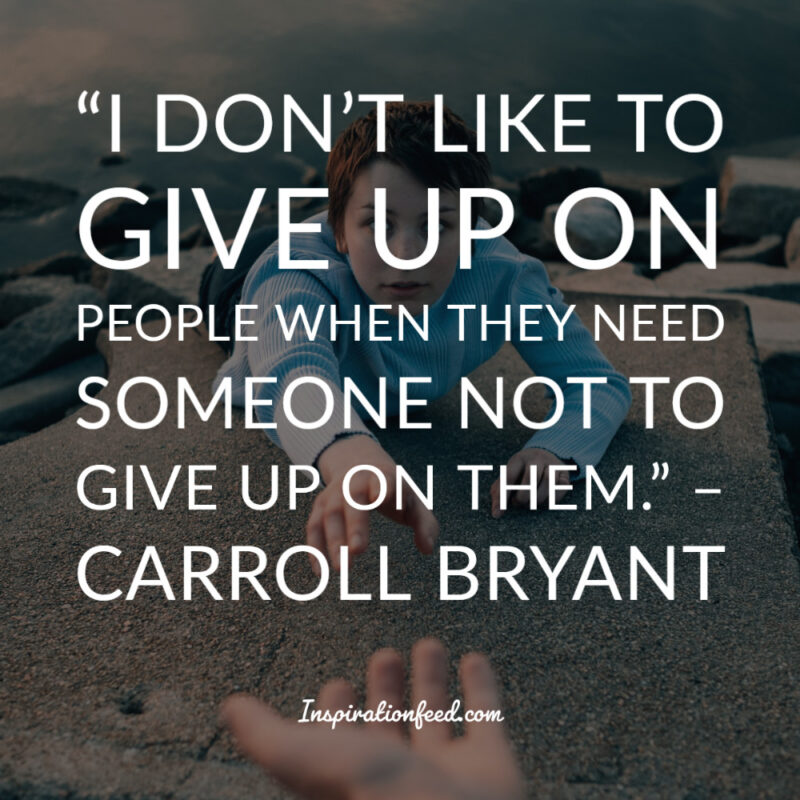 "I don't like to give up on people when they need someone not to give up on them." – Carroll Bryant
"Friends ask you questions; enemies question you." – Criss Jami, Healology
"Where the battle rages, there the loyalty of the soldier is proved." – Martin Luther
"We must not confuse dissent with disloyalty. When the loyal opposition dies, I think the soul of America dies with it." – Edward R. Murrow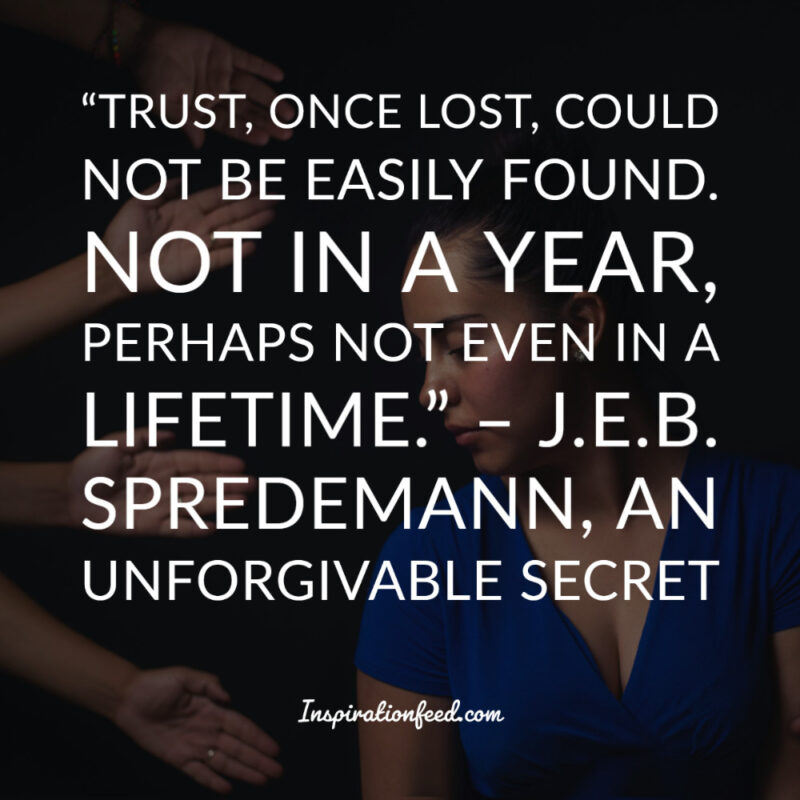 "Trust, once lost, could not be easily found. Not in a year, perhaps not even in a lifetime." – J.E.B. Spredemann, An Unforgivable Secret
"So much of what is best in us is bound up in our love of family, that it remains the measure of our stability because it measures our sense of loyalty." – Haniel Long
"It isn't an easy thing to give your loyalty to someone you don't know, especially when that person chooses to reveal nothing of himself." – Megan Whalen Turner, The King of Attolia
"I may be stupid, as you say, to believe in honor and friendship and loyalty without price. But these are virtues to be cherished, for without them we are no more than beasts roaming the land." – David Gemmell, Shield of Thunder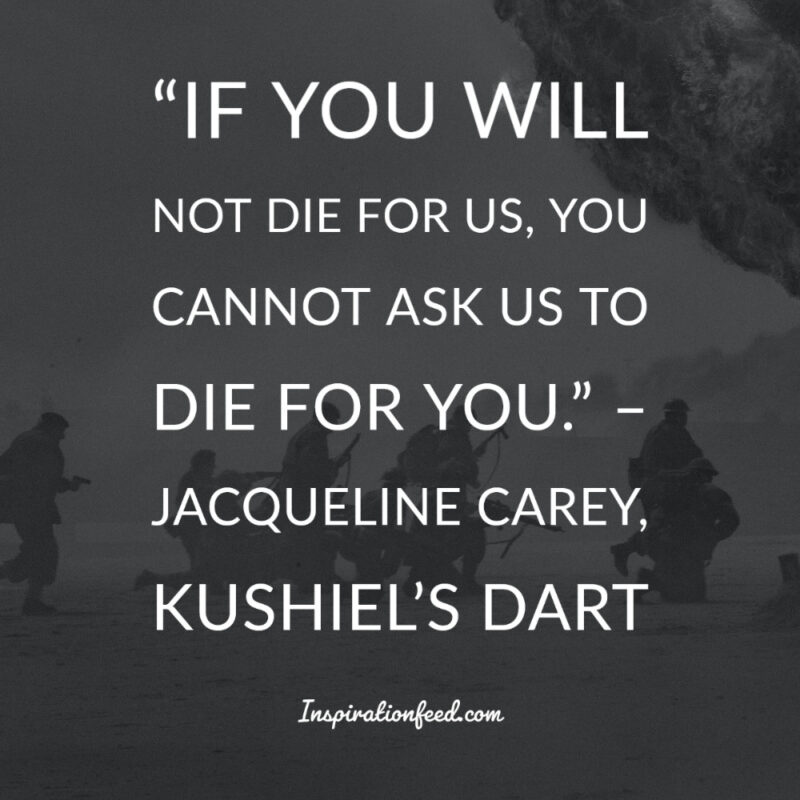 "If you will not die for us, you cannot ask us to die for you." – Jacqueline Carey, Kushiel's Dart
"I pledge to keep you safe." – Kimberly Derting, The Ple
"Loyalty was a great thing, but no lieutenants should be forced to choose between their leader and a circus with elephants." – Neil Gaiman, Good Omens
"My father wrote: 'Always question where your loyalties lie. The people you trust will expect it, your greatest enemies will desire it, and those you treasure the most, will, without fail, abuse it'." – Emily Thorne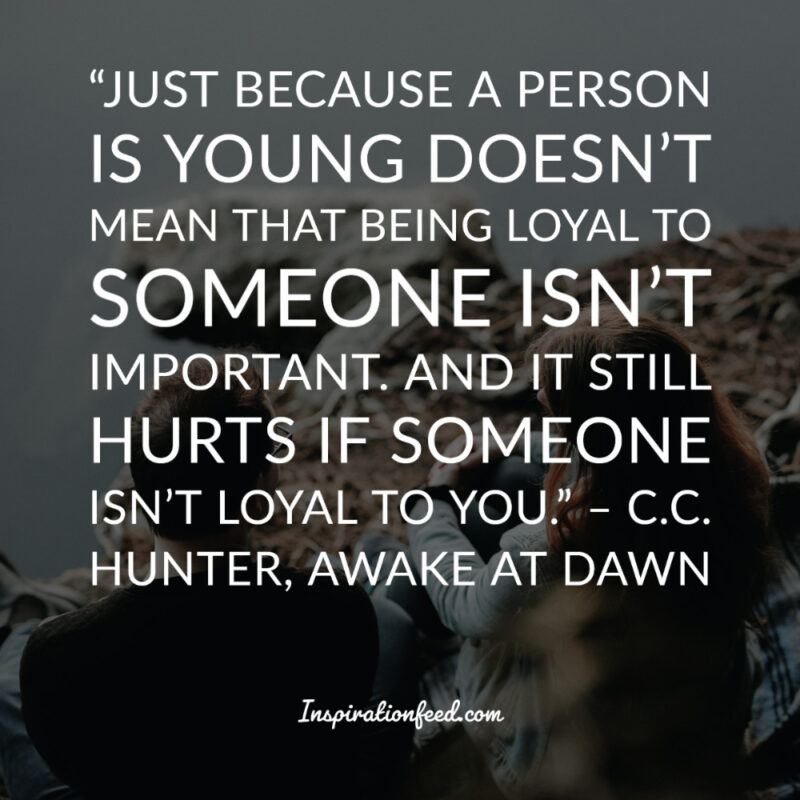 "Just because a person is young doesn't mean that being loyal to someone isn't important. And it still hurts if someone isn't loyal to you." – C.C. Hunter, Awake at Dawn
"Besides, if you are who you claim to be, that makes you my true queen. Therefore, you have my loyalty." – Marissa Meyer, Scarlet
"Grant stood by me when I was crazy, and I stood by him when he was drunk, and now we stand by each other." – William T. Sherman
"Toto did not really care whether he was in Kansas or the Land of Oz so long as Dorothy was with him; but he knew the little girl was unhappy, and that made him unhappy too." – L. Frank Baum, The Wonderful Wizard of Oz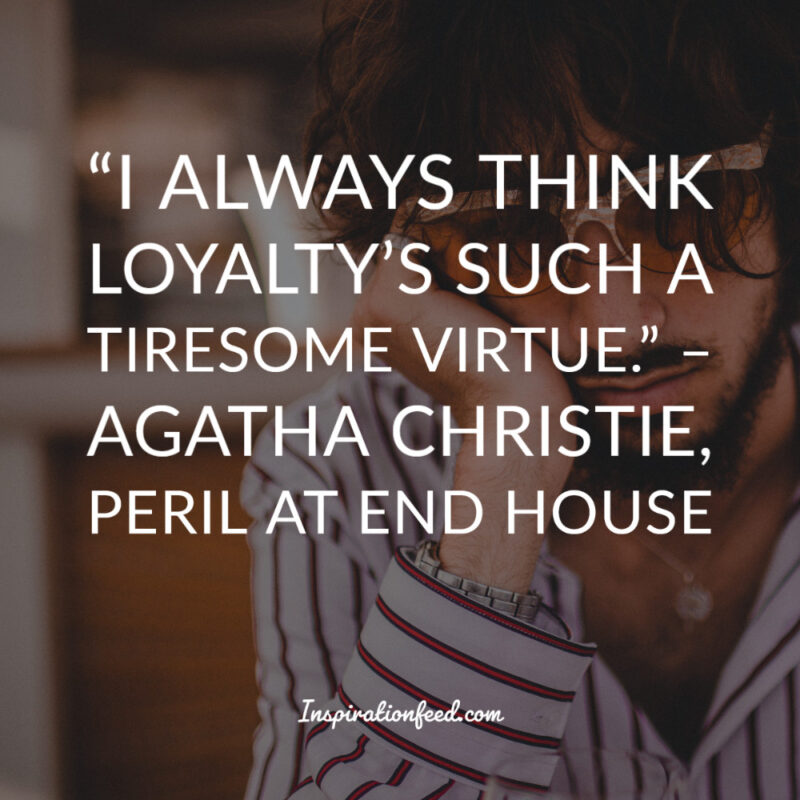 "I always think loyalty's such a tiresome virtue." – Agatha Christie, Peril at End House
"It was a lesson most people learned much earlier; that even friendship could have an undisclosed shelf life. That loyalty and affection, so consuming and powerful, could dissipate like fog." – Jennifer Haigh, The Condition
"Avoid those who seek friends in order to maintain a certain social status or to open doors they would not otherwise be able to approach." – Paulo Coelho, Manuscript Found in Accra
"His loyalty, so fierce and unwavering, makes my eyes water and heart ache." – Emily Giffin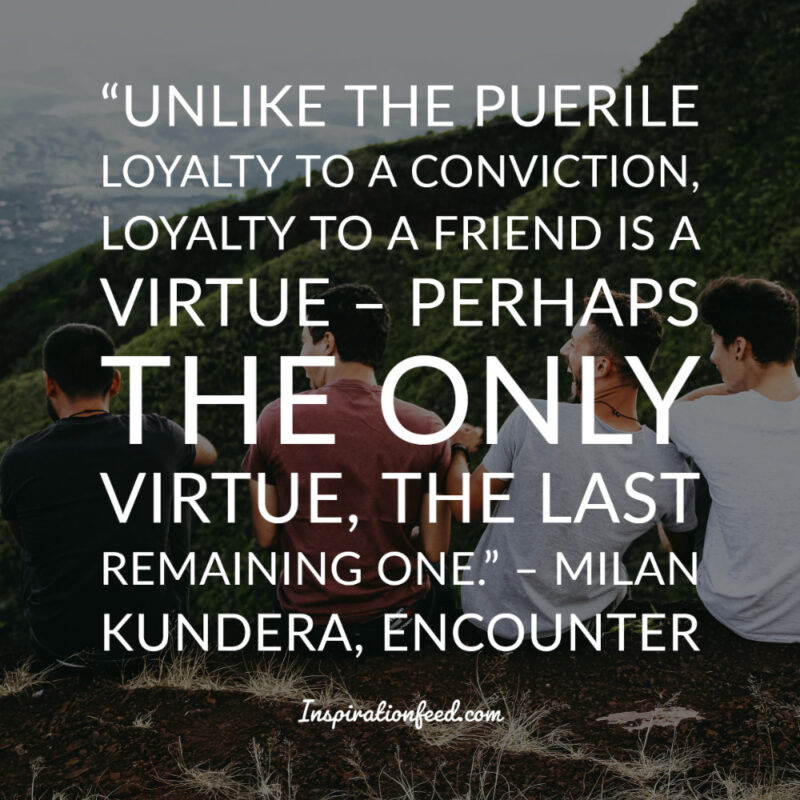 "Unlike the puerile loyalty to a conviction, loyalty to a friend is a virtue – perhaps the only virtue, the last remaining one." – Milan Kundera, Encounter
"Together we shared a bond not even death would violate." – Dee Remy, There Once Was A Boy
"A friend is someone who walks into a room when everyone else is walking out." – Gary Moore, Playing With the Enemy
"A person who deserves my loyalty receives it." – Joyce Maynard, Looking Back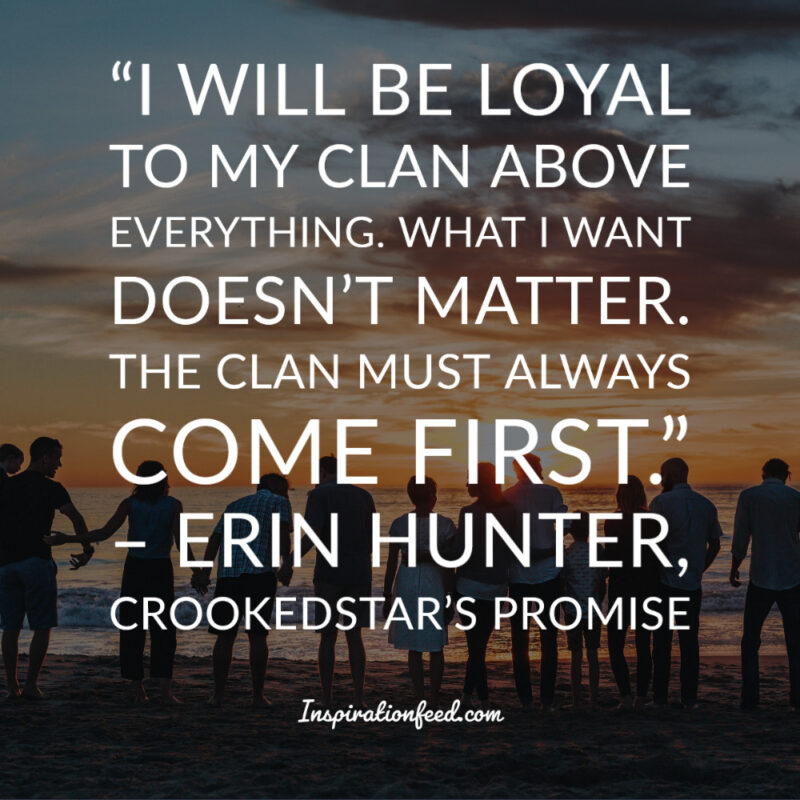 "I will be loyal to my Clan above everything. What I want doesn't matter. The Clan must always come first." – Erin Hunter, Crookedstar's Promise
"And for the support of this declaration, with a firm reliance on the protection of divine providence, we mutually pledge to each other our lives, our fortunes and our sacred honor." – Thomas Jefferson
"Sometimes we're loyal to more than one thing. When there's a conflict, we have to choose which loyalty to honor." – Claudia Gray, Lost Stars
"I will never compromise Truth for the sake of getting along with people who can only get along when we agree." – D.R. Silva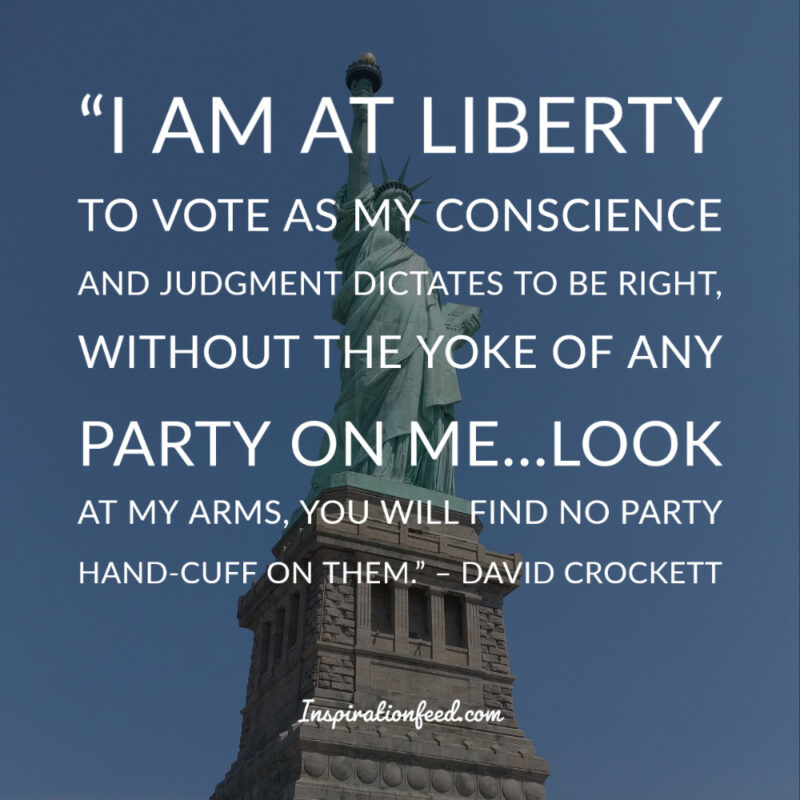 "I am at liberty to vote as my conscience and judgment dictates to be right, without the yoke of any party on me…Look at my arms, you will find no party hand-cuff on them." – David Crockett
"Leadership is a two-way street, loyalty up and loyalty down." – Grace Murray Hopper, CBS 60 Minutes Interview, March 6, 1983
"Loyalty is a continuous phenomenon; you don't score points for past action." – Natasha Pulley, The Watchmaker of Filigree Street
"You don't earn loyalty in a day. You earn loyalty day-by-day." – Jeffrey Gitomer
"Loyalty is a characteristic trait. Those who has it, gives it free of charge." – Ellen J. Barrier
"Where there is loyalty, weapons are of no use." – Paulo Coelho, Manuscript Found in Accra
"Loyalty publicly results in leverage privately." – Andy Stanley
"I'll not let the pair of you charge boldly into wolves' teeth without me alongside." – Meredith Ann Pierce, Dark Moon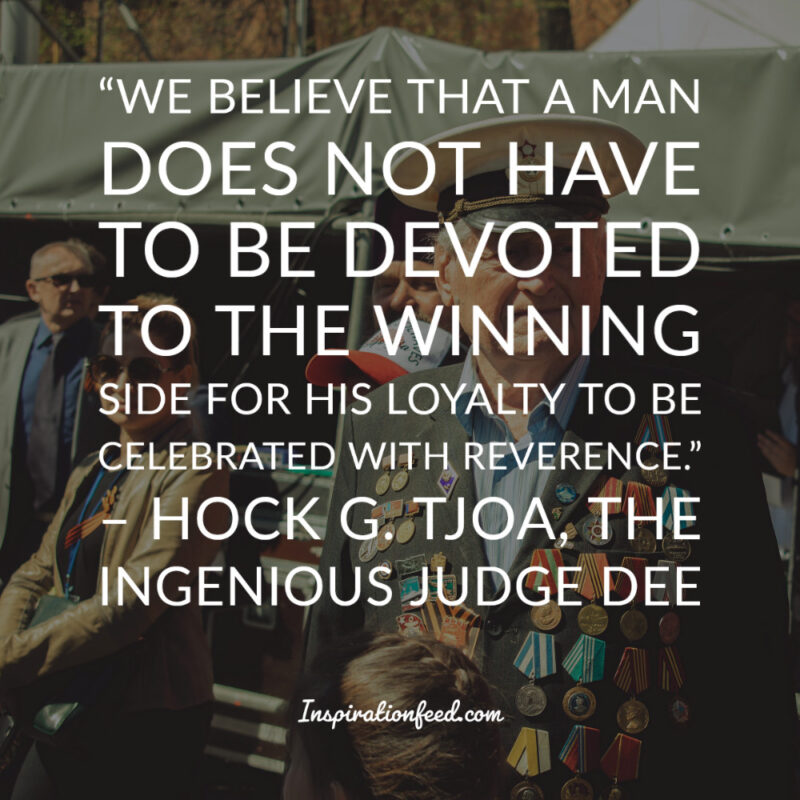 "We believe that a man does not have to be devoted to the winning side for his loyalty to be celebrated with reverence." – Hock G. Tjoa, The Ingenious Judge Dee
"One never knows how loyalty is born." – Robert Morse
"The greater the loyalty of a group toward the group, the greater is the motivation among the members to achieve the goals of the group, and the greater the probability that the group will achieve its goals." – Rensis Likert
"Loyalty. Is it something only dogs know? When I think of it, I wonder if I would rather have it than love. Whereas love is often an over-used word and an unpredictable feeling, the other is nothing but dependability." – Donna Lynn Hope
"It appeared clear to me – partly because of the lies that filled my history textbooks – that the intent of formal education was to inculcate obedience to a social order that did not deserve my loyalty. Defiance seemed the only dignified response to the adult world." – Timothy B. Tyson, Blood Done Sign My Name
"Loyalty is still the same, whether it win or lose the game; true as a dial to the sun, although it be not shined upon." – Samuel Butler, Hudibras
"They were governed by private loyalties which they did not question. What mattered were individual relationships, and a completely helpless gesture, an embrace, a tear, a word spoken to a dying man, could have value in itself." – George Orwell, 1984
"Repeat business or behavior can be bribed. Loyalty has to be earned." – Janet Robinson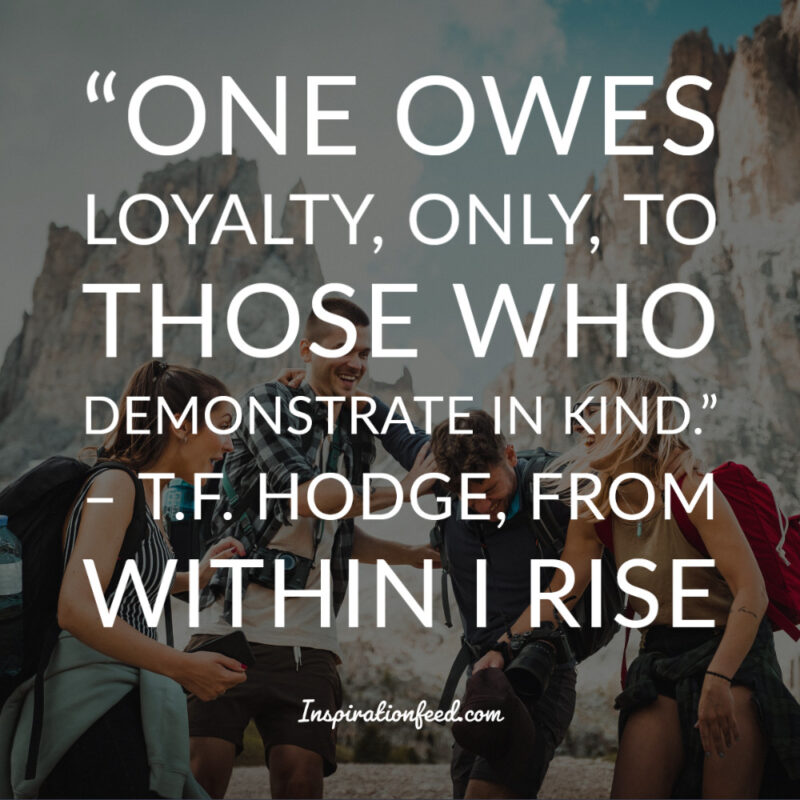 "One owes loyalty, only, to those who demonstrate in kind." – T.F. Hodge, From Within I Rise
"Fidelity purchased with money, money can destroy." – Seneca, The Conquest of Happiness
"Loyalty is the pledge of truth to oneself and others." – Ada Velez-Boardley
"Make sure your business is creating a service experience so good that it demands loyalty." – Steve Maraboli
"Friends help you move. Real friends help you move bodies. True friends help you move the bodies of those who turned out not to have been friends to begin with." – Jeff Mach, There and Never, Ever Back Again
"A good friend may not 'disappear' your problems, but he will certainly not disappear when problems appear." – Vincent Okay Nwachukwu, Weighty 'n' Worthy African Proverbs – Volume 1
"There are many names, but few friends." – Mladen ?or?evi?, Svetioni?ar – Pomra?enje
"On choice: In any given situation there are three basic choices: Exit, Loyalty or voice." – Jill Hackett, Women Voice and Writing
"Sister loyalty was Newton's first law. Fidelity to family and parents was the second." – Elizabeth Cobbs, The Hamilton Affair
"In many cases, though days are dark, friends are still many; it is just that many of them are also having dark days." – Mokokoma Mokhonoana, On Friendship
"Being emotionally undercut by some friends, can feel like a physical uppercut to the chin, when deep down you just weren't ready for it, again." – Curtis Tyrone Jones
"Loyalty comes before price or prize. If not, the ties that bind become constricting garrottes as creeping spinal flesh awaits a dagger's thrust." – Stewart Stafford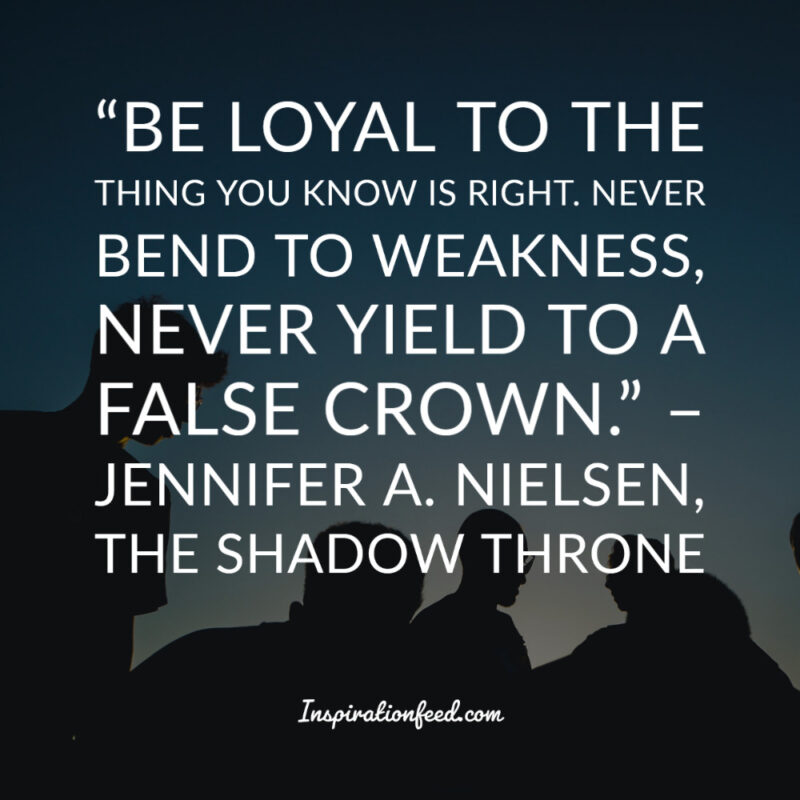 "Be loyal to the thing you know is right. Never bend to weakness, never yield to a false crown." – Jennifer A. Nielsen, The Shadow Throne
"If the loyalty is mentioned, the example of dogs is given." – Fozia Malik
"Ove felt one should not go through life as if everything was exchangeable. As if loyalty was worthless. Nowadays, people change their stuff so often that any expertise in how to make things last becoming superfluous." – Fredrik Backman, A Man Called Ove
"Strength may win a kingdom, but loyalty holds it together." – Elizabeth D. Marie, Seeking Giants
"A hound will die for you but never lie to you." – George R.R. Martin, A Game of Thrones
"Let no person question your loyalty to your family and it will always be your mother that loves you the deepest." – Ron Baratono
"Be loyal to the present moment and your life will make sense." – Bert McCoy
"Loyalty is the quantizing basis of all emotions. Faithfulness is the cornerstone to love, hate, anger, patriotism, friendship, compassion, and self-respect. Love is the agent of universal synthesis. Love links and draws together the elements of the world." – Kilroy J. Oldster, Dead Toad Scrolls
"Loyalty feeds my passion for revenge." – Robert Black
"And where did this insane notion of buying loyalty come from? It's a contradiction in terms." – Steven Erikson, Dust of Dreams
"Loyalty is all that matters to me. If you're an honest person, I'll be your friend for life. I don't waste time with people who are fake or people who are trying to use you to get something. I don't care about people who are afraid to say what they think." – Clint Malarchuk, The Crazy Game
"If my circle of influence values me, then loyalty shall bloom from within my circle just like the humble petals of a flower." – Hadi Atallah, Rosemary Bluebell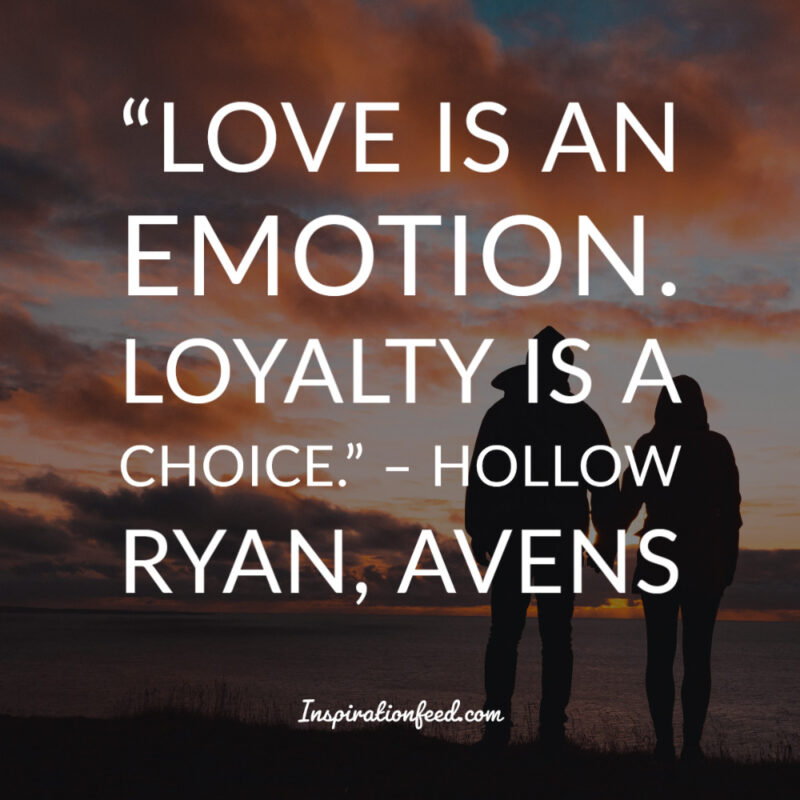 "Love is an emotion. Loyalty is a choice." – Hollow Ryan, Avens
"There is no loyalty in the heart of a traitor, only the false act of appearing trustworthy." – Jesus Apolinaris
"Her loyalty was absurd. This was what kept us going." – Ottessa Moshfegh, My Year of Rest and Relaxation
"When trust is broken, business is lost." – Bernard Kelvin Clive
"No cat ever had such a friend as you. I'd give my life for you; you know that." – Erin Hunter, Forest of Secrets
"Don't let your loyalty become slavery. If they don't appreciate what you bring to the table, let them eat alone." – Jordan Hoechlin
"Only those who stick around long enough to see the caterpillar turn into the butterfly actually get to witness the transformation." – Kristin Michelle Elizabeth
"Loyalty isn't blind. Even when I wish it was. Loyalty is telling someone they're wrong when no one else will." – Julie Murphy, Dumplin'