In the ever-evolving realm of art, few have successfully bridged the gap between traditional craftsmanship and contemporary digital innovation as seamlessly as Haran Kim.
With a journey that spans over decades, Kim has dexterously interwoven her foundational expertise in mediums like printmaking and painting with groundbreaking techniques in digital art and immersive experiences. Her artistic narrative is not just a testament to her multifaceted skills but also a beacon for aspiring artists navigating the complexities of the digital age. 
In this introspective dive, we uncover the nuances of Kim's approach, her inspirations, and her vision for the future of art. Join us as we journey through the tapestry of her experiences, from her early beginnings to her predictions for the ever-shifting artistic landscape.
Entering the mixed-reality matrix
Haran Kim's journey into the realm of digital art and immersive experiences began in the world of traditional art. "I graduated from Indiana University Bloomington with an MFA degree in Printmaking," she recalls. The foundation of her career was deeply rooted in 2D, mixed media, and the intricate craft of book art. This background in printmaking and bookmaking provided a tactile, hands-on experience that would later shape her approach to digital spaces.
It was a serendipitous moment during a bookmaking project about a decade ago that shifted Kim's artistic trajectory. "During one of my bookmaking projects, I created an accordion book using stop-motion, which sparked my interest in motion graphics and animation," she says. This newfound passion for movement and the interplay of static and dynamic elements led her to pursue a second degree, majoring in digital art. The fascination with creating moving images in space through projection mapping techniques was born. "The experience of traveling from corner to corner, especially while building my own space in a virtual space, is very interesting," she muses.
Kim's aspirations didn't stop there. Her journey took her to Carnegie Mellon University, where she delved deeper into entertainment technology, focusing on interactive design with virtual reality (VR) and augmented reality (AR). "Since then, I've been working on immersive experience design," Kim notes. 
Her interests further expanded to include holograms, and she has a particular fondness for collaborative projects. "I love to work in collaboration with musicians and artists," she expresses. Looking ahead, Kim envisions creating immersive experiences that blend both visuals and sound, allowing viewers to embark on unique journeys. "I like to see the moments when a viewer can take a unique journey to navigate their paths while they are experiencing my works," she concludes.
Artistic alchemy: Fusing the physical and digital
Haran Kim's artistic endeavors are a testament to her profound love for crafting, stemming from her childhood memories. "I have always loved the process of making small sculptures by hand," she reminisces, recalling the days she played with her handmade stuffed animals. Over the years, Kim has honed her skills in creating small sculptures using diverse techniques like sewing, knitting, and working with clay. 
Her innovative approach of integrating traditional sculpting techniques with modern digital artistry is evident in her installations. "I especially like to project animations on ceramic works using my childhood photos," she shares, highlighting her unique blend of nostalgia and contemporary digital art. "Approaching my work with a printmaking mindset, using layers to convey storytelling, adds a structured and deliberate element to my creative process," she elucidates.
Kim's installations are not just a showcase of her technical prowess but are deeply personal narratives. "My work is my storytelling, and I tell it through the media of my choice, so this work style allows for consistency," she reflects. Her choice of projecting animations onto ceramic works, intertwined with childhood photographs, infuses her pieces with an intimate touch, aiming to evoke powerful emotional connections with her audience. "It's clear that my work is deeply rooted in your childhood experiences and my love for crafting," Kim notes, emphasizing the personal connections that are central to her creations.
At the core of Kim's artistry is her foundational experience in printmaking, which she seamlessly integrates into her multidisciplinary work. "My significant artistic background is in printmaking, so I approach all my work as a printmaking process using layers," she explains. This layered methodology, derived from printmaking, is meticulous and introspective. 
Kim elaborates, "I meticulously dissect the creation process of my work into distinct layers. The selected space forms the foundational layer; upon this, I overlay successive strata of animation footage, with each sequence adding depth and movement. Soundscapes weave through as yet another vital layer, enriching the sensory experience. Each element is carefully refined and tuned, ensuring that it not only stands out on its own but also harmoniously complements the others, enhancing the overall texture and narrative of the piece." Such a structured approach ensures that every piece Kim creates is rich in depth, meaning, and emotional resonance.
Sculpting reality: A digital craftsman's method
Haran Kim's approach to designing and creating artistic digital installations is both methodical and deeply creative. At the outset, the foundation is laid with rigorous conceptualization. "Artists begin by brainstorming and conceptualizing the core idea or narrative they want to convey," she explains. This can manifest in a myriad of forms, from intricate sketches and mood boards to evocative written descriptions. The importance of understanding the tools of the trade cannot be understated. As Kim emphasizes, "Understanding the capabilities and limitations of the technology involved is crucial." This encompasses a broad spectrum, from the intricacies of 3D environment modeling and the immersive realms of mixed reality to the precision of projection-mapping design.
Narrative forms the backbone of many of Kim's installations. "Creating a compelling narrative or story is often central to the success of the installation," she notes. This narrative can range from abstract concepts to metaphorical representations, all brought to life through digital elements. 
Lighting and color theory play a pivotal role in these creations. "Understanding how light interacts with physical spaces is essential for creating visually stunning installations," Kim observes. If an installation is intended to be interactive, the user experience takes center stage. Here, sensors, motion tracking, and other interactive elements come into play, ensuring an engaging journey for participants.
The iterative nature of Kim's work process is evident in her emphasis on testing and prototyping. "Iterative testing and prototyping are crucial to refining the installation," she mentions, highlighting the importance of ensuring that digital elements harmoniously intertwine with physical spaces. Optimization is another focal point, especially when real-time interactions are involved. "Ensuring that the installation runs smoothly and efficiently is important," she advises. 
Collaboration is a recurring theme, as these multifaceted projects often necessitate teamwork between artists, programmers, 3D modelers, and other specialists. Kim concludes, "Flexibility, creativity, and technical proficiency are key elements in successfully creating artistic digital installations." Her holistic approach is a testament to the intricacy and depth involved in the world of digital art installations.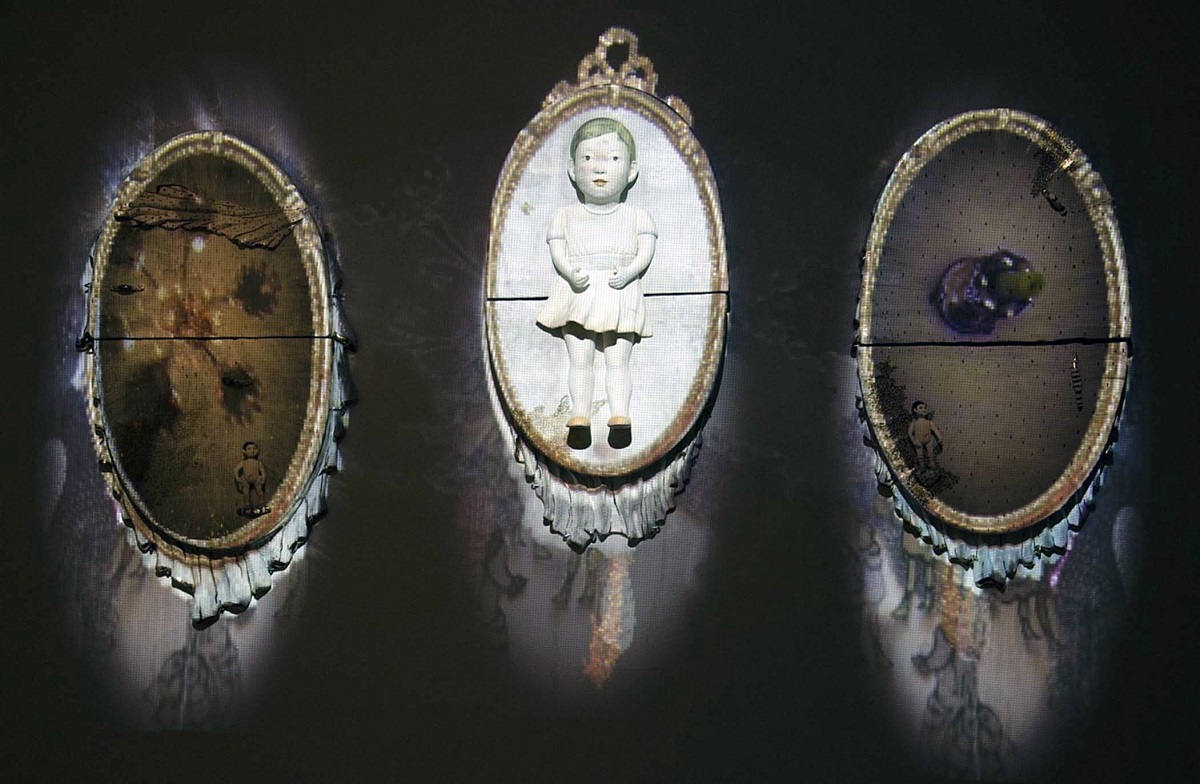 A canvas of many threads
Haran Kim's foray into the digital art realm is a tapestry of innovation, interwoven with a myriad of mediums and techniques. At its core lies her passion for crafting immersive experiences, especially those that bring to life imaginary creatures navigating virtual domains. "I especially like to express imaginary creatures traveling through virtual spaces using my own 3D models and 3D environmental models," she reveals. 
For Kim, elements like e-textiles, soft sculptures, and kinetic arts are not just tools but characters that add depth and distinctiveness to her envisioned virtual journeys. "E-textiles, soft sculpture, 3D printing, and kinetic art are the characters on the stage that make my imaginary virtual travels a little more distinct," she explains.
Her approach to digital artistry is not just about creating a visual spectacle but also about forging a deeper connection with her audience. Kim's creations are infused with a sense of interactivity, inviting audiences to embark on unique journeys, crafting narratives molded by their interpretations. "I like to make what I create interactive. I hope audiences can take a new journey and tell a different story with their own interpretation through this form of artwork," she expresses. Delving deeper into her inspirations, Kim reflects on the powerful role of memories in her work. "I capture the moments when my five senses trigger me of childhood memories I have forgotten," she shares, highlighting her art's ability to merge past and present, fusing old memories with new emotions in imagined spaces.
Yet, Kim's art transcends mere visual experiences; it beckons a deeper emotional engagement. Her installations and animations are a testament to her dedication to evoke emotions, catalyzing reinterpretations and rediscoveries among her audience. "I create imaginary spaces where I rebuild new feelings that I have not felt until now with my recalled memories of nostalgia for my past," she muses. 
This rich tapestry of memories, emotions, and innovation culminates in artworks that don't just captivate but resonate. "I hope that my work has the potential to touch people on a profound level and leave a lasting impact," Kim concludes, underscoring her unwavering commitment to pushing boundaries in the realm of digital art.
The classroom and the canvas
Haran Kim's journey at Carnegie Mellon University (CMU) was transformative, ushering in a paradigm shift in her approach to digital art and immersive design. Before her academic sojourn at CMU, Kim was a self-reliant artist, handling every aspect of her projects independently. "I was a do-it-yourself, plan-it-yourself, execute-it-yourself kind of guy until I went to Carnegie Mellon University," she recalls. 
The project-centric pedagogy at the Entertainment Technology Center within CMU instilled in her the essence of collaboration, emphasizing the synergistic outcomes that arise from teamwork. "The process of collaborating with teammates is very important," she notes, reflecting on the invaluable lessons she gleaned from working closely with peers. "The process of creating a pipeline of processes and discussing and reviewing each process to maximize it was very helpful. It allowed us to share information and knowledge between team members."
CMU not only honed Kim's collaborative skills but also exposed her to the forefront of technological innovations in the realm of entertainment. "The school provided an environment where students could be introduced to and experience emerging and cutting-edge technologies," she states. This exposure, coupled with the rigorous academic structure, equipped her with a robust framework to streamline her creative endeavors. "My degree experience has given me a solid understanding of how to organize my pitches, how to research each area, and how to find and research information about the field I want to work in," Kim elucidates.
While the technical and organizational skills acquired at CMU were pivotal, the most profound transformation for Kim was the transition from a solo studio artist to one who thrives in collaborative settings. Embracing the power of collective creativity, she discovered the magic that unfolds when diverse minds converge on a shared vision. "Coming from a background of working solo in the studio, I've become interested in collaborative work," she shares. "Learning how to work together in a community of my interests has significantly influenced me." 
Kim's CMU experience serves as a testament to the adage that the whole is indeed greater than the sum of its parts, a philosophy she now champions in her artistic journey.
Painting in pixels to pastels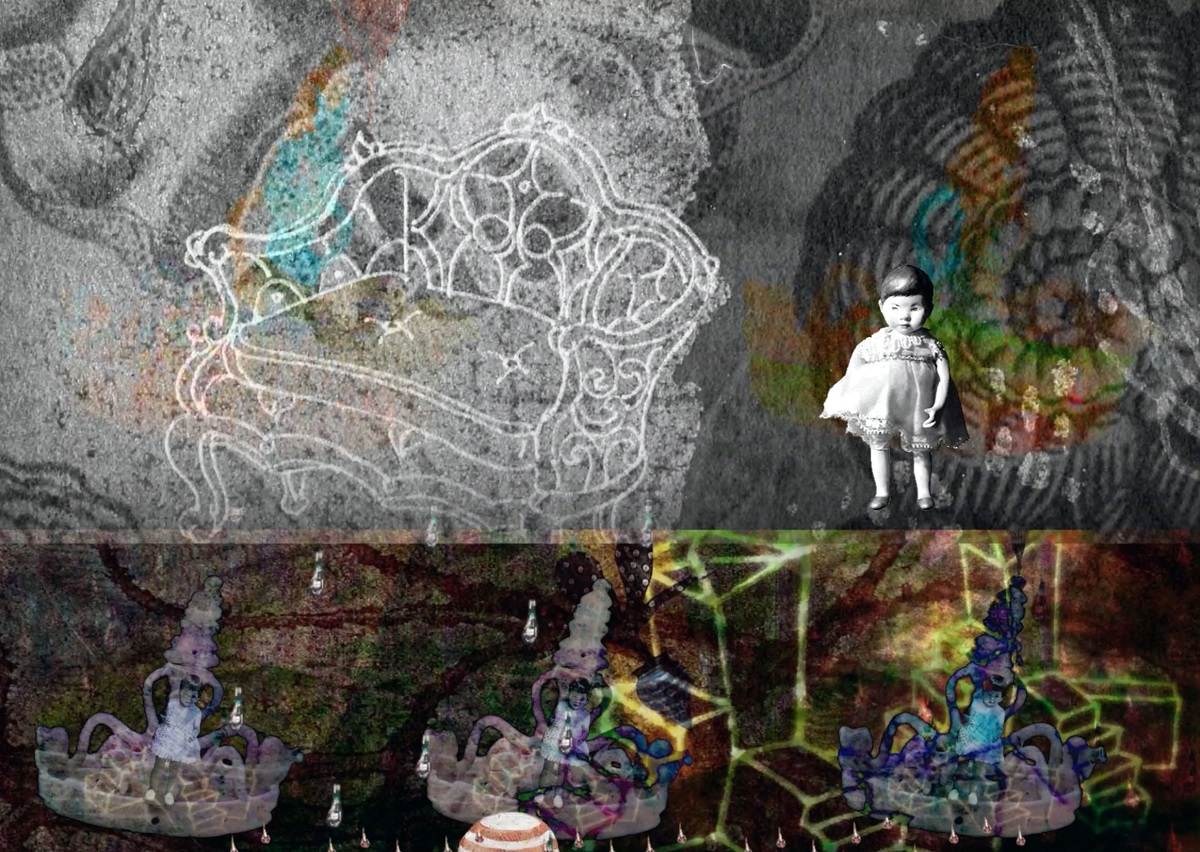 With her artistic journey having a rich tapestry woven with traditional mediums like printmaking, drawing, and painting, Kim says, "I've been working with traditional fine art mediums for 25 years," she reflects. Such a deep-rooted foundation in the classics has not only honed her skills but has also shaped her perspective on art as a whole. Drawing an analogy between art and music, Kim observes, "With the use of seven musical scales, musicians create wonderful musical pieces. Children learn numbers first to solve an important mathematical problem in the future." This emphasis on foundational knowledge resonates deeply with her own experience in the arts. "Drawing, printmaking, and painting are indeed foundational skills that provide a strong basis for creative expression," she notes.
The tools and techniques that Kim acquired in her early years remain integral to her creative process, regardless of the medium she ventures into. "My main tools to work with whatever media I choose to work with now are color, line, tone, volume, and so on, which I learned when I was little," she elaborates. These elemental components, deeply ingrained from her traditional art background, serve as the bedrock upon which she constructs her digital masterpieces. Kim's extensive experience in traditional art forms not only anchors her creative vision but also propels her forward, fostering growth and evolution in her craft. "Having many experiences in traditional art forms has supported my artistic growth and development," she acknowledges.
Yet, Kim's journey is far from static. While she continues to immerse herself in traditional mediums, she also embraces the dynamism of the digital realm, ever-eager to explore and integrate new technologies. "I continue to practice with these basic media. I also explore new media that I want to combine with them," she shares. This synthesis of the old and the new, the tangible and the virtual, is testament to Kim's versatility and her fearless pursuit of innovation. "My openness to new media suggests a willingness to push boundaries and explore new creative avenues," she concludes, signaling a future that promises an even richer confluence of art and technology.
The digital art horizon
The digital age has revolutionized how we consume and experience art and entertainment. Immersive experiences, augmented by technologies like virtual reality (VR) and augmented reality (AR), have become increasingly prevalent in our daily lives. Haran Kim, a vanguard in the realm of digital art, observes, "It's happening now. People spend quite a lot of time with immersive experiences or VR/AR experiences daily." However, with this evolution in how we engage with content comes the pressing responsibility of ensuring that these experiences are both ethically sound and morally grounded.
Kim's education emphasized the importance of ethical content creation. Recalling her time in graduate programs, she shares, "My school guided me not to make any games that related to shooting and porno." This guidance underscored the significance of aligning digital creations with moral standards that respect human rights and avoid content that might be harmful or explicit. "I believe that I should work with my own moral discipline to protect the rights of human beings, to keep my own moral orientation, and not to have a negative impact on those around me," Kim states emphatically. Such a conscientious approach ensures that the immersive experiences she crafts are not only innovative but also uphold the values that she, and many others, hold dear.
As a leading figure in the digital art landscape, Kim is acutely aware of the potential impact her work can have on audiences. The power of immersive experiences, particularly in VR and AR settings, lies in their ability to deeply engage and influence those who interact with them. In this context, Kim stresses the importance of "creating content that respects human rights and doesn't promote violence or explicit content." 
By adhering to this moral compass, she endeavors to contribute positively to the broader community and the ever-evolving industry of digital art. "Remember, ethical considerations in developing VR/AR experiences can help shape a more inclusive and positive digital environment for everyone involved," she concludes, emphasizing the essential role of ethics as we chart the future of art in the digital age.
A pioneer's advice for the digital art frontier
Embarking on the path of digital artistry requires not only talent but also dedication, research, and a keen understanding of one's chosen medium. Haran Kim offers invaluable advice to those eager to push the envelope in the field. "Continue to research what you're interested in. Find the medium that best expresses your subject and use that medium well for your type of work," she emphasizes. 
For Kim, storytelling is a cornerstone of impactful artistry. "Especially if you're interested in telling a story through your work, approach whatever you're talking about as a well-organized narrative," she advises. Art, in Kim's view, is as much about the message as it is about the medium, and the two must harmoniously intertwine to create compelling narratives.
The journey of a digital artist is multifaceted, encompassing various stages from ideation to execution. Kim outlines a structured approach to this journey, emphasizing the significance of continuous research.
"Staying current with the latest developments and findings in my area of interest is crucial," she notes. Selecting the right medium, she believes, can amplify the impact of one's work exponentially. "Different forms of media can be more effective for different types of content," she points out. Central to Kim's philosophy is the power of a well-defined theme, ensuring coherence and focus throughout the creative process. "Clearly defining the central theme or message of my work helps maintain focus," she states.
However, beyond the technicalities and methodologies, Kim underscores the importance of personal attributes like curiosity, self-belief, and experiential learning. "Maintaining a curious mindset keeps you open to new ideas and perspectives. Believing in yourself and your abilities is crucial for overcoming challenges and staying motivated," she reflects. Actively engaging with one's chosen field, embracing hands-on projects, and continuously learning are essential facets of an artist's growth. 
Experience is a powerful teacher," Kim affirms. Her advice culminates in a holistic blend of knowledge, organization, and self-confidence, providing aspiring digital artists with a roadmap to success in the ever-evolving digital art landscape.