Who Is Shakira?
Shakira Isabel Mebarak Ripoll is a Colombian singer, songwriter, record producer, actress, and dancer, who is known for her ability to blend different elements into her music. She is credited for releasing scores of hits that have charted at number one in various countries around the world. Examples of her most popular singles include Hips Don't Lie, Loca, La Tortura, Chantaje, and Waka Waka (This Time for Africa).

Shakira's amazing musical abilities haven't gone unnoticed. She has since won numerous awards, including:

• 12 Latin Grammy Awards,
• 3 Grammy Awards,
• 39 Billboard Latin Music Awards,
• 6 Guinness World Records
• 4 MTV Video Music Awards, and
• 7 Billboard Music Awards
Quick Facts
| | |
| --- | --- |
| Full Name: | Shakira Isabel Mebarak Ripoll |
| Popular Name: | Shakira |
| Gender: | Female |
| Birth Date: | February 2, 1977 |
| Age: | 46 years |
| Parents: | William Mebarak Chadid and Nidia Ripoll Torrado |
| Siblings: | 8, from her father's earlier marriage |
| Birth Place: | Barranquilla, Colombia |
| Nationality: | Colombian |
| Ethnicity: | Spanish and Italian |
| Education: | University of California, Los Angeles |
| Marital Status: | Divorced . Previously married to Gerard Piqué and Antonio de la Rúa (2000–2010) |
| Sexual Orientation: | Straight |
| Wife/Spouse: | N/A |
| Children: | Milan Piqué and Sasha Piqué |
| Dating: | N/A |
| Net Worth: | USD 400 million |
| Source of Wealth: | Singing, Songwriting, Record Producing, Acting, Dancing, and Other Ventures |
| Height: | 5′ 2″ (1.57 m) |
| Weight: | 53 kg; In pounds: 117 lbs. |
Early Life and Career Information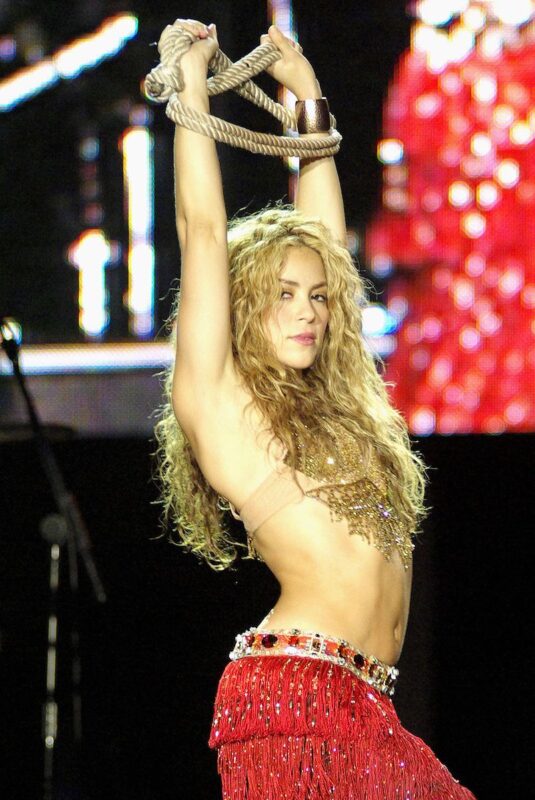 Shakira was born on February 2, 1977, in Barranquilla, Colombia, to William Mebarak Chadid and Nidia Ripoll Torrado. From the ages of 10 to 13, the young Shakira performed at various local events in Barranquilla. Her music and dancing talents caught the attention of a local theater producer named Monica Ariza. Convinced that something great could come out of Shakira, Ariza helped her to land a recording deal with Sony Music Columbia.

In 1991, Shakira released her debut album, Magia. The album was generally well-received, with its four songs getting ample airtime in various Colombian radio stations. But commercially speaking, Magia was an epic failure, selling a paltry 1,200 copies worldwide.
Despite her debut album performing dismally, Shakira was undaunted. In 1993, she released her second album, Peligro. Just like Magia, Peligro was not a commercial success despite being well-received by the Colombian music audience.

Shakira's music star began to shine after releasing her next two albums – 1995's Pies Descalzos and 1998's Dónde Están los Ladrones? The two albums propelled her to stardom in Hispanic countries.

After becoming a household name in Hispanic countries, Shakira entered the English-language music industry by releasing her fifth album, Laundry Service (2001). She has since released six other albums, including Fijación Oral, Vol. 1 and Oral Fixation, Vol. 2 in 2005, She Wolf in 2019, Sale el Sol in 2010, Shakira in 2014 and El Dorado in 2017.
Shakira's Net Worth
As of 2023, Shakira had a net worth of $400 million. She has earned a huge portion of her wealth from album sales, record producing, acting, and other ventures.

Shakira is considered one of the world's most successful female singers of all time. To date, she has sold over 125 million singles and albums worldwide. Her most globally successful songs include La Tortura, Beautiful Liar, Hips Don't Lie, Waka Waka (This Time for Africa), Chantaje, and Loca.

Shakira's husband, footballer Gerard Pique, is about $40 million rich.
1. Shakira's Earnings from Touring
In addition to album sales, Shakira also earns big from touring. She has since embarked on six tours, including:

• Tour Pies Descalzos (1996–1997)
• Tour Anfibio (2000)
• Tour of the Mongoose (2002–2003)
• Oral Fixation Tour (2006–2007)
• The Sun Comes Out World Tour (2010–2011)
• El Dorado World Tour (2018)

According to Pollstar, Shakira's most recent tour, El Dorado World Tour, grossed about $40.7 million in worldwide sales. Billboard reports that the tour's North American leg alone generated roughly $28 million.

Another high-grossing tour by Shakira is her 2010's The Sun Comes Out World Tour. Pop Festival, which was one of the major sponsors during the tour's North American leg, reportedly raked in over $13 million from March 12 to March 27, 2011.
2. Shakira's Earnings from Her Big Screen Endeavors
In 2008, Shakira signed a 10-year, $300 million deal with Live Nation. In 2013, she reportedly earned $12 million from her role as a judge on NBC's reality television competition, The Voice.

But these are not Shakira's only earnings from her big-screen endeavors. The singer has appeared in scores of other television shows, documentaries, and movies, including lending her voice to Disney's animated movie Zootopia (2016).
3. Shakira's Real Estate Portfolio
In 2001, Shakira purchased a home in Biscayne Bay, Miami, for $3.38 million. She listed the property for sale in 2018 for $12 million.

Another notable real estate investment by Shakira is the purchase of a 500-acre island located in the Bahamas, known as Bonds Cay. This purchase was a joint effort involving Shakira, her husband, Spanish musician Alejandro Sanz, and Pink Floyd's Roger Waters.

Currently, Shakira lives with her family in the Avenida Pearson neighborhood of Barcelona. The Barcelona home was purchased in 2015 for $5.5 million.
4. Shakira's Other Ventures
In 2010, Shakira partnered with Puig in a deal that would see her create a line of cosmetic and personal care products. Soon after signing the deal, she launched her first perfume. Her fragrance products are sold under the brand name S by Shakira. According to reports, S by Shakira raked in between $35 and 45 million during its first year of sales.

After the tremendous success of her first fragrance, Shakira went on to release her second product in 2011, titled S by Shakira Eau Florale. Two years later, she followed up with her third product, a limited-edition fragrance known as S by Shakira Aquamarine.

Besides S by Shakira perfumes, Shakira's partnership with Puig has resulted in the release other fragrances, including 2013's Elixir and 2016's Dream and Dance.
Life Lessons from Shakira
1. It's never too early to start

Shakira began pursuing her musical career at the tender age of 10. That only proves that it's never too early to start chasing your dreams.

2. We're all endowed in one area and disadvantaged in another

Shakira may be an accomplished singer and dancer, but she's not without limitations. At school, she was frequently kicked out of class for her attention deficit hyperactivity disorder (ADHD).

3. Never give up

After throwing her full weight behind her first two albums only for the albums to register dismal performance, Shakira would have found it convenient to throw in the towel. However, every failure gave her more impetus to try harder, and the rest is history.
Famous Quotes by Shakira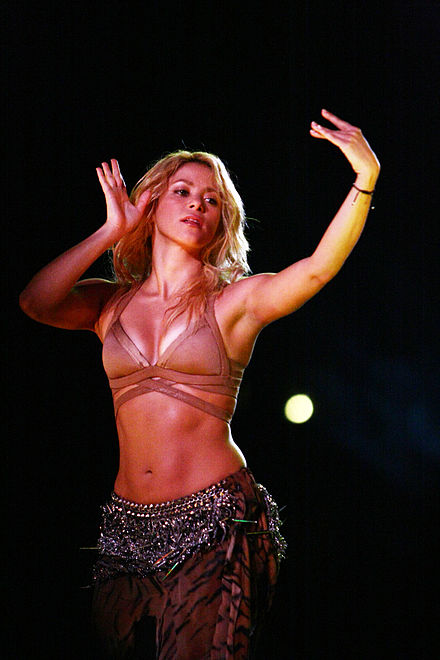 "I prefer an ugly truth to a pretty lie. If someone is telling me the truth that is when I will give my heart. "
If you can prove the existence of God, it can only be proven through love. "
"It doesn't matter if you are a musician, a business leader, a president or a student. We all have a responsibility to give back."
"There's no better makeup than self-confidence. "
"You can't achieve anything in life without a small amount of sacrifice."
Final Word
Shakira is unarguably one of the greatest musicians of all time. She is also one of the few multi-talented artists who can take to the stage and immediately captivate the crowd with her vocals and dance moves.